Welcome all sock enthusiasts! I'll admit, I have been a huge fan of the MadMia Socks for a long time now, and it was one of my best-kept secrets. Everytime we wore them in public, we were guaranteed to be asked where the cool socks came from. And we haven't stopped shopping. The kids Cassie (8), Vivi (6) and Elliot (4) just adore their collection, and it's the perfect way for them to add a hint of personality to every outfit. MadMia has completely redefined our sock game with their incredible range of whimsical and vibrant designs. It's the ideal gift idea that is both unique and fun – and guaranteed to be loved (by the parents and kids). Dive into the world of MadMia socks with us as the kids each share their top picks!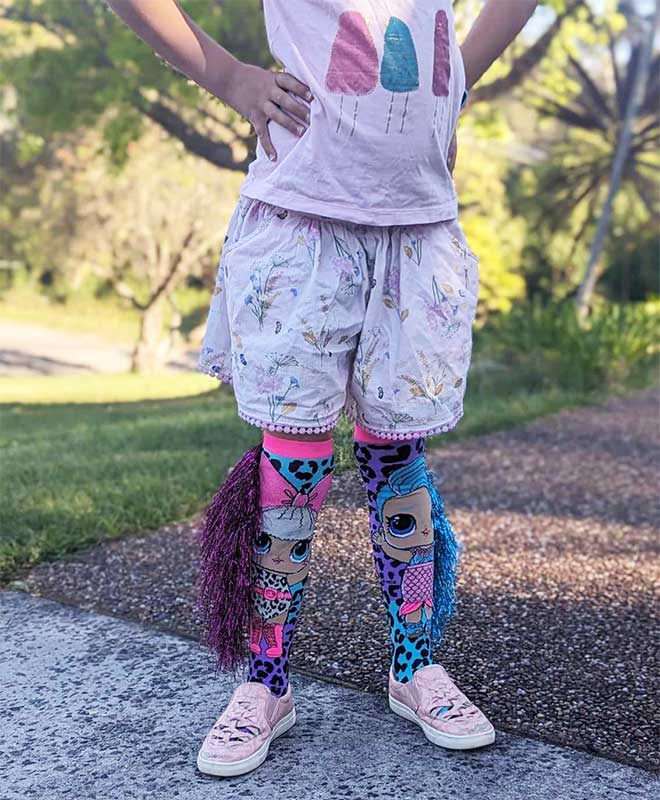 When I introduced Cassie to the LOL Disco Dolls Socks from MadMia, her eyes practically lit up like a disco ball. These socks are an absolute hit with my 8-year-old fashionista! The dazzling combination of neon colours, disco-inspired patterns, and cute emojis adds a dash of excitement to her outfits. She has recently joined the Spring soccer team and these are her go-to socks to cover her shin pads (and guaranteed to get compliments each time). I will admit, they do shed, so be warned. After a day wearing them I find myself walking the house and picking up lose strands everywhere. But if you ask Cassie, it's well worth it.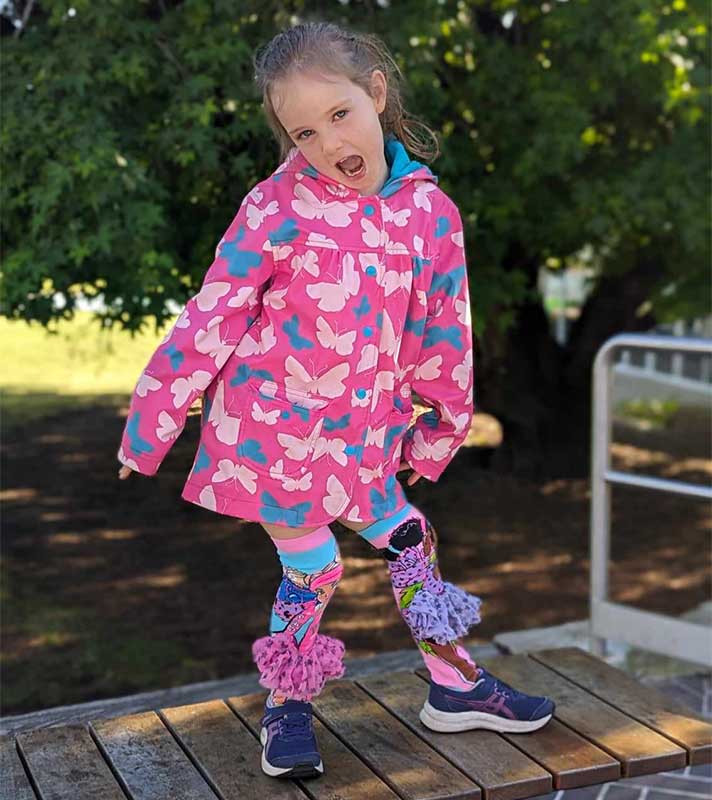 Vivi, my vivacious 6 year old, instantly fell in love with the Barbie Extra Vibes Socks, which is no surprise since we consider her an extra vibe in our household. These socks are all about embracing individuality and spreading positivity, just like Barbie herself. The vibrant colours, sparkles, and funky patterns resonate with Vivi's energetic spirit. She adores showing off these socks, and they've become a conversation starter among her friends. Not only do they add a splash of glamour to her outfits, but they're perfect for keeping her warm on those cloudy afternoons when she insists on wearing dresses and skirts.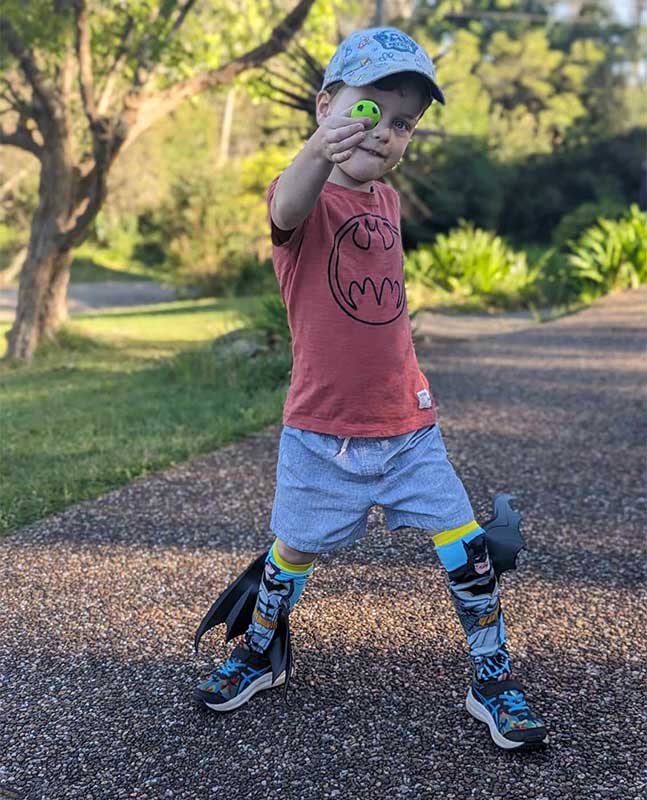 For my 4-year-old superhero-in-training, Elliot, the Batman Socks from MadMia are an absolute game-changer. The design features the iconic bat symbol and Batman's utility belt, making him feel like he's ready to save Gotham City at any moment. These socks have become an essential part of his daily attire, and they've even inspired imaginative play as he pretends to be the Dark Knight himself. The cape flowing off the side is a real wow-factor that he just loves (who wouldn't!).
Other Exciting Options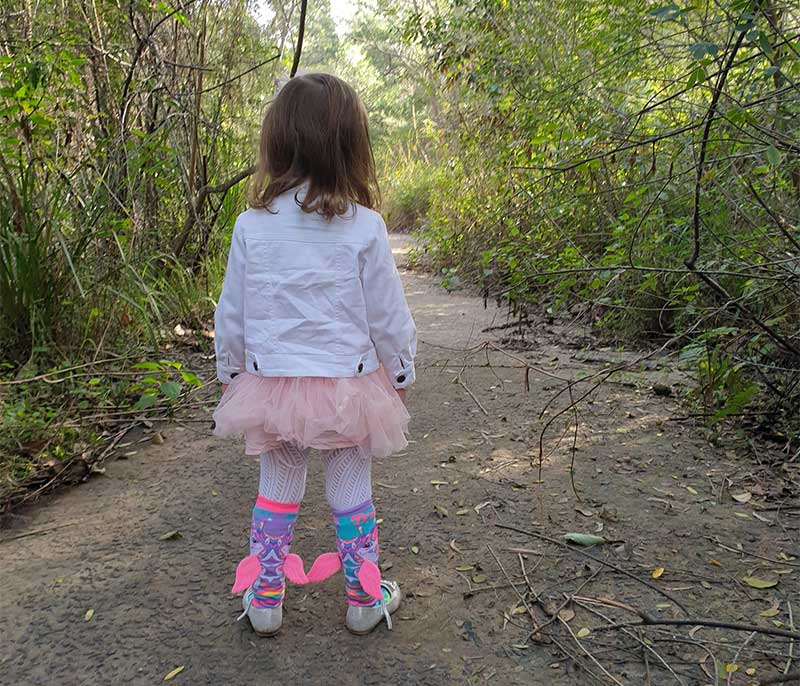 MadMia.com offers a treasure trove of enchanting sock designs beyond our personal favourites. Here are some more delightful options:
Why MadMia Socks Make Great Gifts
MadMia socks aren't just pieces of clothing; they're magical adventures waiting to happen. They make exceptional gifts for kids because they:
Spark Creativity: MadMia socks inspire children to express themselves, fostering creativity and individuality.

Promote Confidence: The unique designs empower kids and boost their self-confidence as they showcase their personality through their socks.

Encourage Play: Many of the designs inspire imaginative play, turning everyday activities into exciting adventures.

Offer Comfort and Quality: MadMia socks are not only eye-catching but also comfortable and durable, ensuring they'll last through many adventures.
MadMia has truly transformed our sock collection into a gallery of art and imagination. These socks have become more than just accessories; they're a means of self-expression, confidence, and endless playtime fun. Whether you're looking to brighten up your child's day or searching for a unique gift, MadMia socks are an enchanting choice that will leave a lasting impression.
So, why wait? Dive into the world of MadMia and let your kids' feet embark on magical adventures of their own!