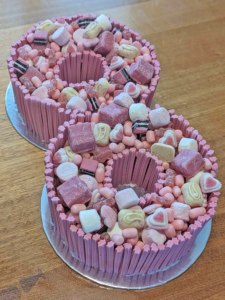 "A party without cake is just a meeting." This funny (yet accurate) saying reiterates the importance of a cake for any birthday party!  We can
Read More »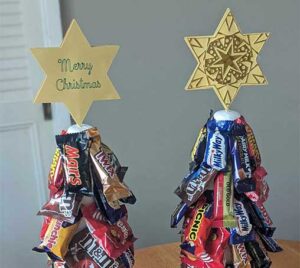 Ho! Ho! Ho! There's no better way to get into the Christmas spirit than with some Christmas crafts – and this one is a winner.
Read More »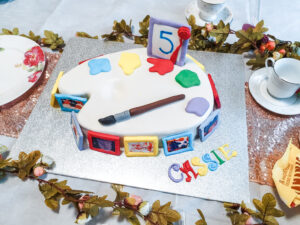 Cassie just loves drawing. We scrolled through Pinterest and looked through hundreds of cakes, but she had her heart set on an artist cake.
Read More »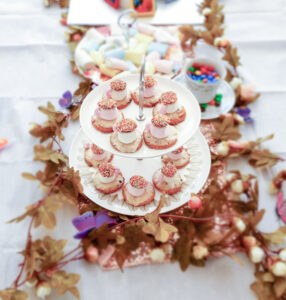 These tea cup biscuits are one of the cutest food ideas for any party, and it is so quick an easy to do! Disclosure: This
Read More »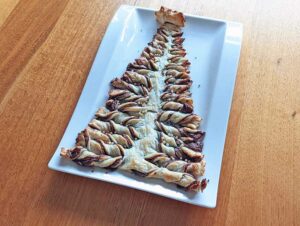 The festive season is here and there's no better way to get into the Christmas spirit than with a little baking! This Nutella Christmas Tree
Read More »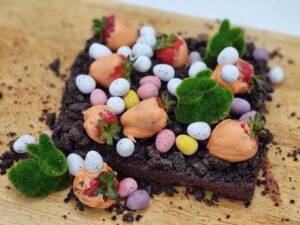 Hop into Easter and start indulging in the chocolate early this season with this deliciously tasty treat! The best part? This Easter brownie carrot patch
Read More »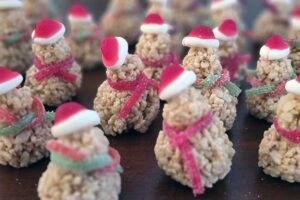 Rice Krispie Snowman If you're looking to get into the festive spirit, it's hard to go past these adorable rice krispie snowman. Whether you've been
Read More »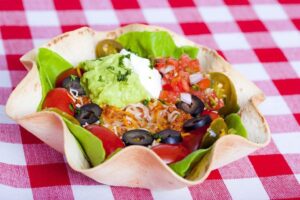 Are you on the hunt for some delicious savoury party food that will see you through that next event? Everyone tends to focus on the
Read More »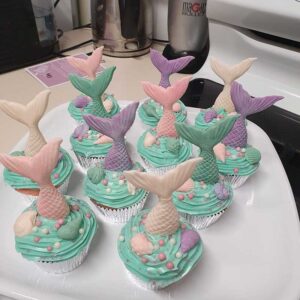 Whether you're looking to host a mermaid party, or look at an under the sea theme, party food helps to bring everything together. We have
Read More »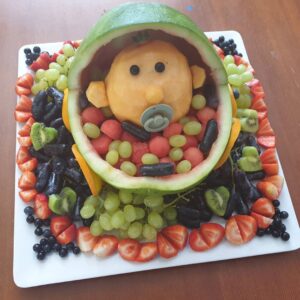 Nothing says baby shower like this adorable fruit salad baby carriage! I was recently asked to bring along a fruit platter to a friend's baby
Read More »
If you're after a cute way to dress up that party table, this watermelon shark is it! I won't say it's quick and easy –
Read More »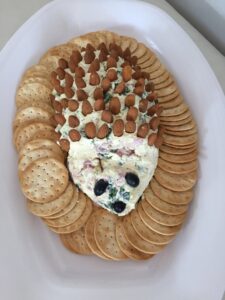 This hedgehog cheese dip is the perfect way to dress up the food table at a party. It not only looks fantastic, but it is
Read More »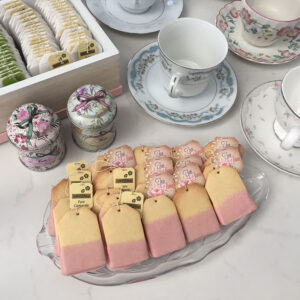 Hosting a tea party any time soon? Or perhaps just having some friends over for an afternoon tea? These tea bag biscuits are oh so
Read More »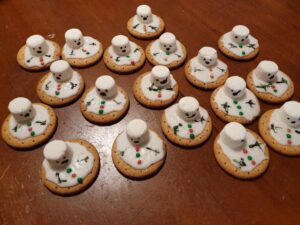 Christmas time is the perfect opportunity for catching up with friends and family and over-indulging in delicious food! Yet, when you're asked to bring something
Read More »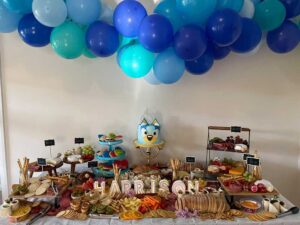 Grazing platters have to be one of the most impressive and practical ways to feed people at a party – and add style to your
Read More »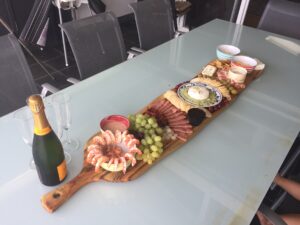 It's no secret that grazing platters are very in right now. They are perfect for any type of party, whether it's as a starter at
Read More »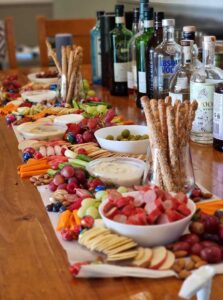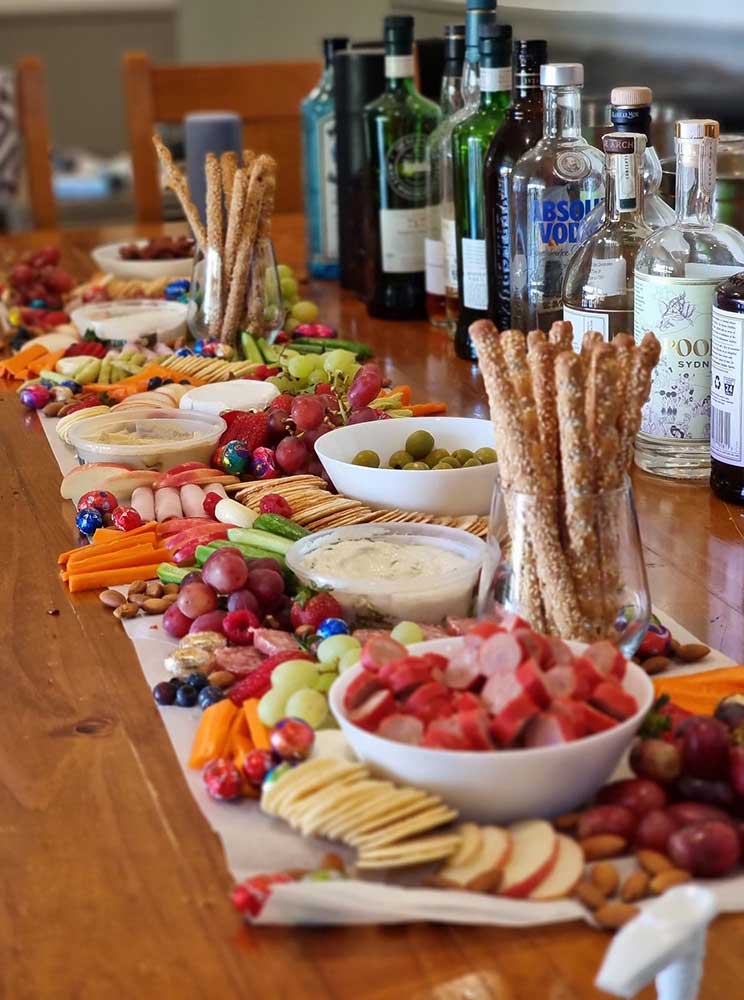 There's nothing better than pulling together an amazing DIY antipasto platter to wow a crowd. The best part is, you have so much freedom when
Read More »
Party Food
It's one of the most important things when it comes to a party, and often cause people the most stress. The party food! Do you have enough? Is it too much? Have I catered to everyone's dietary requirements? Will people be expecting a meal?
So many questions, not to mention all the prep that then goes into the food on the big day. If you're looking for more party food ideas, make sure you check out our party food section.
How To Pick Party Food
While it may seem overwhelming to begin with, all you need to do is take a big, deep breath and ask yourself a few questions:
What time is the party? If you have decided to have it across a mealtime, ie between 12-2pm and 4-7pm, then yes, people are going to be expecting a meal. If you want to avoid this, put the party around these hours and just offer snacks. Meals don't always mean a sit down affair, you can still fill them up with plenty of savoury party food options.
How many people? Knowing numbers makes it much more possible to accurately cater to everyone. I do find it is best to over cater. After all, who doesn't love party leftovers the next day. It also takes away that added stress.
Plan! Download our FREE party checklist and make a list of all the foods you want to serve. Ask people on the invites if they have dietary requirements so you know ahead of time.
Separate your food into two categories: (1) can be made ahead of time and (2) has to be done on the day. This will help you plan much better in the lead up to the party.
Have a mix of both savoury and sweet. Often at parties, people can get hung up on the sweet food, but if people are hungry, they will gravitate to the savoury. This doesn't mean you need hot food. Think of sandwiches, pizza scrolls, mini quiches, biscuits and dip and so on.
Savoury Party Food
Savoury party food is a must at any party, kid or adult. If people are hungry, they are going to want a savoury option to munch on. Plus, not everyone is into the sweet things. While you won't be expected to provide a meal with cutlery, a few savoury dishes won't go astray. Here are some of our party favourites:
Sandwiches: let's face it, you can't go wrong with sandwiches. You can make a variety and cater to a large number of people. The only trick is, these have to be made on the day to keep them fresh as possible.
Pies & sausage rolls: these are an age-old classic that will always stand the test of time (and kids and adults alike). You really can't go wrong with the traditional party foods. That's what parties are all about!
Tacos: a little on the messy side, but oh so worth it. Just make sure you hand out some serviettes along with them!
Pizza pinwheels: these are really easy to make and taste so good. You can serve them warm or cold, depending on what you need.
Sliders: who doesn't love a burger? Little mini, bite-sized burgers are the perfect filling snack.
Chicken nuggets: there's no denying how much kids love nuggets. They're easy to cook and will disappear in seconds.
Feta triangles: feta cheese (and spinach if your guests are open to it) and a bit of filo pastry and you are done. Easy and delicious.
Finger Food
Finger foods are a great way to go for a party. If you are catering to a meal time, make sure you have plenty to fill people. If your party time is outside a meal period, then you just want to offer people something to nibble on. Here are some of our favourite finger food recipes:
Meat balls: everybody loves meatballs, so you really can't go wrong. Simply serve with a toothpick and a little sauce and you are good to go. It's easy party food for a crowd!
Mini quiche: one of the favourites when it comes to tasty party good. Mini quiches are so easy to whip up (or buy!) and are very popular too.
Skewers: from satay chicken skewers to the bigger varieties, serving meat on a stick is a great finger food option that people will love.
Rice paper rolls: unlike sandwiches, these ones can be made ahead of time and are one of the best house party foods. You can fill them with anything and they will be gobbled up.
Fruit: this is an easy party food for a crowd. Chop up a variety of different fruits, pop some tooth picks in the middle and let people enjoy.
Party Snacks                                
Let's be honest, people come to a party to snack. That's half the fun of it. Just like we have a separate stomach for dessert, the calories you eat at a party simply don't count (at least we like to think so). Here are some great party snacks that everyone can enjoy:
Carrot, cucumber and celery sticks with dips. Depending on theme you have chosen for your party, you can often arrange the dips and sticks into different patterns. I've seen a hedgehog dip and a number of other clever creations.
Cob dip: who doesn't love seeing a big, delicious cob dip at a party. Always a hit.
Cheese: young and old just love cheese. It comes in so many different varieties, you really can't go wrong. You can even put together your own grazing board with cheeses, nuts, cold meats and more to fill up your part food list.
Popcorn: kids love popcorn. It's low maintenance and delicious and comes in lots of different flavours. The best party food for kids.
Marshmallows: these have to be one of the best birthday party foods. You can go extreme and get a chocolate fountain you can dip the marshmallows into, or just enjoy them as is.
Easy Party Food
Of course, sometimes you just want to whip up a quick and easy party that requires minimal effort on your behalf. Don't worry, we all get it. Here are some quick and easy ideas that look and taste fabulous:
Fairy bread: it's no secret that young and old get excited when they see fairy bread at a party! It's easy to make, nice and filling for everyone, and always a hit. You really can't go wrong.
Chips: just head to the chip or biscuit aisle of the supermarket and stock up on chips and biscuits. Really, there's no need to go to the effort to make your own, when you can just buy them.
Lollies: buy a big variety, tip them into different bowls on the table. You not only have a delicious snack, but due to their bright, fun, colours, it also adds to the decoration.
Jelly: kids love jelly. You can make it ahead of time, even hide some lollies in it and set it ready to go. Pop them in individual cups and people can help themselves.
Deli meats: an easy savoury option. Buy a variety of meats, add in some olives and you have a ready made platter.
Caprese skewers: another savoury number that you can do ahead of time. No cooking required, just thread onto a skewer and they are good to go.