Children come out with all kinds of requests when it comes to the perfect cake for their birthday! As a parent, we do the best we can with the time and skills we have. Otherwise, we hand it over to the experts!
One mum has found the perfect hack. And the best part? You don't even have to cook the cake! Check out this amazing DIY Fairy Cake from Fiona.
Disclosure: This post contains an affiliate link, and at no additional cost to you, I'll earn a small commission if you decide to purchase after clicking through the link. I'll only ever recommend things that I love and believe will help you, and the decision to purchase is entirely yours!
DIY Fairy Cake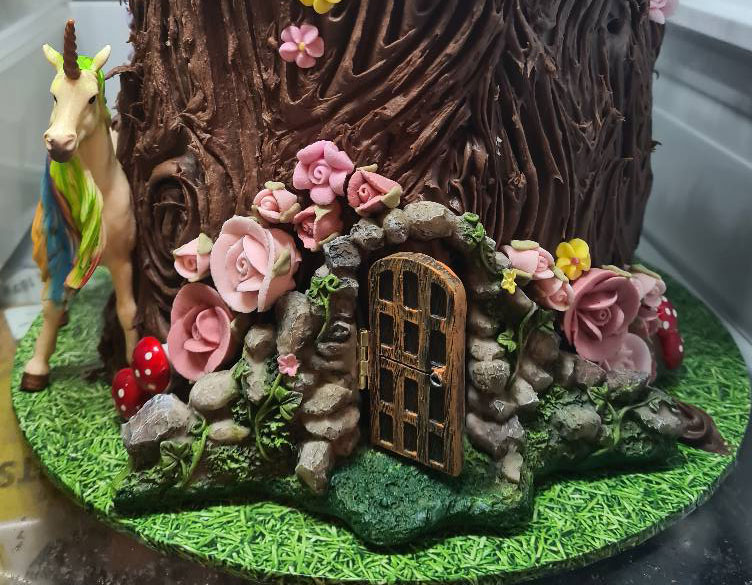 Ingredients:
3 x Coles or Woolworths mud cakes
Closed star piping tip
Icing flowers
Step 1
Chill 3 Coles or Woollies mud cakes for at least three hours, or overnight.
Take out and place on a chopping board. With a serrated bread knife, cut the icing off the top of each cake, leaving a nice flat top behind.
Step 2
Place the icing you removed in the previous step into your Thermomix, or Food Processor, with a tablespoon of boiling water.
Blend until smooth.
Don't overdo it with the hot water. You want just enough to loosen the mixture to create a mousse texture icing.
Step 3
Place one of your cakes onto a cake board of your choice. I chose a "grass effect cake board" from eBay.
Ice it with uncoloured buttercream.
Add the next layer and repeat.
Add the final layer and do a crumb coat around the entire cake.
Place in refrigerator for at least an hour.
Step 4
Place mousse icing into a piping bag with a 'closed star' piping tip. If it's hot weather, then refrigerate the piping bag until it's cool to touch (but not firm).
Once the cake is cool, pipe mousse icing in vertical lines onto the cake. Add in occasional swirls and oval shapes to mimic the knots on a tree trunk.
Step 5
Use a fork to blend the lines together and further draw in wood texture.
When you're done, place into the fridge.
Step 6
To make the stump, dip a pastry brush in the mousse icing, and draw rough circles.
Use a chopstick to draw a swirl onto the top to reveal the light buttercream underneath.
Step 7
Arrange pre made icing flowers from Coles and your ornamental fairies/fence/toadstools, etc as you desire and enjoy your cake!
Fairy Decorations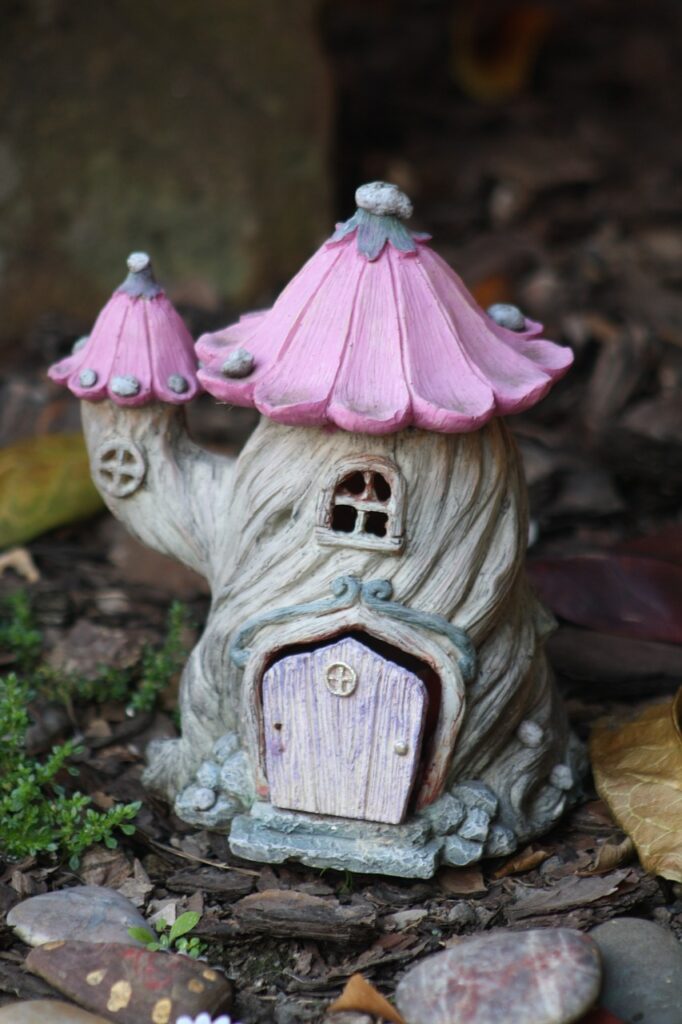 Looking for some decorations for your DIY Fairy Cake? There are plenty to choose from! Here are some of our favourites:
More Fairy Inspiration
Looking for more fairy inspiration? Check out these posts:
Need more tips when it comes to planning that next important occasion? Check out our DIY party planning checklist and get started today!