Grazing platters have to be one of the most impressive and practical ways to feed people at a party – and add style to your event as well. They are fairly easy to put together, they just require a fair bit of time and planning on your hands to pull it all together. But the end result is completely worth it. Check out this amazing Bluey grazing platter sent in by mum Jaimie. Here's how she pulled it together.
Disclosure: This post contains an affiliate link, and at no additional cost to you, I'll earn a small commission if you decide to purchase after clicking through the link. I'll only ever recommend things that I love and believe will help you, and the decision to purchase is entirely yours!
Bluey Grazing Platter
Jaimie's biggest tip is to enlist the help of family and friends. She spent so much time chopping fruit, cheese, cabanossi, etc. The setting up of the grazing platter only took about 30 minutes once everything was chopped and ready to go.
The biggest tip comes down to planning. Do a big shop before the day and make sure you have everything you need to pull together the grazing platter. Here's some ideas from what Jaimie has included:
Cheese
Vegetables
Deli meats
Cabanossi
Dips
Crackers
Pretzels
Fruit
Bread
Wraps
Biscuits
Quiches
Breadsticks
Lollies
Most of the dips and cheese came from Aldi, while the fresh wrap platter was delivered from Coles with a normal shopping delivery.
The wooden signs are just from Kmart. Jaimie recommends writing on them the night before, so it's one less thing you have to worry about in the rush of the day.
Balloon Garland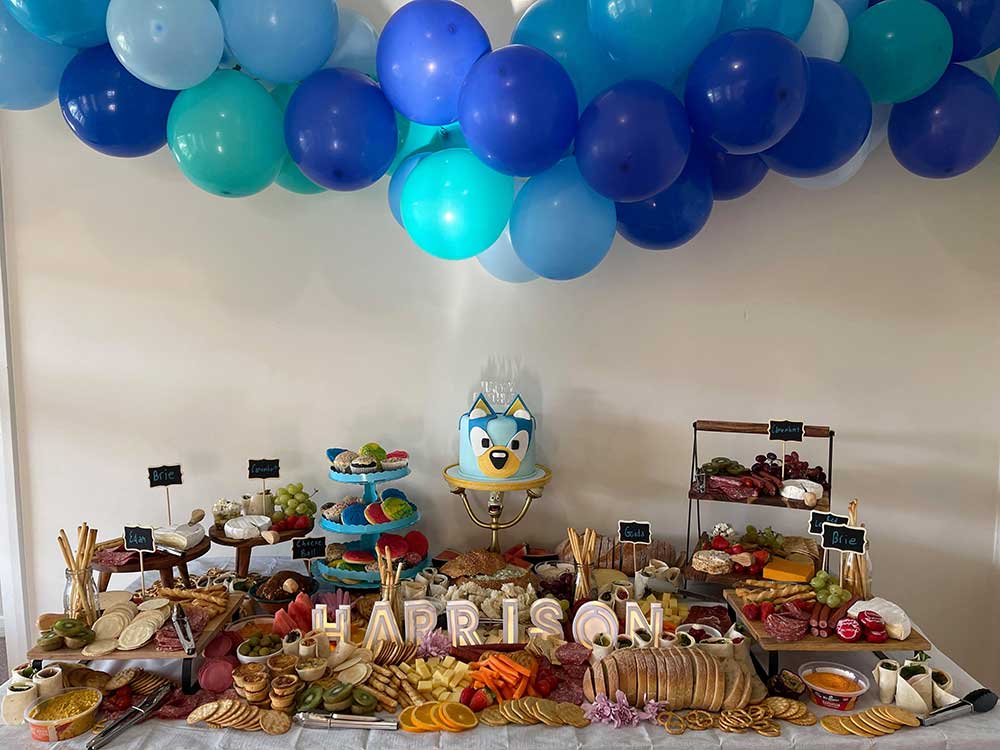 Balloon garlands are the perfect way to add some colour to any event. Jaimie bought this one from Kmart. She recommends also investing in the $2 balloon pump that Kmart sells as well.  Blowing up 50 balloons is a lot!
Jaimie did her balloon garland the night before and it was still looking perfect the next day. 
You can find a DIY Bluey-themed balloon garland here.
The light up letters and most other things you see, including the wooden boards, are all from Kmart. The perfect place to stock up for less.
Bluey Cake 
Of course, the Bluey cake in the middle of the table brings the whole theme together. The cake was made by Cakelyn, a local Newcastle small business.
Jaimie's final hint: buy the bread! It fills people up and they loved all the dips on the day.
Bluey Party Inspiration
Looking for more Bluey party inspiration? We have it! Check out:
Plus, we have a great post on where to shop the best Bluey party supplies!
Need help planning your next birthday party? Make sure your download our DIY party planning checklist and have a go!