It's no secret that grazing platters are very in right now. They are perfect for any type of party, whether it's as a starter at a dinner party, for adults attending a kids' party, or for a big birthday such as a 60th. The best part is, you can have some fun choosing what to pop on the platter. You can do it again and again for different occasions, just mixing up the foods!
Disclosure: This post contains an affiliate link, and at no additional cost to you, I'll earn a small commission if you decide to purchase after clicking through the link. I'll only ever recommend things that I love and believe will help you, and the decision to purchase is entirely yours!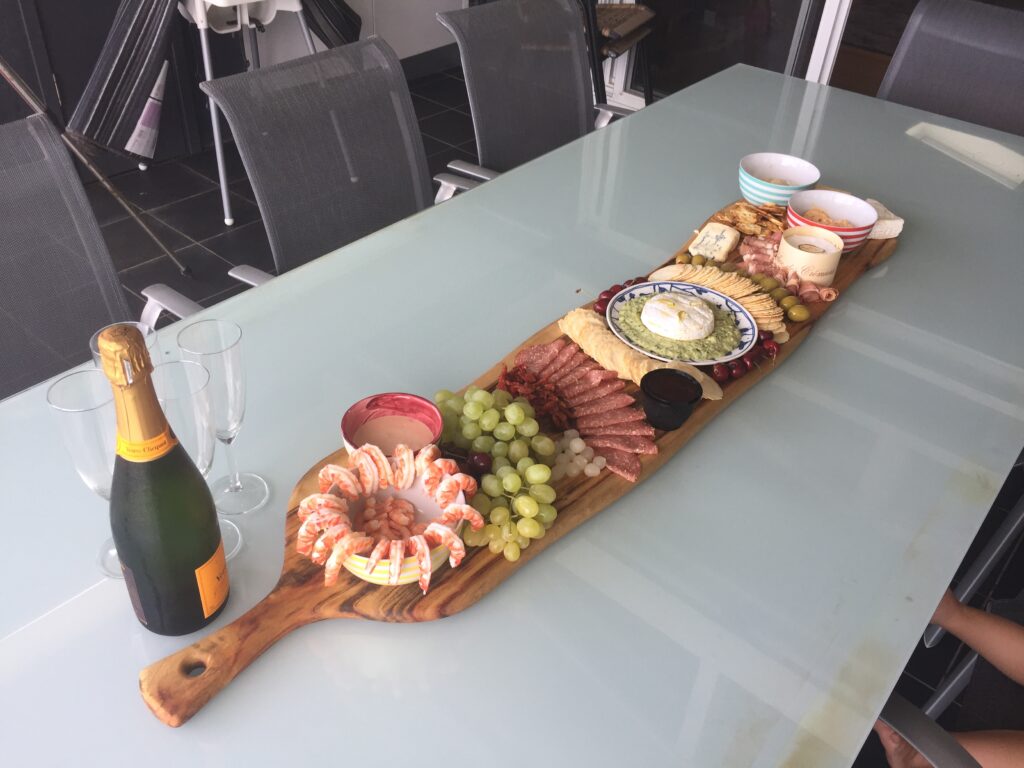 What To Put On A Grazing Platter?
The short answer: anything you like! Here are some ideas to get you started:
Cheese: always a hit. You can get a few different types, such as blue cheese, brie cheese or cheddar. You can even get fancy with a bake camembert, which is deliciously gooey.
Prawns: not a typical one for a grazing platter, but one that people will appreciate and love! Peeling them is even better.
Grapes: purple or green, these go well with cheese!
Deli meats: salami, ham, prosciutto… the deli meat world is your oyster and there is plenty to choose from. Roll them up for that extra effect.
Dips
Crackers
Cocktail onions
Olives
Sundried tomatoes
Cherry tomatoes
Strawberries
Cherries
Bread sticks
Cucumber
Carrot
Capsicum
Plating Up
One of the most important aspects of any grazing platter comes down to presentation. You want it to look AMAZING! When it comes time to plate up, make sure you have a board big enough. It's also fine to break up across a few different boards.
Get out all your ingredients, so you know what you have before you start plating up. Place the packets where you think they will go on the board and play around with it until it sits right. THEN it is time to start plating it. You want to make sure you have a plan in mind to start with, so you don't end up fingering the food multiple times to get it right.
Need more tips when it comes to planning that next important occasion? Check out our DIY party planning checklist and get started today!