There's just something about Bluey that hooks those little kids (and big kids too!). It's such a fun show, and a good laugh for the parents too, so it's easy to see why it's such a popular party theme. Mum, Paula, put together this gorgeous Bluey 2nd birthday for her daughter Regina. Check out the pictures below!
Disclosure: This post contains an affiliate link, and at no additional cost to you, I'll earn a small commission if you decide to purchase after clicking through the link. I'll only ever recommend things that I love and believe will help you, and the decision to purchase is entirely yours!
Bluey Party Set Up
The Bluey colours are so nice and bright, they lend themselves to plenty of fun at a birthday party. The gorgeous balloon garland really pops and adds the perfect finishing touch to this party table, along with the party backdrop.
The backdrop is from eBay, as well as the table skits.
The balloon garland was completely DIY by Paula. She picked up some of the coloured balloons from eBay, then grabbed white and blue balloons from  Kmart. The balloon garland tape also came from eBay. The best part is, another mum picked it up off Facebook marketplace after the party and is using it for her own son's party the next weekend!
You can also find a Bluey DIY balloon garland here.
Bluey Food Table
Paula did a great job of keeping the food on theme and it really pulled the party table together! Here's how you can create the same look for your Bluey party:
Chocolates – Aldi choc bars with DIY wrapper made using free Bluey clip art from online.
Water labels – as above, DIY using free bBuey clip art.
Jelly – DIY Bluey and Bingo pictures from online stuck on a toothpick.
Food – antipasto grazing platter and fruit platter by Magnolia Grazing.
Wraps and subs- Subway Catering Platter!
Bluey Cookies
These Bluey cookies make the perfect DIY option. You can save $4.50 per cookie with a good shortbread recipe and cookie cutters from eBay. It's nice and easy to do with a bit of fondant. Even better the kids will love helping you with it!
You can also find Bluey-themed cookie cutters here.
Bluey Cake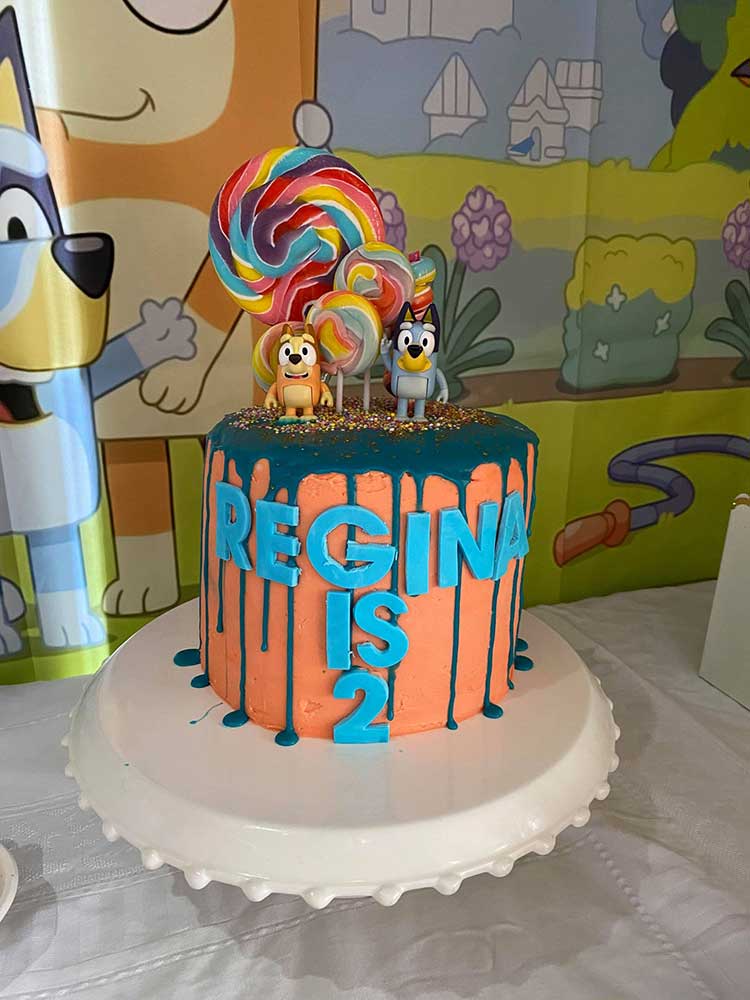 The perfect cake for one happy birthday girl!
Another DIY project for Paula, and she did such a great job of it.  It has been topped with Bluey figurines and lollipops that were sourced from Kmart. You can also find a figurine set here.
If you would rather order a Bluey cake instead of making it yourself, you can order one from here.
Bluey Party Bags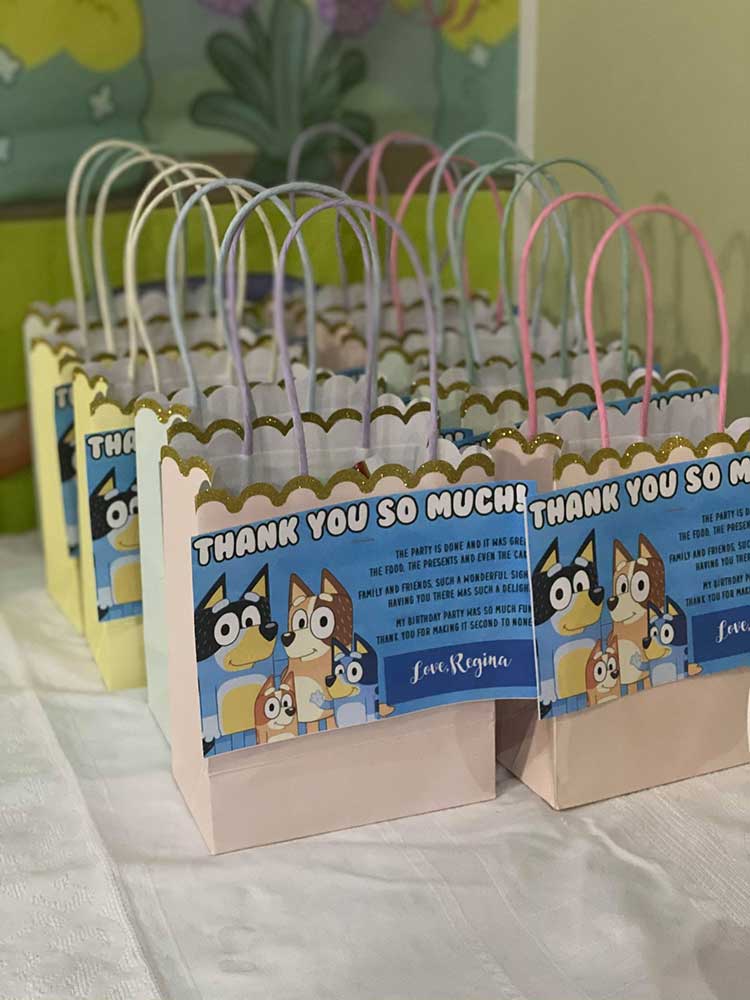 Of course, no party is complete without the party bags and party favours! Perfect treat to send the guests home with after a few hours of fun.
These party bags are from Kmart, with a Bluey and Bingo image stapled to the front to add that personal touch.
You can also order Bluey party bags from Amazon.
Bluey Party Inspiration
Looking for more Bluey party inspiration? We have it! Check out:
Plus, we have a great post on where to shop the best Bluey party supplies!
Need help planning your next birthday party? Make sure your download our DIY party planning checklist and have a go!