If you're after a cake with a difference that will wow at your next party, then we have it for you. Check out this amazing under the water jelly cake from mum Jess. She made it for her daughter's 7th birthday party and it looks amazing! Better yet, she has shared a how to with us, so you can create this cake yourself – and it's actually not too hard. All you need is a little bit of patience and you're good to go with this amazing jelly cake.
And trust us, if you have kids then you already have the patience part down pat!
Read on to create this jelly cake yourself.
Disclosure: This post contains an affiliate link, and at no additional cost to you, I'll earn a small commission if you decide to purchase after clicking through the link. I'll only ever recommend things that I love and believe will help you, and the decision to purchase is entirely yours!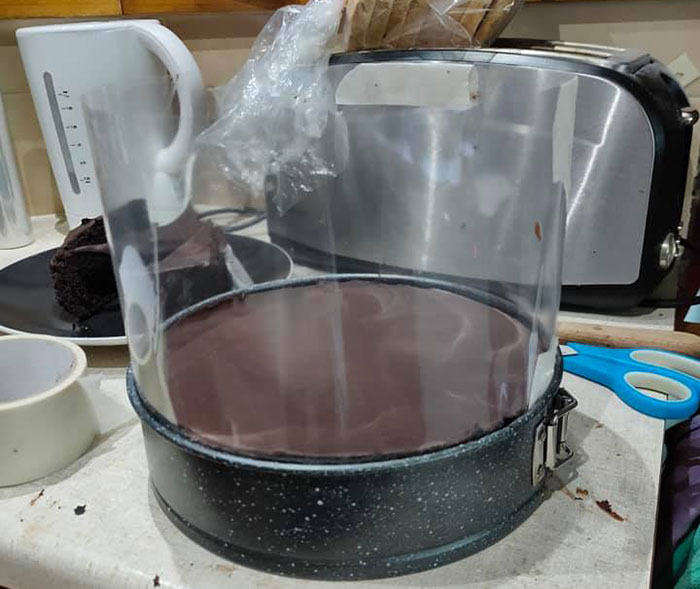 I think my favourite party about this jelly cake is that Jess didn't actually make it herself. She ordered the cake from the Woolworths bakery.
Jess got the half slab of mud cake and used the base of a spring-form tin to cut out the size of cake needed to fit in the tin.
Next step is to wrap the acetate sheet around the cake, and the pop the spring part of the it around the acetate and secure it to hold in place.
Now it's time for some jelly fun!
Adding In The Jelly
This is where the patience comes into the picture. The first part is the fun part!
Jess used coloured chocolate on top that look like pebbles at the bottom of the tank. She also made the fish out of chocolate and layered them throughout on top set jelly layers as she went.
You can use these chocolate rocks for the same effect.
Jess wrapped some green fondant around a curly whirly (Yum!) to create some seaweed in the water as well.
Another handy hint: Jess added extra gelatin to the jelly to make sure it would stay nice and firm. Once the jelly had cooled and started to thicken, she poured it into the cake and then put it into the fridge to set.
You then repeat this for as many layers as you like, remembering to pop in those chocolate fish as you go to make it look like they are swimming in the jelly cake.
Top Of The Jelly Cake
Now for the top!
The fondant came out again, this time for some lily pads on top of the cake. A super cute final touch! With some little flowers on top as well. Pop it on a cake board and you're ready to go.
Jess also popped some ganach on top of the cake as well, so that the fondant on top didn't soak into the jelly.