Is there a food you love so much (other than cake itself!) that you would LOVE to have a cake made? This KFC cake is everything and more. I dare you to even spot the difference between this amazing cake and the real thing! It would certainly do your head in biting into this cake and expecting nuggets and chips, but getting sweet food instead!
Emma shares how she pulled this incredible piece together, with in-the-process shots to help you out. Time to get creative!
Disclosure: This post contains an affiliate link, and at no additional cost to you, I'll earn a small commission if you decide to purchase after clicking through the link. I'll only ever recommend things that I love and believe will help you, and the decision to purchase is entirely yours!
Finding What You Need
To make the cake as realistic as possible, it helps to have the real packaging on hand. Emma went into KFC and asked for all the things she needed (which you can see pictured above). The salt, wipes, spoons and containers, all come from KFC. This adds to the 'real' look.
Making The Cake
You can see the cake itself, hidden beneath these 'nuggets' in the chicken box! This is the easy part. Emma used two
Coles mud cakes
and put them directly into the bucket. Next comes the 'nuggets'. For this, Emma blended two caramel Coles mud cakes. She pulled off the icing that came on them, and instead covered them with a tub of homemade butter icing. Next, Emma moulded the chicken shapes. She then froze them for four hours. Finally, they were coated in
buttercream
and rolled in crushed up
cornflakes
, and voila! There you have some delicious fried chicken.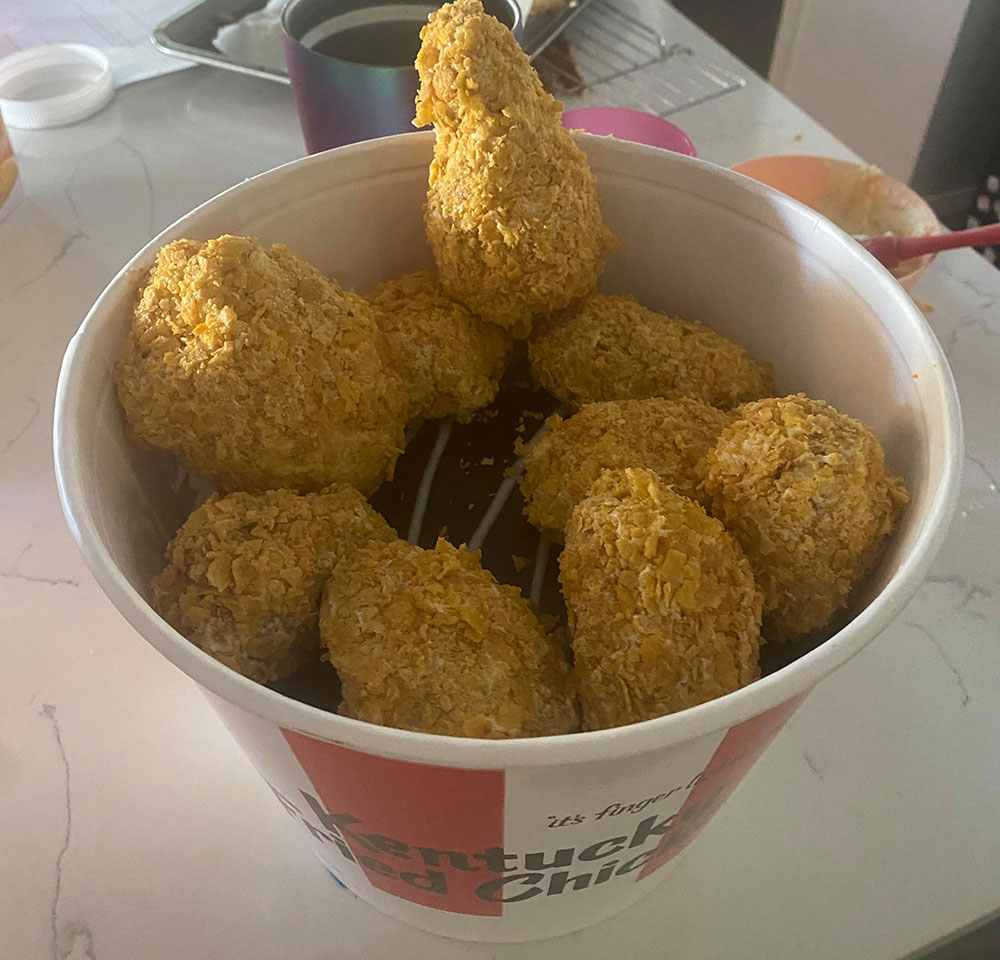 Of course, you can't have KFC without the chips as well! Emma made shortbread and formed them into 'chip' shape on the tray. They were baked at 160 degrees for about 8 minutes.
Emma then pulled them out of the oven, and cut them and reformed into 'chip' shape, as they expanded while cooking.
Once cool, the chips were placed straight into the chip container.
KFC Mash and Gravy
How realistic does this mash and gravy look! Turns out, it's super easy to recreate as well.
The potato mash is two tubs of Betty Crocker vanilla icing, which has been whipped up and scooped into then tub. Then salted caramel sauce has been poured over the top.
And there you have it! A delicious KFC meal…in cake form. All arranged on top of a cake board.
Need more tips when it comes to planning that next important occasion? Check out our DIY party planning checklist and get started today!