Whether you have a Moana party coming up, or simply going with an island theme, this stunning cake is just perfect for the celebration! Find out how to pull the look together yourself, with this how-to guide from Michelle.
Disclosure: This post on Moana cake contains an affiliate link, and at no additional cost to you, I'll earn a small commission if you decide to purchase after clicking through the link. I'll only ever recommend things that I love and believe will help you, and the decision to purchase is entirely yours!
Ingredients
3 Woolworths mud cakes
1.2L jelly – while it might be tempting, avoid using packet jelly for this. Using gelatin leaves is much easier and results in much clearer jelly.
Laminating sheet (from Office Works)
Desiccated coconut
Green food dye
Plain biscuit
Moana figures (shop here).
Moana Cake Guide
Looking for a step-by-step guide to help you out?! Michelle used this YouTube video below to create her cake – and simply doubled the recipe to get the end result. Read her hints and tips below the video.
Moana Cake Tips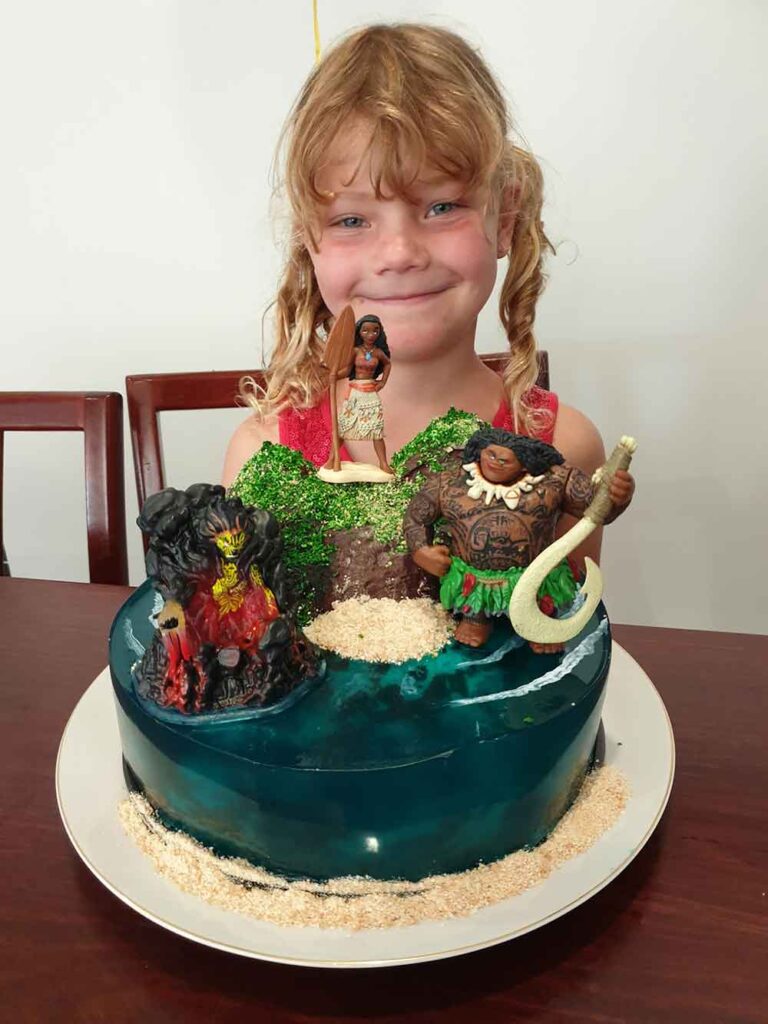 Michelle shares her tips and hints in creating this Moana cake:
Tip 1:
The cake in my picture was made bigger to accommodate the larger figurines. I used three Woolworths mud cakes. I stacked two of them and carved them out and used the extra cake to make the base wider and the mountains taller.
Tip 2:
I doubled the jelly to 1.2L water and doubled the gelatin Using gelatin leaves gives a much clearer jelly than the powder. You'll need to add more leaves for a hard set jelly (i.e 8 leaves per 500mL of water). So 1.2L was around 18 leaves. Do not use pre-made packet jelly! It won't set strong enough and is too dark to see through.
Tip 3:
Make this cake two days before the birthday to give yourself time to set everything in the different stages. The jelly liquid only needs to be at room temperature to pour into the pan (do not chill in the fridge). It will actually start setting at room temperature so don't leave it out too long. Pour a little into the bottom of the pan and pop it into the fridge for an hour to seal the bottom and make sure it doesn't leak out. 
Tip 4:
I used green food dye in desiccated coconut for the tops of the mountain, with also lightly green-dyed plain biscuit crumbs.
Need more tips when it comes to planning that next important occasion? Check out our DIY party planning checklist and get started today!