Are you looking to do things a little differently for your child's next birthday party? This Nailed It party sent in by Hannah is just what you need. She set it up for her 12-year-old son and four friends, and here's everything you need to know to recreate it yourself!
Nailed It Party Cakes
The first thing Hannah did was give each boy a photo of a cake. They were then told to have a go at replicating it just using plates as cake boards. 
Handy hint: Hannah had already made all the cakes the night before so they were ready to go, which is a great timesaver. This meant all each boy needed to do was decorate it. This is where the fun comes in! They were given 30 minutes to get creating!
You can also buy ready made cakes from Woolworths.
Hannah said they were all a bit hesitant at first, but it wasn't long before they all got into it – and the results were hilarious.
Have a scroll through their 'Nailed It' gallery below.
The fun didn't end there.
The next part of the Nailed It Party was to create some decorations for the main birthday cake.
Once again, the boys were given 30 minutes to get creative – this time with Rice Krispies treats.
They were given a Mario character to replicate, along with some fondant for the decorating. The results were great!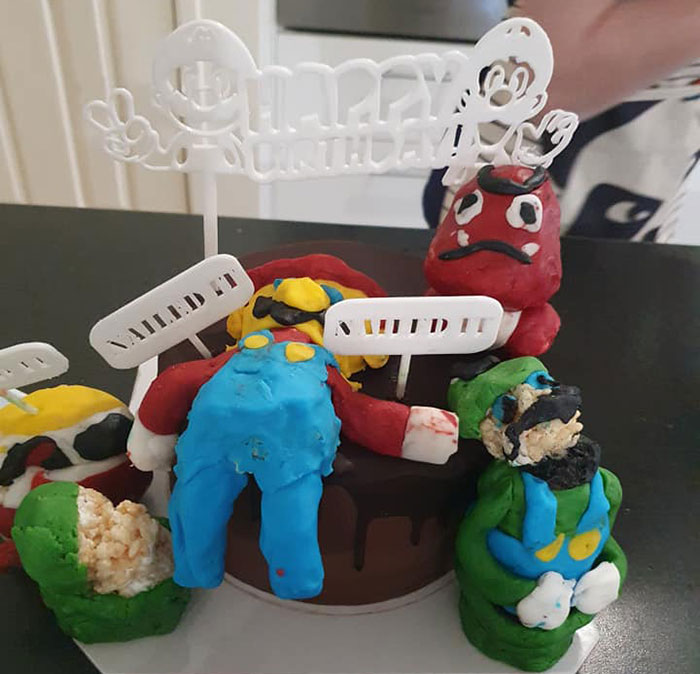 There you have it! One very low maintenance party (except maybe the clean up at the end), along with so much fun and so many laughs. It's the perfect party idea!
Need more tips when it comes to planning that next important occasion? Check out our DIY party planning checklist and get started today!