If your child is a budding artist or loves doing arts and crafts, a paint party is the perfect theme for their birthday party! The best part is that this fun and colourful theme offers endless opportunities to showcase your creativity and let your child's artistic personality shine.
Jessica shares Harper's 5th paint party with plenty of tips for you to pull together your own colourful event.
Here are a few ideas to get your paint party started!
Paint Party Invitations

It all starts with the invitations. Set the theme of the party with painting-themed invitations. We got these paint-splattered invitations from Amazon and when your guests receive them, they'll know they're in for a fun art-themed day!
Paint Party Backdrop

Another important part that sets the theme of a party is the backdrop. This vibrant art-themed birthday backdrop is in theme with your paint-splattered invitation and another easy way to instantly incorporate paint splatters and different art materials into your party decor.
Paint Party Cake
Have you seen a prettier cake than this? We're pretty sure we haven't! We love the soft pastel colors of this beautiful fairy floss cake that tastes as good as it looks. You can buy the cake here>>>
Want some more paint party cake inspiration? Check out the artist cake here that the kids can actually paint themselves!
The wooden paint palette topper is the perfect finishing touch to Harper's lovely birthday cake and fits perfectly with the paint party theme.
Paint Party Food and Snacks
Having a paint party means the guests get to paint of course! In this case, your guests can paint their own sugar cookies. If you enjoy baking, you can DIY your own Paint Your Own Cookies using this YouTube tutorial.
If not, order your favourite sugar cookies from your trusted baker and ask them to create edible paint palettes from coloured Royal icing. All you need to give your guests are a clean paintbrush and a container with drinking water. They can dip their brushes into the water, use the icing palette as paint, and colour their cookies any way they like.
Your guests can also decorate cupcakes. Provide them with plain vanilla cupcakes and offer bowls of sprinkles, candy, and other fun decor. Encourage them to let their creativity juices flow!
If you want paint party food that's still in theme but without the added mess, why not have palette-themed sugar cookies? These are both fun and delicious additions to any paint party.
Paint Party Favours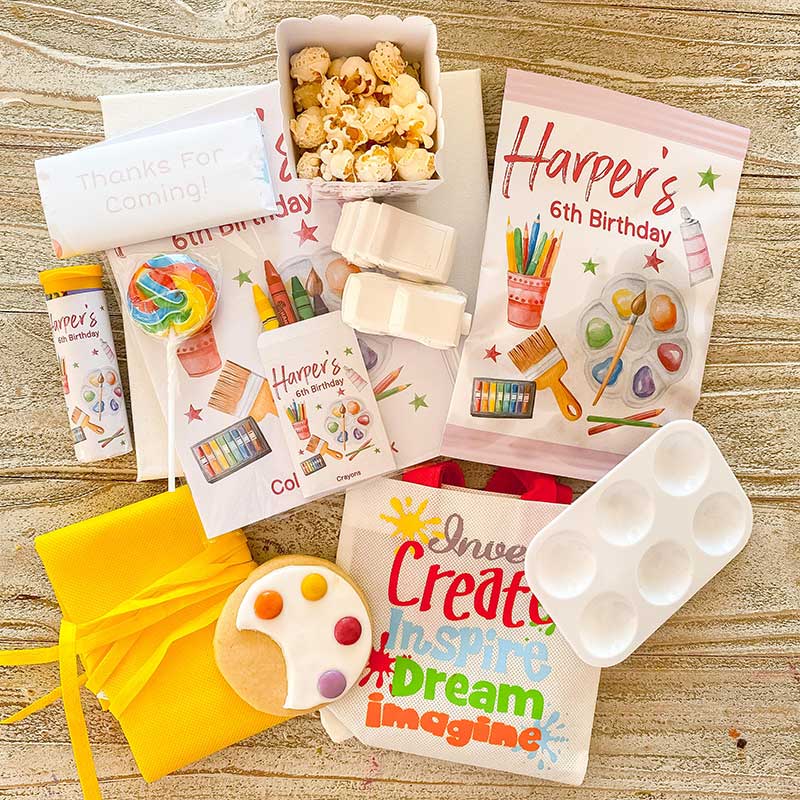 Of course, a party means party bags are in order! For Harper's birthday, she had customised loot bags printed with images of popular art supplies like a paint palette, coloured pencils, and a paintbrush.
She filled each bag with some amazing party favours, including crayons, colourful lollipops, and a fun art kit, which were perfect for the theme.
You can get a plaster set like this one and divide it into party bags, so the fun can continue at home.
You can get mini tote bags complete with a small painting canvas and tiny paint palette for your guests. They'll be able to continue the painting fun even after leaving the party.
These are just a few fun tips that can help you throw the best paint-themed party ever!
Remember to keep your food, decor, and favours bright and vivid to go with the paint party theme. We guarantee that your little artist and their guests will have the best time of their life.
Need help planning your next birthday party? Make sure your download our DIY party planning checklist and have a go!