A zoo party is such a great option for younger kids. Whether they have a favourite animal they can't wait to dress up as, or simply have a love for all animals, this theme lends itself to so much fun. Even better, there's plenty of options for party entertainment as well – whether you hire a reptile company or a petting zoo, or even head to the farm for the party, you can incorporate any animals you like. This zoo cake not only looks impressive, but is so easy to make! Once you get the baking out of the way, it comes together all on it's own with just a splash of creative fun. Here's how!
Disclosure: This post on zoo cake contains an affiliate link, and at no additional cost to you, I'll earn a small commission if you decide to purchase after clicking through the link. I'll only ever recommend things that I love and believe will help you, and the decision to purchase is entirely yours!
Baking the zoo cake
The first step in this process is baking the cake! For this one, I used a square cake tin and two round cake tins (I used two different sizes for added effect). Be warned, it does make a lot of cake, so if you're having a small party – prepare for leftovers!
It's best the bake the day before you want to decorate the cake, just to give it time to cool down so it's ready for icing.
Zoo Cake Ingredients
With the baking out of the way, here's what you need to create this cake:
Wafers: I used four packets around the outside of this cake.
Buttercream (I made my own at home and used green food dye).
Marshmallows
Blue jelly (do this the night before).
White fondant
Cocoa
Lolly bananas
Shredded coconut
Green food dye
Toy Animals
The best thing about this cake is that you can make use of toys you already have at home as cake toppers. If you are running short, you can easily buy online! While you're at it, also grab some leaves to make the trees and bushes.
Zoo cake method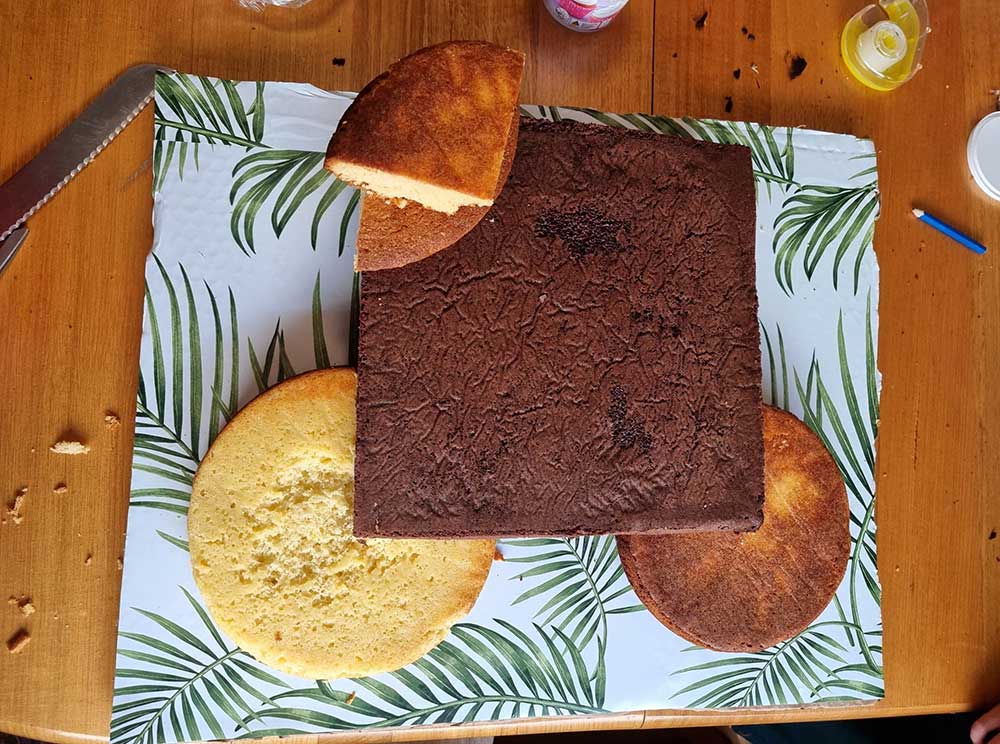 Start by cutting out the cake. You need a big cake board for this one, which I didn't have. Instead, I found a piece of cardboard that I covered with contact and voila! A DIY cakeboard!
Pop the square cake in the middle. For the two cakes on the side, you want to line them up and cut out a little triangle so they fit together.
Place one of the triangle cutouts of top of the cake (as shown in the photo).
Get Decorating!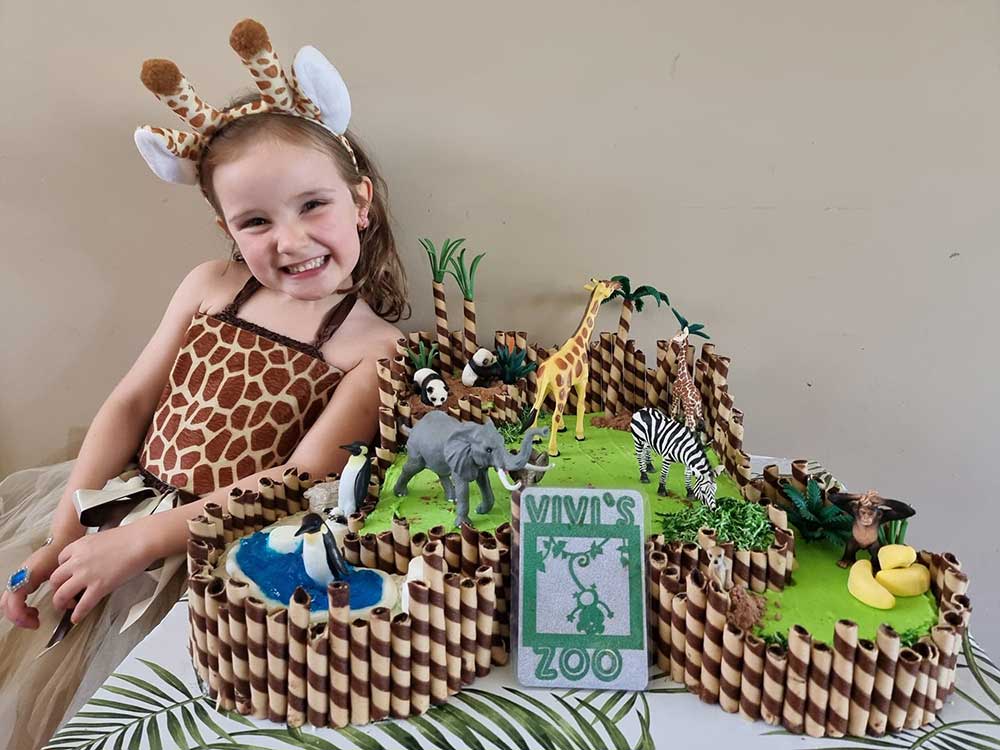 Now for the fun part – decorating the cake! I had the kids help out with this, and they loved it.
Start by icing the square cake and one of the smaller cakes green. Ice the second one white.
Now pop the wafers all the way around. Break them as you go for added effect, and don't be too picky about sizing. It all works out and looks great.
Use the cocoa to create a little panda hideout on the top cake cutout, adding some leaves and trees.
Mix coconut with green food dye to create some grass for the animals to eat.
Add the lolly bananas for the monkey,
On the white cake, roll out some fondant and use to create a circle in the middle. Fill this with broken up jelly! Add some marshmallows as the ice.
You can then sprinkle cocoa throughout to add some dirt to the ground, as well as scattering some of the coconut grass. Place your animals on and ta-da! An amazing cake!