The festive season is here and there's no better way to get into the Christmas spirit than with a little baking! This Nutella Christmas Tree is so nice and easy, and tastes delicious too. Plus, you can get the kids involved in both the prepping and the eating – they will love it. Here's how to pull together your very own edible Christmas tree.
What You Need
3 sheets puff pastry
3 tablespoons Nutella (or more, as you can never have too much)
Baking tray lined with baking paper
Knife
Creating Your Nutella Christmas Tree
It's easiest to make this one directly on the oven tray so you can pop it straight in to be baked without having to move it in the process.
Lay one sheet of puff pastry at the top of the tray, then cut a sheet in half and lay half at the bottom. Now for the fun part!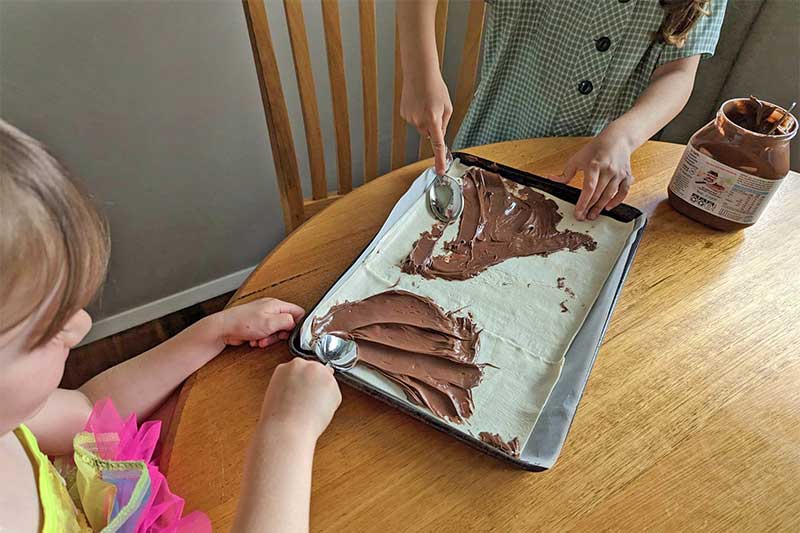 I'm not going to lie, the kids loved this part. The hardest thing was telling them not to lick their fingers in the process (as tempting as it was)! Miraculously they managed to hold off until the end when I told them the spoons were all theirs.
When it comes to this step, there's no such thing as too much Nutella. Load it up!
Once you've done the Nutella, it's time to pop another sheet of puff pastry on top and another half sheet on the bottom to cover.
Now grab that trusty knife and get cutting. You can't go too wrong, you're simply aiming for a triangle! 
We saved all the off cuts and actually popped them on another tray – waste not, want not! We even used cookie cutters to cut out stars, etc.
Next, you want to cut the branches. Make each one about 1cm thick, and leave about 2cm in the middle uncut: this is the trunk of the tree.
Make your way up to the top of the tree.
Get twisting! The girls were back to help with this (after washing their hands!), and loved it.
Simply pick up the branch by the end, twist it a couple of times and then lay it flat again.
Voila!
Time to pop it in the oven. Bake for about 15 minutes on 170 degrees Celcius. Be sure to keep an eye on it as it can brown very quickly.