Whether you're planning an Under the Sea birthday
theme
, or you simply have a little one who loves mermaids, it's hard to look past this incredible cake Jasmine made for her daughter Indi! Of course, the highlight is the incredible seaweed sitting on top – read on for the how-to so you can recreate this amazing creation yourself!
Disclosure: This post on best Mermaid party supplies contains an affiliate link, and at no additional cost to you, I'll earn a small commission if you decide to purchase after clicking through the link. I'll only ever recommend things that I love and believe will help you, and the decision to purchase is entirely yours!
Materials:
3 x Coles mudcakes (any flavour!)
Buttercream icing (storebought or home made)
Fondant: green, blue and white
Brush and alcohol from Bake Boss.
Brown sugar (for the sand)
Creating the Mermaid Underwater Cake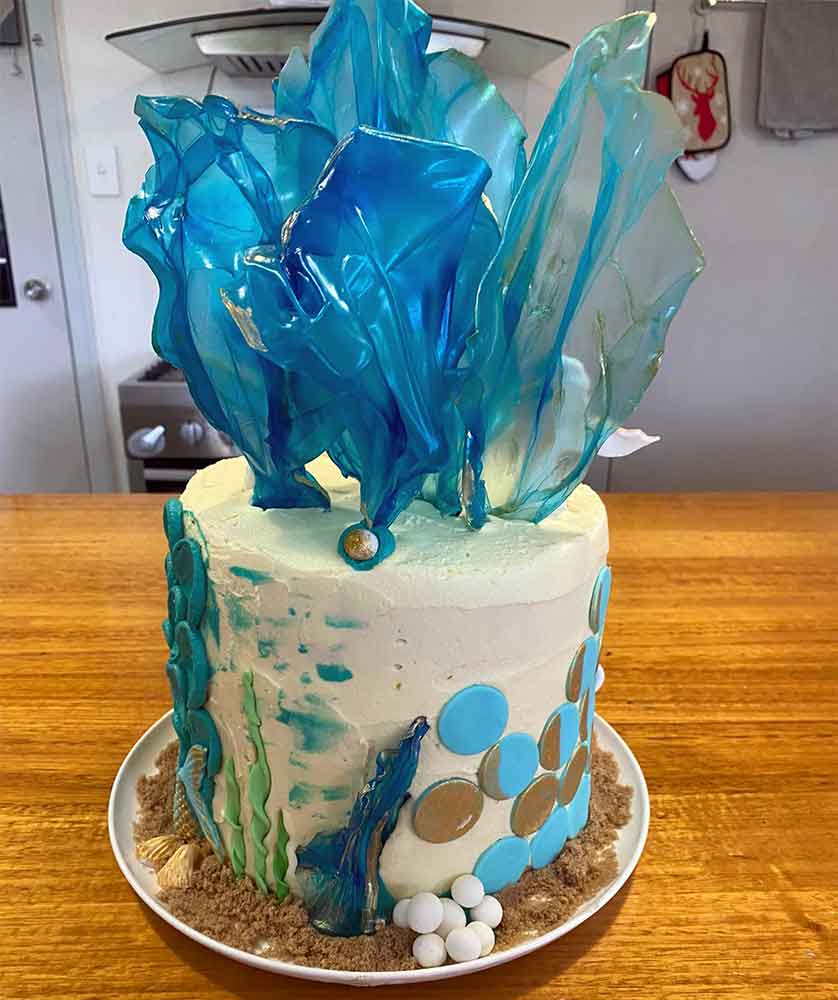 To start off with, you want to prepare the Mermaid cake. Start by stacking all three Cole mudcakes on top of a cakeboard and with a layer of buttercream in between. Apply a crumb coat and pop in the fridge to set.
Once set, bring the cake out and place on turntable to cover heavily in buttercream. Use the cake scraper to smooth out the edges and top.
Voila! You have the base to your cake. Now to get to work on the decorations.
Rice Paper Seaweed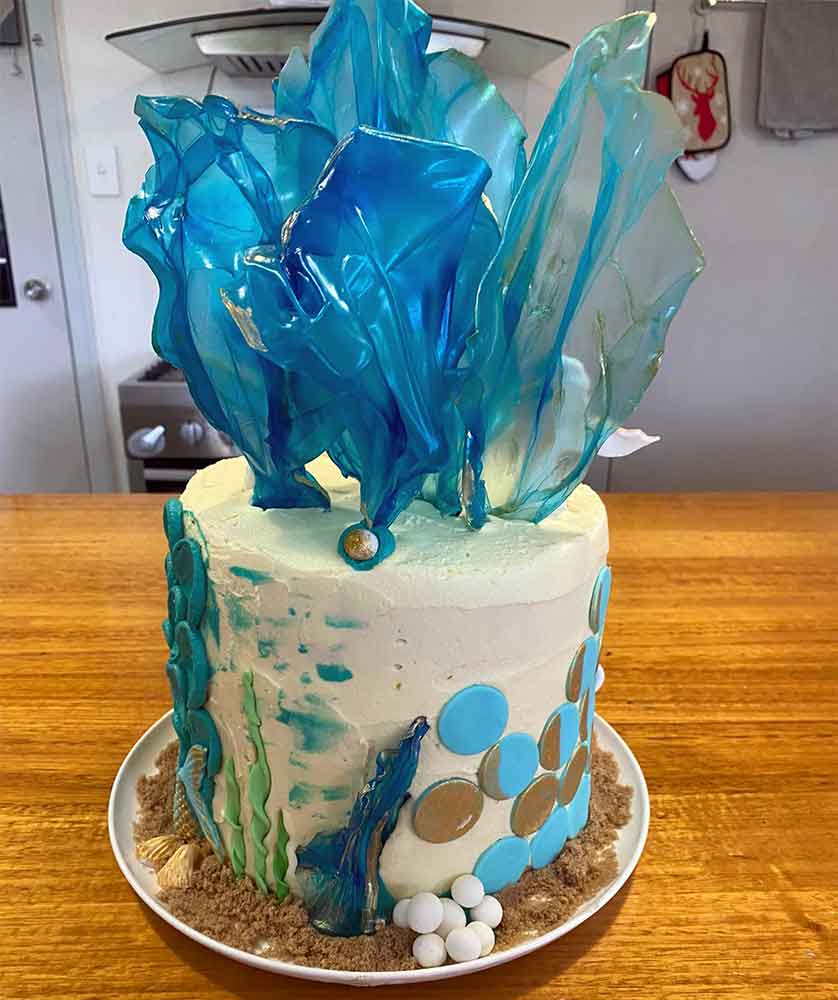 Our favourite feature of this cake is the stunning rice paper seaweed that sits at the back.
Pop the rice paper in cold water and add some food colouring to it.
Wait a few minutes for it to become soft, then pull it out and manipulate into the shape you want it to dry. Jasmine used a silicone mat and a drink bottle to lay it on.
Dry overnight.
Once dry, paint with gold oyster dust paint and use alcohol that evaporates to help it set.
Decorating the Mermaid Underwater Cake
The great part about this mermaid cake is that most of these decorations use moulds. You want to make this way ahead of time (days) to give them time to dry and set, ready to be placed on the cake.
Use your mermaid tail and shell moulds to create a number of different decorations. Choose the colours that work for your party!
Do the same and create some circles for the cake!
Create seaweed by getting some green fondant and twisting it into a seaweed shape and leaving it to dry.
Use gold dust paint to add that special shimmer to your decorations.
Pulling The Cake Together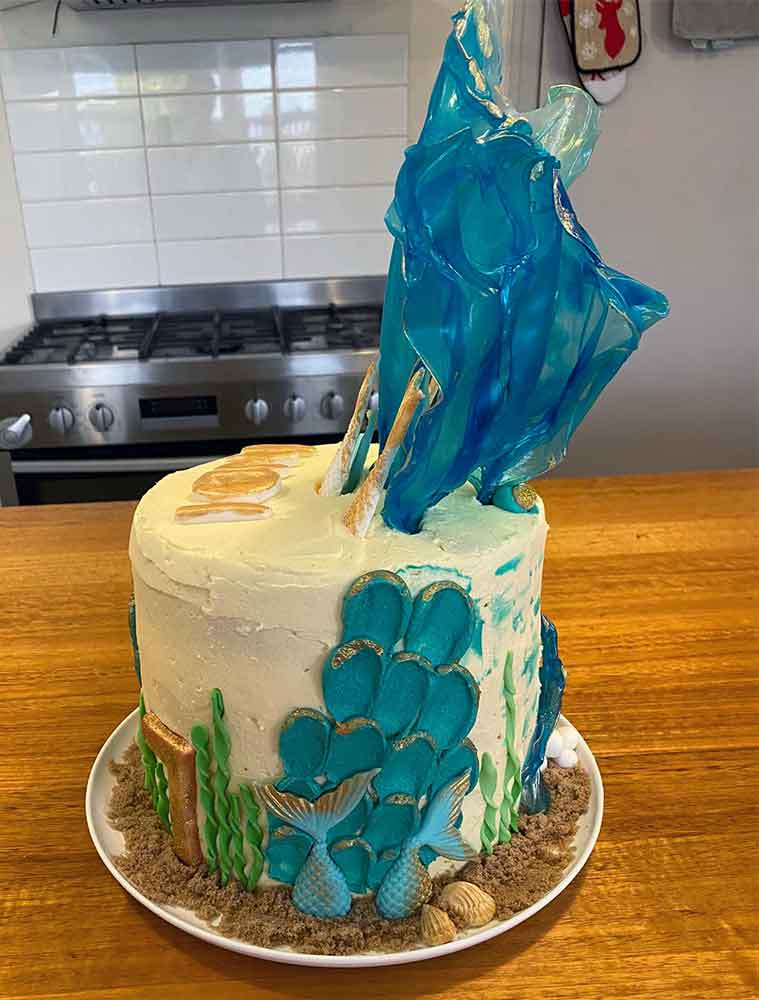 It's time to add in the mermaid decorations to the cake!
Start by piping on some mermaid scales (and use a spoon to flatten them to make the scale effect).
Add the sand at the bottom around the cake (brown sugar).
Pop the fondant pieces on top.
End with the star of the show: the rice paper seaweed.
There you have it! The perfect mermaid cake.
Mermaid Party Inspiration
Are you ready to create your very own stunning mermaid party? It's time to get started! Why not take some inspiration from members of our DIY community who have been there and done that. From mermaid party food to complete mermaid parties, head over to get some inspiration and find out where they shopped their look.
You can also check out our guide to the Best Mermaid Party Supplies here.
Need help planning your next birthday party? Make sure your download our DIY party planning checklist and have a go!