"Do you want to build a snowman?" This mum did! And what a fabulous job she has done as well. Cheryl put together this amazing DIY Olaf cake for her daughter's
5th birthday,
and it's a huge success! Here's how she did it.
Disclosure: This post contains an affiliate link, and at no additional cost to you, I'll earn a small commission if you decide to purchase after clicking through the link. I'll only ever recommend things that I love and believe will help you, and the decision to purchase is entirely yours!
DIY Olaf Cake: Ingredients
According to Cheryl, this cake was a mission. Here's what she used to pull it together:
Bottom two cakes are Coles brand vanilla cake mix. Three packets were used.
Top two cakes are premade Coles mud cakes.
There is a layer of chocolate between the layers.
Buttercream is used over the top of the cakes (before the fondant).
Bottom Of DIY Olaf Cake
This is a common trick in cake decorating! If you need to mould a part of a cake, which is either too fiddly or requires a really particular shape that will be hard to make out of cake, then this mixture above works really well. Once it's set you can cover it in buttercream and then fondant on top.
Olaf's Body
With a cake that needs to be stacked, one of the best things you can do is put something in the middle to help stabilise it.
In this case, Cheryl has used a plastic tube that will help Olaf balance nicely on top of himself.
This middle section of the cake was made from two of the Coles chocolate mud cakes. They were stacked on top of each other (with chocolate in-between) then shaped with a knife. Finally they were covered with buttercream and fondant.
DIY Olaf's Head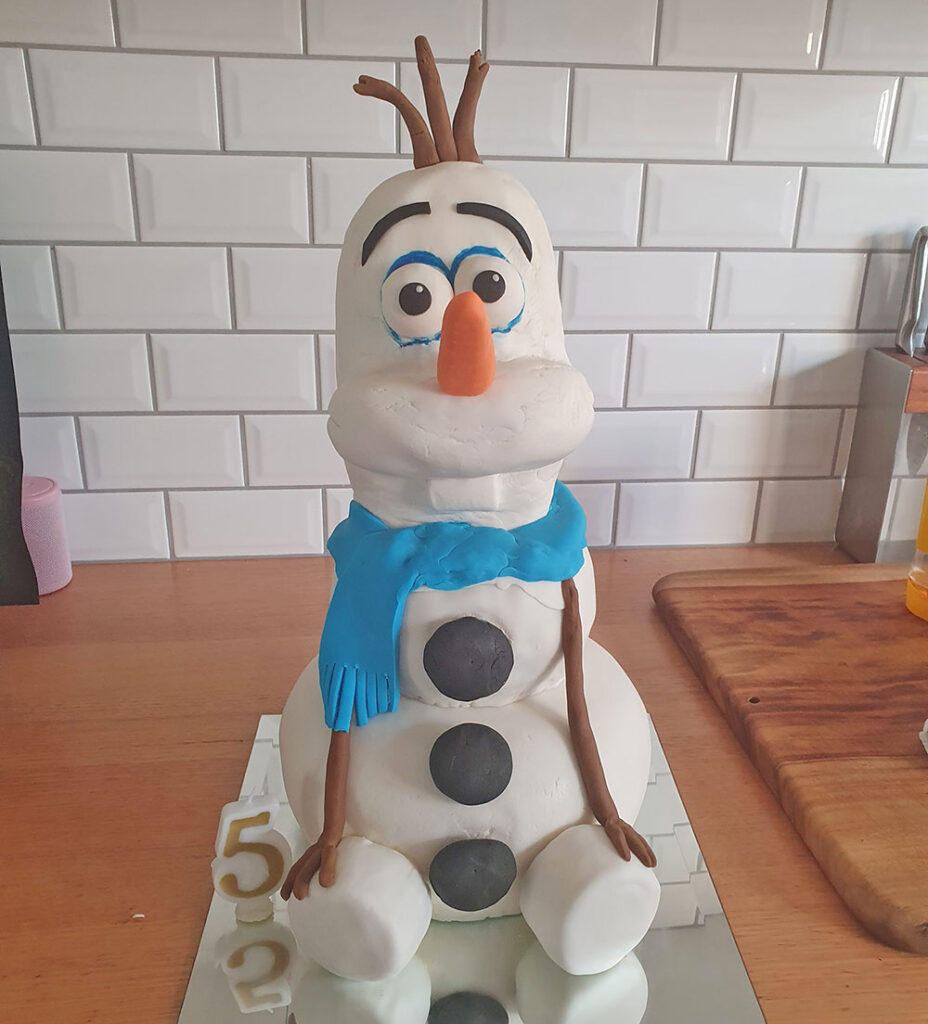 And last but not least, let's not forget Olaf's head! This one has also been made from the rice bubble and marshmallow mixture. It looks incredible!
Cheryl shares that when she put Olaf's head on it started slipping forward, which caused the fondant to crack (he literally melted!). Of course, she managed to fix that up to present this amazing final result!
All the extra decorations you see, including the hands, buttons, scarf, eyes, nose and hair have been made from
fondant
and stuck on top!
If you decide to also make your child's birthday cake, make sure to read about cake boards
here
.