I'm sure I'm not the only one with a Babysitters Club obsessed bookworm in their home. When Cassie (7), first asked to go as Kristy from the novel for Book Week, I did freeze. How on Earth was I going to help her pull together that outfit! No amount of coaxing would do, she was adament that she needed a Babysitters Club outfit, so we set to work straight away. The Cricut well and truly came to the rescue.
Hello Stoneybrook! The Babysitter's Club offers a plethora of characters with distinct styles and personalities, making it a perfect choice for Book Week. From the sporty Kristy Thomas to the artsy Claudia Kishi, there's a character for everyone.
For my 7-year-old daughter, Kristy Thomas was the character that speaks to her the most. Here's how we pulled together her outfit.
Disclosure: This post contains an affiliate link, and at no additional cost to you, I'll earn a small commission if you decide to purchase after clicking through the link. I'll only ever recommend things that I love and believe will help you, and the decision to purchase is entirely yours!
Babysitter's Club T-Shirt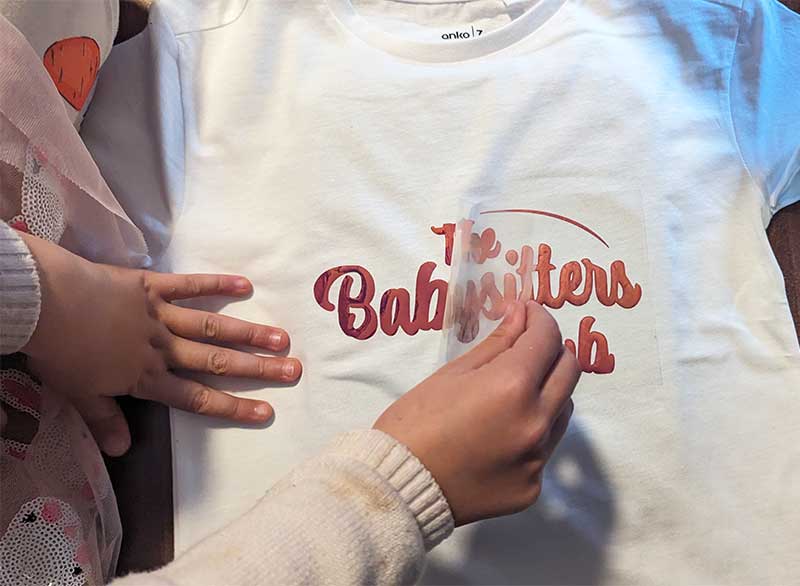 We started designing the T-shirt first. Cassie has been spending her weekends writing her own Babysitters Club' flyers, so we took inspiration from that. We decided to tun the front of her shirt into a flyer just like the ones from the book. 
We used this free SVG for the Logo (which we cut onto holographic SVG) and then created the rest of the text ourselves in Design Space. Cassie used the book for inspiration for all the text to include on the front. 
Once we printed onto HTV, she weeded each one herself and with my help, we popped it onto the shirt with the mini press.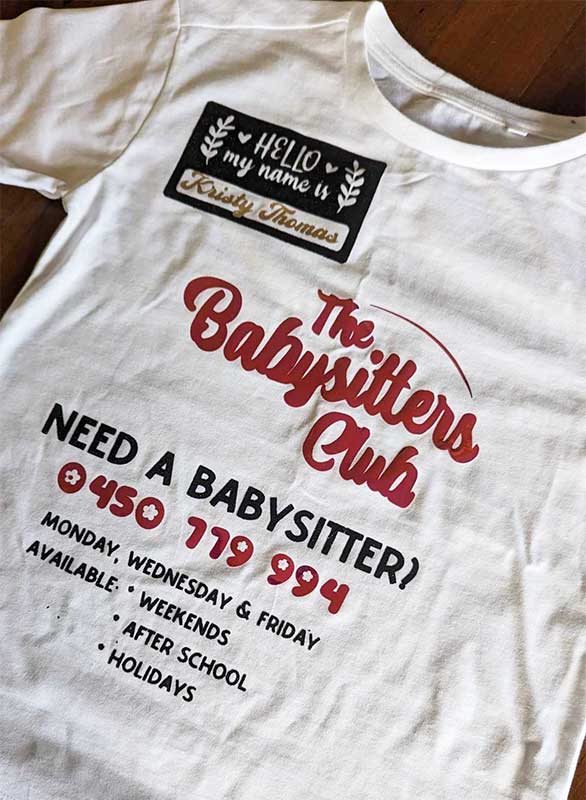 The end design reads:
The Babysitter's Club
Need a Babysitter?
0450 779 994
Monday, Wednesday & Friday
Available: Weekends
                   After School
                   Holidays
We then added a name tag from Design Space at the top, just to make it clear exactly which character she had chosen to be!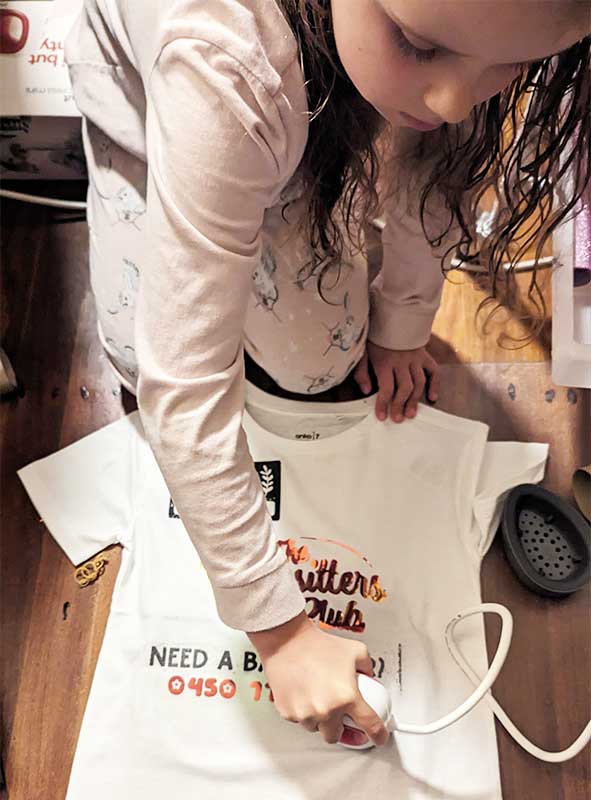 Of course, we had to pop something on the back of the shirt as well.
We found this SVG and it was perfect!
It was simply cut onto a metallic purple HTV and then weeded and ironed on.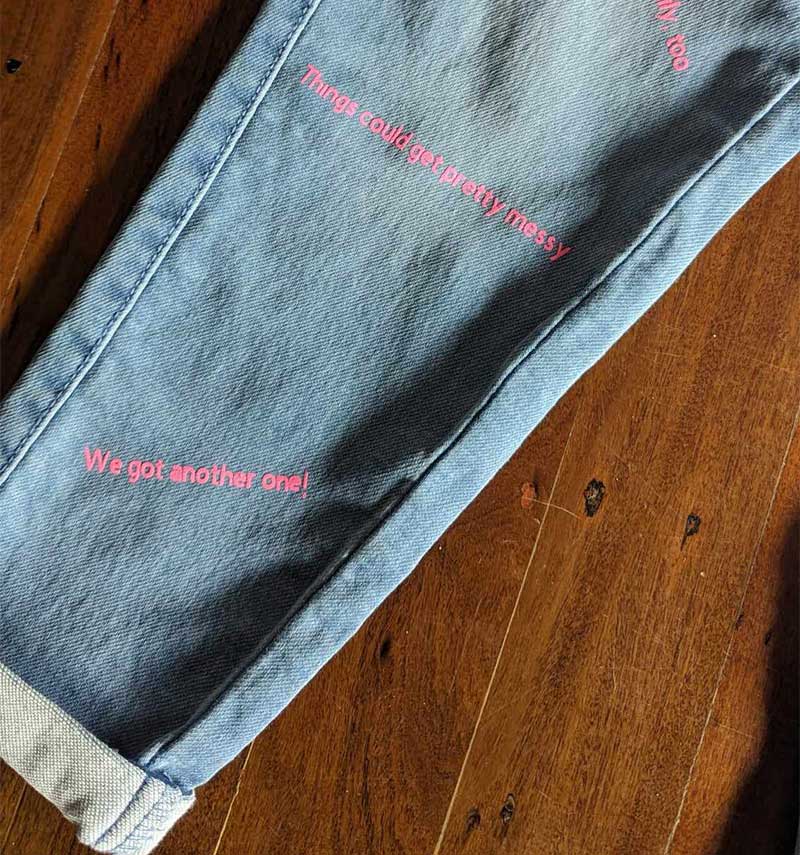 Kristy is well-known for being the tom boy of the group, so Cassie picked some baggy pants to add to her Babysitters Club outfit for Book Week. But we didn't want to simply leave them plain.
Together, we came up with the great idea of finding quotes from Kristy from the books and printing these onto the pants.
Cass did all the hard work and picked her favourites, before we used the Cricut to cut them onto HTV and the mini heat press to put on the pants.
Another trademark of Kristy is her baseball cap.
For this one, we layered some text from Design Space to create a 3D look. We used holographic HTV to really make it pop!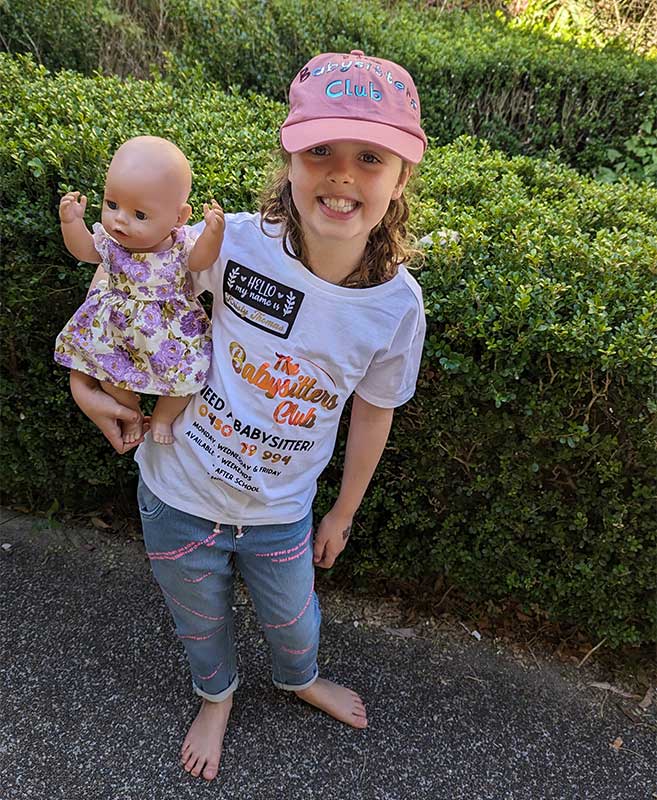 Cass was so excited to try on her outfit, complete with baby doll to look after. She can't wait to show it off for Book Week!
More ideas…
Looking for some more, easy ideas to pull this outfit together.