Kids just love science. From the awesome experiments to the cool discoveries, it's easy to see just why.
A science birthday party is a great choice for a theme. You can have so much fun with the set up and the food, and the entertainment is easy. Just set the kids up with some fun science experiments to keep them busy.
Rhea shares her son's Science Party which she pulled together for his 8th birthday. Enjoy!
Disclosure: This post contains an affiliate link, and at no additional cost to you, I'll earn a small commission if you decide to purchase after clicking through the link. I'll only ever recommend things that I love and believe will help you, and the decision to purchase is entirely yours!
Science Party Set Up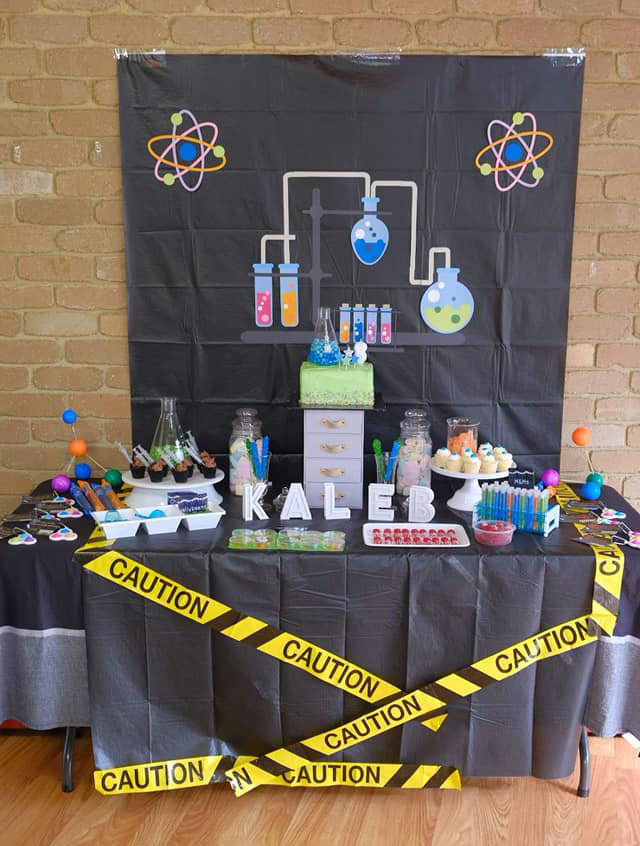 This Science Party set up is so simple, yet so amazing as well. And the best part? Rhea did most of this herself.
The backdrop was made using her very own Cricut machine – which allows you to cut out all types of materials. Once you dive down this path, you life will be forever changed. There is so much fun that comes with a Cricut.
The light up letters which feature in the middle of the table are just from Kmart, and you can get the caution tape from a number of places, including Discount Party Supplies.
Science Party Food
You can have plenty of fun when it comes to science party food, all you need is a bit of imagination, and a lot of creativity. Rhea shows some her amazing creations for her son's birthday. You will find:
All these ideas are so clever and so easy to put together as well. The Erlenmeyer flasks that have been used as lolly jars are from
Mad About Science.
Science Experiments
Of course, part of the fun of a science party is having fun with some experiments. The
kids safety goggles
are from Amazon Science Experiments. The empty coke bottles, balloons and other items are just from
Chemist Warehouse
.
Science Cake
This amazing cake is so simple, yet effective. It's just a regular square cake that has been covered in icing and sprinkles, topped with a beaker full of lollies! What more could anyone want.
Party Favours
Let's not forget the party favours.
The pop its (or molecules for this science party) are just from a local shop. But there are plenty of places you can find them online, including the Discount Toy Store.
The bubble wands are from Kmart. You can also find bubble wands online here.
More Science Party Inspiration 
Looking for more ideas when it comes to throwing the perfect Science party? You can also check out:
Need more tips when it comes to planning that next important occasion? Check out our DIY party planning checklist and get started today!