When it comes to choosing the perfect party theme, it's no secret that we have A LOT of choice out there. And when our little one's are a bit too young to choose on their own, it can be hard finding the perfect theme.
If there's one thing that works, it's choosing a theme that has a play on age, such as this Two Wild party! Just perfect for a little one who is turning two. And you can have so much fun with it as well. Eri shares the Two Wild party she threw for her toddler.
Disclosure: This post contains an affiliate link, and at no additional cost to you, I'll earn a small commission if you decide to purchase after clicking through the link. I'll only ever recommend things that I love and believe will help you, and the decision to purchase is entirely yours!
Two Wild Party Set Up
The set up for this gorgeous Two Wild party was both simple and very effective.
The stunning balloon garland was a DIY job by Ari. Simply decide what colours you are going to use and go on the hunt for balloons. You can then grab a garland kit from Kmart and use their plastic joiner (to pop the balloons into a garland). Or you can grab one of these from eBay or this garland kit from Amazon.
The rest of the supplies, including the balloons and tablecloth are from Kmart.
The animals can be bought from IKEA. The best part is, your kids will love them and they will be played with time and time again. Well worth the money spent for the birthday theme.

You can also find similar stuffed tigers online here.
Party Games
No second birthday is complete without some fun and games!
Luckily, at such a young age, kids can be fairy easy to entertain.
For this party, Ari set up:
Ballpit from Minnidip Ball
Pinata: this gorgeous '2' pinata was made by Eri using supplies she got from both Kmart and Big W.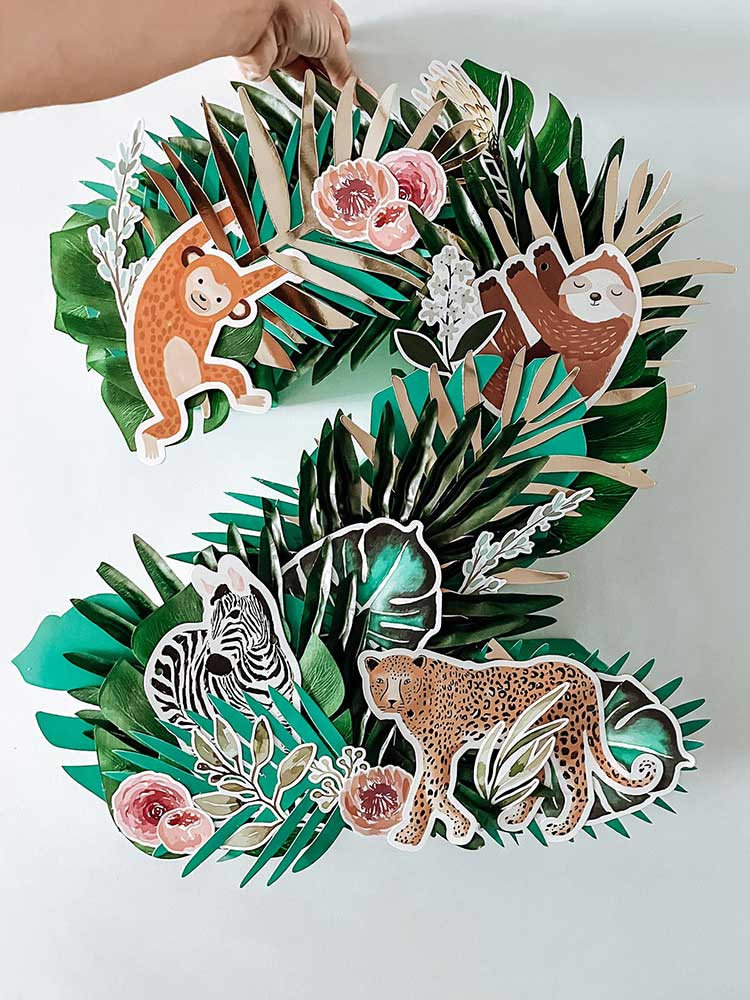 This gorgeous cake was made by Eri.
She purchased the cake topper from 3x Creations Au on Etsy.
The animal cake toppers are from Kmart.
Finally, she made the little hats herself to go on top for this two wild party!
If you would rather order a birthday cake, you can find a cute animal-themed one here.
Two Wild Party Bags
The perfect end to any party is sending kids home with a party bag. If you're looking for a more eco-friendly option, these reusable canvas bags are a great idea!
 Need more tips when it comes to planning that next important occasion? Check out our DIY party planning checklist and get started today!