There's no denying that there's something so magical about Harry Potter (it is magic after all). Throwing a Harry Potter 30th birthday is the perfect way to bring this magic to life and really take on the Wizarding World in all its glory. Katie has truly perfected the Harry Potter party and her photos will amaze you! So much was upcycled from things they already had, but read on for a few hints and tips of how you can bring your own Harry Potter party to life.
How magical does this amazing Great Hall look. Right down to the candles that are floating on the roof! If you check out the tables, you will find some familiar treats from Harry Potter featured, including Chocolate Frogs and Bertie Botts Every Flavour Jellybeans.
Katie got the chocolate frog box printables from Google, then she printed, cut and folded them into place, using double-sided tape to secure them.
The jelly bean boxes were also off Google templates and same process. Katie then bought some clear cello bags to put jelly beans in that went into the boxes and tied the boxes with ribbon.
Harry Potter 30th Birthday Decorations
The decorations for this amazing Harry Potter 30th are really next level. You will find all your favourite shops and places, even the Hogwarts Express! Get ready for a wild ride…
Olivander's Wand Shop
For the Olivander's Wand Shop, Katie used recycle coffee pod boxes to make wand boxes and printed Olivander stickers for the ends of them. For the wands, her husband 3D printed them and then they used acrylic paint to paint them.
Katie's husband made the wand holder from some wood off cuts. The door handles and letter slots and door knockers were 3d printed by Katie's husband and then spray painted.
Mandrakes
Katie made the mandrakes using a bought pot, foil, clay and some artificial leaves then sculpted and painted them to look like mandrakes.
Owl Post
For the owl post they bought a roll of brown paper and then recycled boxes of all sizes wrapped them up and then used stamps and printing of Harry Potter themed letters.
Quidditch
To make the howler, Katie found a great tutorial on YouTube that is just about folding the paper up. The quidditch chest was built and painted by her husband. The quaffle and snitch were 3D printed and painted. The bludgers were balls bought from Kmart and spray painted. There's a mechanism below the trunk that makes them move. Katie's husband also painted the background of the quidditch section.
Gringotts
Gringotts is made from foam/pvc pipe, paint and a lot of patience.
Honeydukes
Katie purchased the trolley off eBay and upcycled it. She then collected macona coffee jars and found some labels that matched and attached them. Her sister cut out the sticker for the trolley from her circuit.
Bar
Katie and her husband made the bar from wine barrels at Bunnings and some old bench tops they had lying around.
Hogwarts Express
All aboard! How amazing is this train! Katie's dad built it from a bulky bin container, an old blue water barrel and wooden train frame.
Apothecary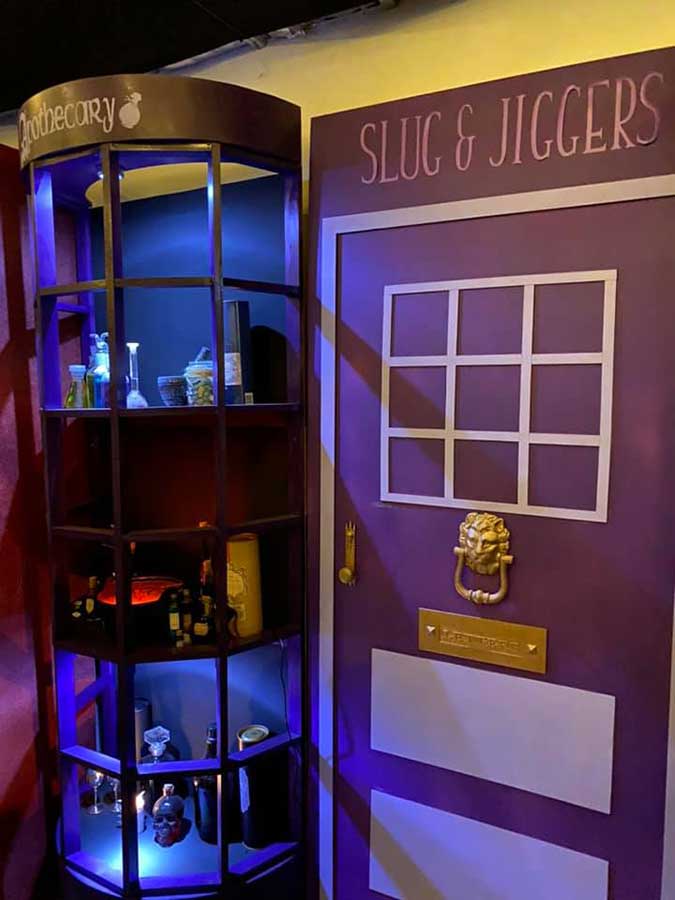 For the apothecary cupboard, Katie just collected a tonne of cool and old antique looking bottles and using sugar/food dye/ glucose and detergent made up potions and found labels to print online onto stick paper and cut and attached them. They placed a small mister in the cauldron to make it look like it's bubbling. cauldron we purchase a small mister for to make it look like it's bubbling.
Owl
Naturally Hedwig had to make an appearance at this magical birthday. Katie hired owls from a place that does wedding owls
Looking for some help pulling together your own amazing event? Don't forget to download our DIY checklist!