When it comes to offering up a unique experience gift idea, it doesn't get much better than an annual pass to the zoo. It doesn't matter how many times you take kids to see the animals, they can't seem to get enough of them! It's the perfect gift that will keep on giving all year round – and such great value for money too. A Sydney Zoo gift experience is the perfect present.
If you haven't yet headed along to check out Sydney Zoo, here's exactly what you can find and how to plan a fun-filled day here.
A Day at The Zoo
Naturally, the most important thing about any zoo is the animals that you will discover there, and Sydney Zoo doesn't disappoint. They have all the favourites, from elephants through to giraffes, along with the only rhinoceros in Australia! There's five distinct areas for you to check out with the kids.
Primates
The enclosures are nice and easy to see, with plenty of space along them, so you won't have to fight for viewing space. Discover different types of primates, how they differ from each other, and how unique they really are. Kids will love feasting their eyes on the Capybara, the largest rodent that looks just like a big guinea pig!
You will find:
Scared Baboon

Tuyfted Capuchin

Capybara

Chimpanzee
South East Asia
The elephants are a staple favourite at any zoo, because they are so easy to see and fun to watch. You will also find tigers in this section (a thrill for all) and learn all about them in the process.
You will find:
Orangutan

Asian Small-Clawed Otter

Red Panda

Asian Elephant

Sumatran Tiger
Reptile House
The perfect spot to escape the heat on a hot day, this is a nice and big Reptile House that winds right around (you don't know when it's going to end!). Kids will love spotting everything from frogs to snakes, insects, bats, mice and so much more. It's an area that keeps on giving.
Australia
Got a thing for Australian animals? You can get up nice and close to them in this section. The kangaroos roam freely (although you have to stay off the grass) and if you look around you will spot them jumping, along with wallabies. 
Koalas sit up in their trees directly above you, so close for you to check them out. There's even a nice, big wombat. Don't worry, if he's not outside, you'll find him nice and snug in the Reptile House.
You will find:
Wombat

Dingo

Emu

Koala

Tasmanian Devil

Kangaroo
Aquarium
This isn't just any old Aquarium. It's full of cod, sharks, eels, barramundi and more. You will spot Nemo floating around these waters too, but it isn't the bright, colorful type of aquarium you're likely used to.
That said, there's plenty to be discovered and learned within these walls and some very, very big fish that you will have no trouble spotting. Along with some cheeky penguins.
You will find:
Barramundi

Bull Shark

Little Penguin

Murray Cod
Africa
One of the most unique spaces you will find, the boardwalk into the Asian section takes you over camels, zebras, lions, hyenas, a rhino and more. You'll want to look out both sides and take your time to see all the animals!With seating down the middle, it's the perfect pitstop to fill up little tummies with an amazing view around you.
You will find:
Cheetah

Giraffe

Spotted hyena

African Lion

Meerket

Ostrich

African Painted Dog

Plains Zebra

White rhinoceros
Ferris Wheel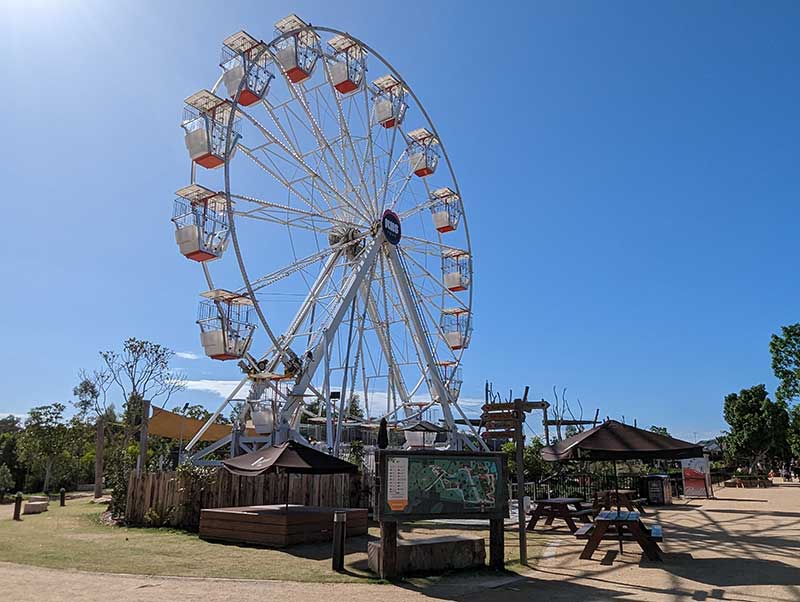 In the middle of the zoo there's even a Ferris Wheel! It's such a great way to enjoy a bird's eye view of all the animals and enclosures. It does, however, cost extra and tickets are $8 for everyone over the age of 3.
Western Sydney's wildest children's parties
You can even enjoy a birthday party at the zoo!
Inclusions
1.5 hour party duration
Zoo entry for all paid children
Group animal encounter 
Reserved party area with animal-themed decorations
Sydney Zoo party host 
Menu: choose from several options on their kids' menu
Party theme: choose from Under The Sea or Party Animals
Plus free time to explore the zoo
Price
$55 per child (ages 3-15). Minimum 10 children, maximum 20.
Annual Tickets
An annual pass to Sydney Zoo is a gift that will be cherished all year long. It takes the pressure off the visits, knowing you can always come back if you miss anything! Kids will fall in love with the animals, and have their favourites after a few trips. They'll be asking to have the passes renewed for the next year.
You can buy online and save:
Adult (16+ years): $99.99

Child (3-15 years): $49.99

Infant (0-2 years): Free
Essential Details: Sydney Zoo
Address: 700 Great Western Hwy, Bungarribee NSW 2767
Opening hours: Open every day from 9am-5pm
More Gift Experiences & PARTY vENUES
Discover more gift experiences & party venues: