Daniela shares her son Kai's 11th Science Party with us!
Disclosure: This post contains an affiliate link, and at no additional cost to you, I'll earn a small commission if you decide to purchase after clicking through the link. I'll only ever recommend things that I love and believe will help you, and the decision to purchase is entirely yours!
How long before did you start planning?

Planning for me can start at least a year ahead! To some that might seem ridiculous, but I like to get my boys involved with ideas and make sure I get the best results possible.
How did you choose a theme? 
Choosing a theme comes down to what my boys are interested in and what really reflects them at that particular age in their life. This particular party was a science theme! My son started science at school last year and he was so amazed as to how many different types of sciences there really were…so a Science Party was born! We almost always start with a colour scheme and then start to research from there. Not sure why, but I tend to design cake first then marry up everything else around it to complement. I'm really particular if you haven't noticed!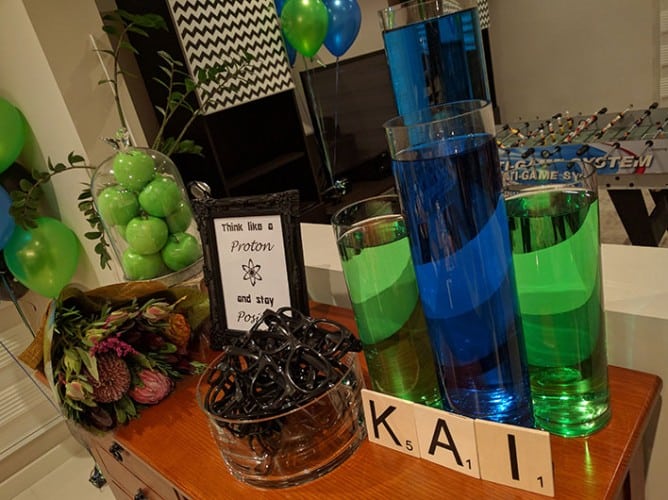 Where did you source your decorations?
With decorations, I like to get a bit hands on and crafty – let the creative juices flow!
Chocolate brains with popping candy – you can purchase the moulds here! I tempered the white chocolate, allowed it to cool slightly prior to mixing in the popping candy, so it's not popped already! Froze them for 30min, let rest for 10min, then popped them out allowing to come back to room temperature. Stored in an airtight container (can be made ahead of time, too).
Petri dish jelly – aeroplane jelly as per packet directions. Make sure you add gelatine to the jelly mix as this allows the jelly to be out of the fridge a whole lot longer, and I put sprinkles on top right before I took them out. (If you sprinkle earlier, sometimes depending on the sprinkle it may dissolve into moosh).
The background was corrugated plastic cardboard from Bunnings. I painted them with black chalkboard paint.
I printed out the letters on my home printer and cut all the squares to size and stuck everything together with double-sided tape. Once all the letters were on my boys and I went nuts on all the chalk sums and symbols!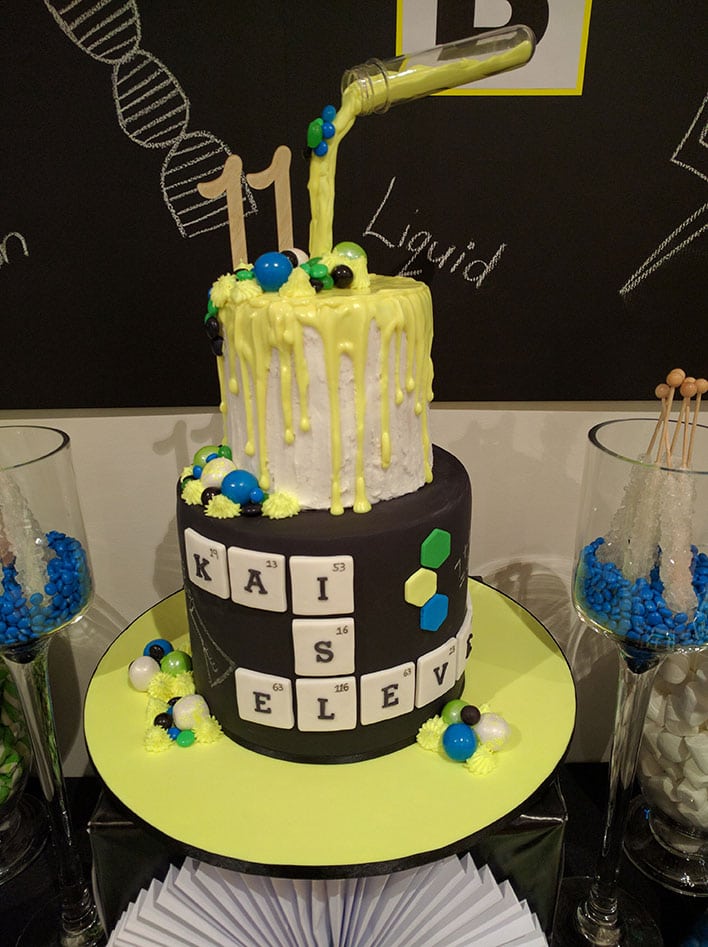 Where did you get your cake?
The birthday cake was proudly made by me, including the cookies, chocolate brains with popping candy, jelly petri dishes, etc. The cake was orange poppyseed – my boys' favourite.
What was the hardest part to plan?
The hardest part was scaling down the ideas and choosing the best for the guests invited! You can always go crazy and credit to my boys, they are always adding to my list.
What was the easiest?
There really isn't anything easy, however a piece of advice would be to plan early so you know exactly what needs to be done. I find sometimes people underestimate the time that goes into preparations and set up…It really is key to creating a great party!
What was your favourite part of the party?

My favourite part of the night was definitely the dry ice effect, the kids were just mesmerised!
We also had:
Drinking nuclear waste from test tubes…
Nerd glasses…
Nuclear slime marshmallows…
Chocolate-filled syringes served with cake…
New Science Lab names for all…
How did everything go?
Let's just say that everyone had a great night! Lots of talk about and sharing ideas as my family knows my OTT standards. They always look forward to my parties!!!
Hopefully my photos inspire us as parents to create beautiful memories that our kids can treasure forever in their memory bank.
HAPPY PLANNING!
More Science Party Inspiration 
Looking for more ideas when it comes to throwing the perfect Science party? You can also check out:
Need more tips when it comes to planning that next important occasion? Check out our DIY party planning checklist and get started today!