Let's face it, choosing the perfect theme for that next birthday party is half the fun of it. When our kids are little, we get free reign in that department, so it's a great chance to pick some you love (and know they do to) and create the party of your dreams for them! That's exactly what mum Kirrilee has done for her daughter on her first birthday. And the results are just stunning! Check out the gorgeous Bee-themed birthday party for one very lucky little girl (and recreate the look yourself).
Bee-themed Set Up
Everything has come together perfectly in this gorgeous bee-themed set up!
The balloons for the garland were purchased from Pop Up Party Co (White Sand Colour). It's a 2-metre garland kit that Kirrilee put together herself.
Kirrilee's husband purchased the wood for the beehives from Bunnings and made them himself! Amazing job!
Laser Birthday Board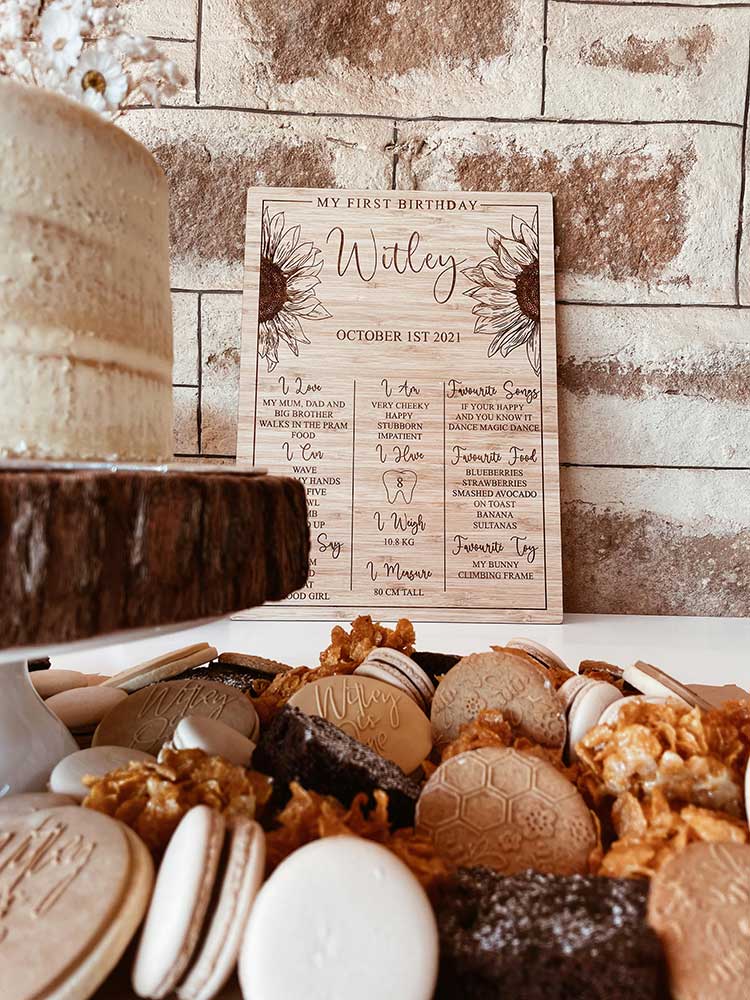 How gorgeous is this laser board! It's such a great way to mark those milestones on a first birthday, and this one fits in beautifully with the rest of the theme. It's from My Little Blossom Co.
Grazing Board
This grazing board is the stuff of dreams. So many tasty options and styled to perfection.
Kirrilee's own mum made the cupcakes, fondant cookies, ginger cookies and honey crackles! The cookie embossers she used were from Etsy. The macarons are from Lil Miss Macaron.
Kirrilee's mother in law made the brownies.
Bee-themed Birthday Party Cake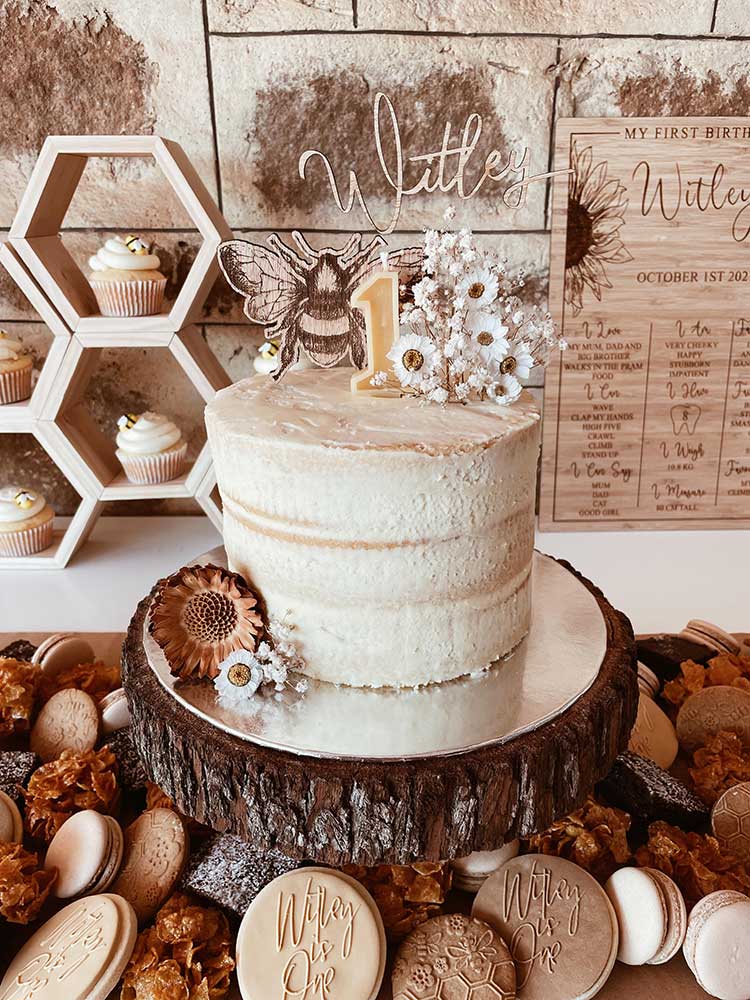 How stunning is this birthday cake! It was made by Kirrilee using a Woolworths mud cake hack (amazing!).
The wooden cake board is an off cut from a friend's tree that was removed in their yard. White cake stand is from Kmart.
Looking for some more Bee Cake inspiration? Head to our Bee Cake post!
Birthday Girl
Just how gorgeous is the beautiful birthday girl Witley! Her outfit is divine as well. Her bow is from Mama Bear Baby. The romper is from Nature Supply Co. Finally her skirt and socks are from Jamie Kay and her boots from Target.
Ready to put together your own amazing birthday party? Download our DIY party planning checklist to get started!