Some bunny is one! This has to be the sweetest theme for a little person turning one in your home. Plus, there's so much in the way of Peter Rabbit decorations for you to choose from, it makes it even easier to pull together the perfect party.
Monique shares how she created this gorgeous set up for her son Harvey, so you can recreate the look yourself. Have fun browsing the photos and checking out this fabulous party!
Disclosure: This post contains an affiliate link, and at no additional cost to you, I'll earn a small commission if you decide to purchase after clicking through the link. I'll only ever recommend things that I love and believe will help you, and the decision to purchase is entirely yours!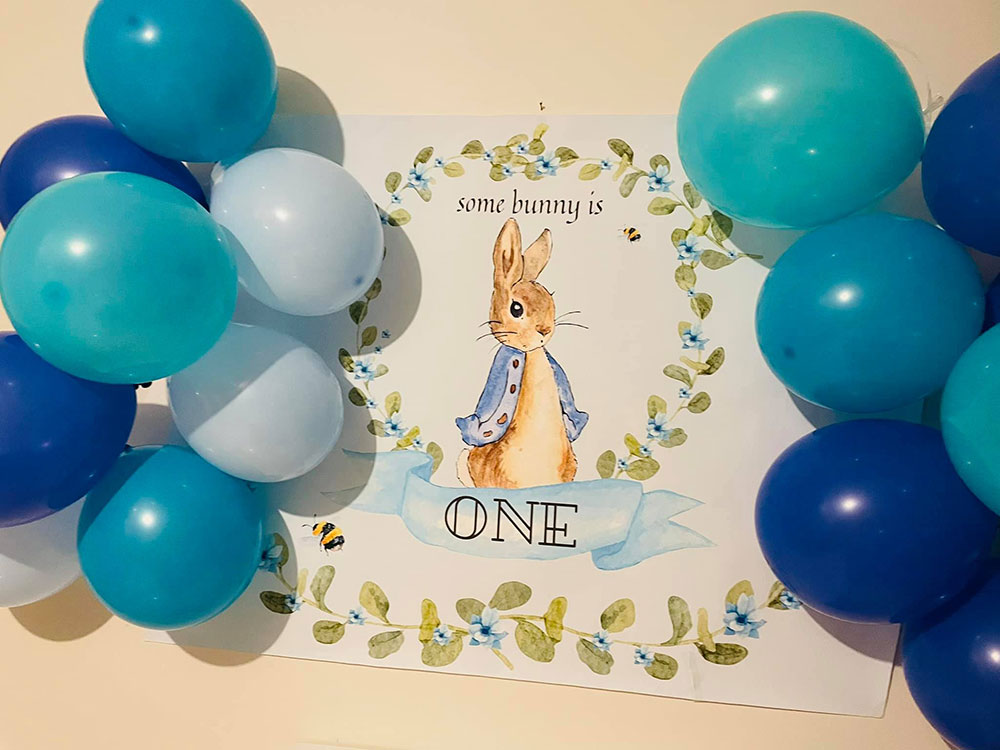 Such a simple set up, yet it looks so gorgeous!
It's the little details on the party table that make it so adorable. There are Peter Rabbit pages scattered throughout, with little Peter Rabbit cardboard figures. The cutest way to pull everything together.
All the decorations and signs were made by Kylie Burnett.
Monique shares: "Kylie is only just starting out, but she was so very helpful from start to finish, communicated all the time to ensure I was happy with everything and look how impressive her design skills are! I highly recommend Kylie for any printing/decoration needs!"
Some Bunny Is One Decorations
The added decorations both inside and outside the home are the perfect way to pull the look together. Monique has used a gorgeous Peter Rabbit sign with the words 'Hop this way' on it, which sits out the front to greet all the guests. Too cute!
A string of bunting is another simple, yet easy way to set the birthday scene.
Both the bunting and the sign were put together by Kylie Burnett (mentioned above).
Peter Rabbit Cake & Cupcakes
And last but not least, the gorgeous Some Bunny Is One cake and cupcakes! These was made by a friend of Monique's who followed Monique's design and allowed her to decorate them.
The cake topper is by DesignsbyT. You can also find ready-made cake and cupcake toppers and other Peter Rabbit decor here. 
Need more tips when it comes to planning that next important occasion? Check out our DIY party planning checklist and get started today!