Kids of all ages, from eight to 18 years old love the TV series "Wednesday" – the newest take on the beloved Addams Family franchise. Jessica's daughter is one of Wednesday's many young fans and her birthday party showcased her love for the show and its eccentric yet lovable main character.
Here's how Jessica put together this fun party! 
Disclosure: This post contains an affiliate link, and at no additional cost to you, I'll earn a small commission if you decide to purchase after clicking through the link. I'll only ever recommend things that I love and believe will help you, and the decision to purchase is entirely yours!
Wednesday Addams Party Set-Up
Balloons are the perfect way to instantly set the mood of any party. For this birthday celebration, Jessica used orange, black, and purple balloons to create a Halloween-themed balloon arch for the party table, perfect for the theme. A black tablecloth, a rubber Thing, and Wednesday-themed birthday banners complete the look.
If you don't have time to DIY your party table set-up, you can easily purchase Wednesday-themed balloons, cake toppers, and party banner here.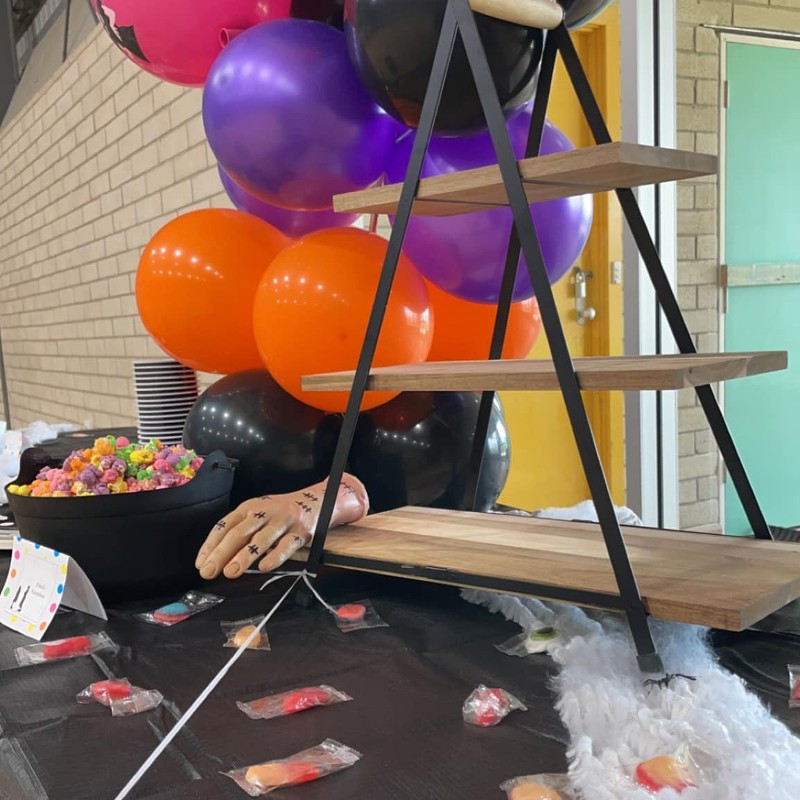 Wednesday Addams Party Cake
Of course, it's only fitting that a Wednesday-themed party should have a dark-coloured, almost black cake. To continue the fun theme, Jessica added a purple Wednesday cake topper. You can buy your own edible Wednesday cake topper here.  Read more about different types of cake toppers here. 
While the cake icing is dark and gloomy, the inside of the cake holds a colourful surprise! Jessica chose a delicious rainbow cake on the inside to add more fun and welcome colour to the party. 
Wednesday Addams Party Cupcakes
Most kids (and a lot of grownups too) love cupcakes! These sweet treats are the perfect party food because you can decorate them any way you want, plus they're easy to eat, even while standing around and mingling with your guests.
Jessica filled a cupcake stand with purple cupcakes decorated with different Wednesday-themed toppers, including Thing and Wednesday with her best friend Enid. You can get your own edible Wednesday cupcake toppers here.
The great thing about cupcakes is that your guests can also bring them home as additional party favours. Read our guide to cupcake boxes here. 
Wednesday Addams Party Cookies
The more sweets a party has, the merrier!
Jessica also included yummy Wednesday-themed sugar cookies to the party food. She chose a dancing Wednesday, a black cobweb, and Thing as part of their creepy cookie designs. You can't get any more Wednesday than these designs!
Wednesday Addams Party Favours
The party favours continue the creepy and cool Wednesday theme. Jessica chose edible favours such as sugar cookies in other Wednesday-themed designs. Party favours also included the celebrant's favourite lollies, already labelled with each guest's name, ready to be brought home at the end of the party. You can also fill up these 
Wednesday party bags
 with your favourite chocolates, lollies, and other Wednesday-themed favours to add even more Addams Family fun to your party.
If your child loves the TV series Wednesday, a Wednesday Addams-themed party is probably in your future. Fortunately, there are many ways you can incorporate this fun theme into any type of party.
We hope this party inspires you to create your own version of a creepy yet cool Wednesday Addams party. Enjoy!