Planning a first birthday is both exciting and also full of so much reminiscing of the year that has been. It's no secret that babies grow and change so much in that first year. In fact, their first birthday is as much about you as it is them.
It's a celebration that as parents, you survived that first year and have made it to the other side. The one where you now know your child a little better and feel so much (hopefully) more confident in your parenting abilities. This is a milestone well worth celebrating for all!
But, the hardest part can be choosing a theme that fits the occasion. 
Mum Stephanie shares the sunflower party she put together for her daughter. Stephanie chose the Sunflower theme because it just seemed to feel so happy. She wanted to do something a little different to the typical parties because things were so dull around her pregnancy and birthing due to COVID. She felt her daughter deserved a bright sunflower party! Plus she is a happy baby, so it suited her well!
Such a gorgeous reason for choosing a theme. 
Disclosure: This post contains an affiliate link, and at no additional cost to you, I'll earn a small commission if you decide to purchase after clicking through the link. I'll only ever recommend things that I love and believe will help you, and the decision to purchase is entirely yours!
Sunflower Party Set Up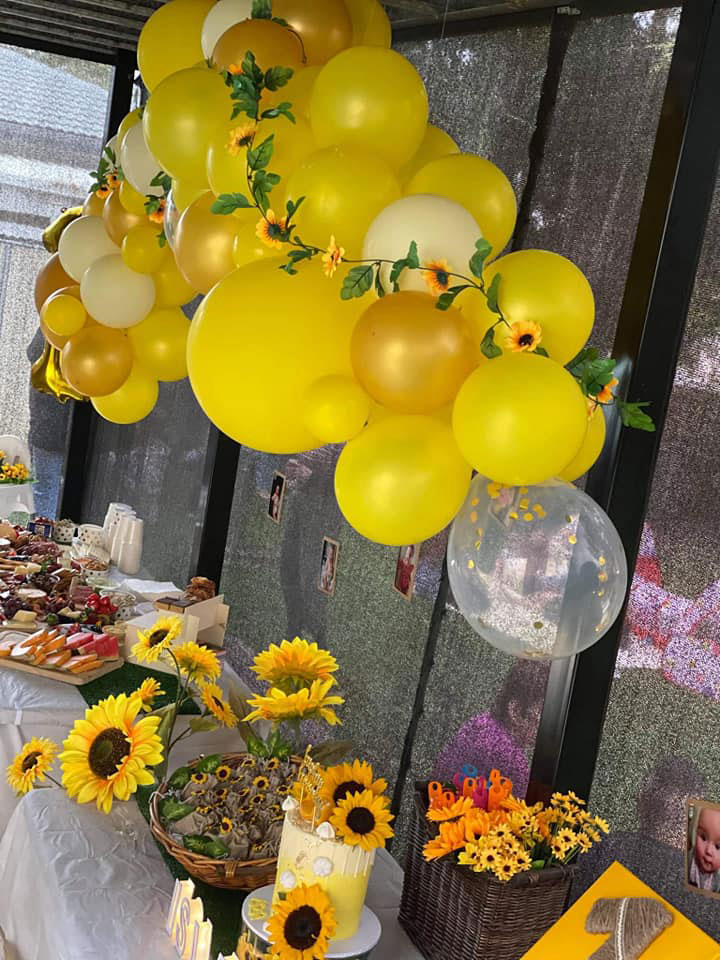 How stunning is this gorgeous Sunflower Party set up and all the gorgeous decorations. Yellow is such a happy colour, it really makes the party table pop and is so fitting for the occasion.
Stephanie shares how she pulled everything together:
The balloon garland is from eBay. Stephanie bought it online and set it up herself before the big day. You can get a similar one on Amazon.
The sunflower vines have been draped along the garland and perfectly complement the look. You can also get them online  here.
Sunflowers and hanging decorations are from a variety of discount bargain stores around North Brisbane.
Stephanie also likes baskets, so she had a few she could use that were around the house already serving a purpose.
The astro turf table runners and plates etc are all from Kmart.
Stephanie made the #1 monogram herself with cardboard, twine and a spare canvas she had in the art closet. She was trying to use as much as I had around the house to save on money. This is always a great idea for any party you throw. Go ahead and raid the cupboards first to see what you do have before you go out and buy things. It's amazing how creative you can get!
Sunflower Cake
This amazing cake is so simple, yet so effective.
It was made by a family friend with a lovely drip down it and decorated with plenty of tasty treats as a cake topper!
You can order another version of a sunflower cake here. Both are beautiful options!
Party Platter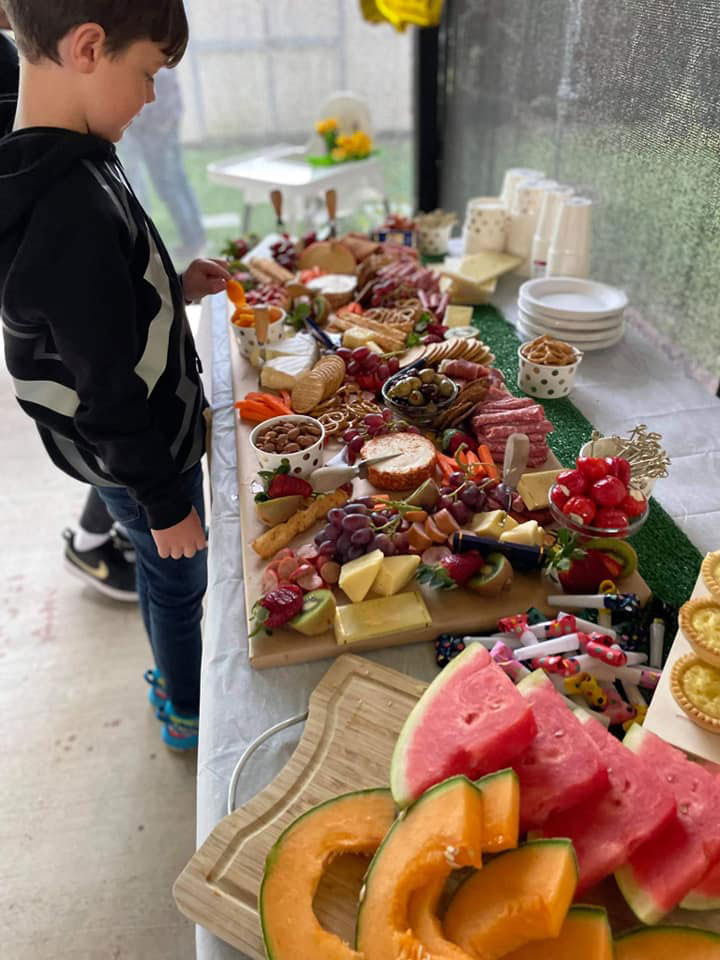 Platters are one of the best ways to keep guests full, plus they look great on a party table as well. The platter board that Stephanie has was just a thin plank of wood wrapped in baking paper (to protect) and brown paper.
So simple and easy, yet looks so incredible.
You can get large wooden platters here.
Sunflower Party Favours
Stephanie went above and beyond when it came to party bags for this sunflower party.
The first set of party favours were hessian bags containing seedling pots from the Woolworths promotion. The bags were from eBay.
The cookies were made locally by 2 Chefs & a Cupcake.
The bubbles were from Kmart.