Anyone can tell you that the best part of any party is the cake! It's front and centre on any party table, and what everyone hangs around for at the end of the party – and of course to sing to the birthday boy or girl. Cupcakes are just as good – if not better. You get your own one, topped with plenty icing, in your own wrapper. Sounds great, right? But they can be a pain to transport! Whether you're planning at party out of home, taking celebrations to the office, or delivering cupcakes as a business, here's everything you need to know when it comes to choosing the best cupcake boxes.
Disclosure: This post contains an affiliate link, and at no additional cost to you, I'll earn a small commission if you decide to purchase after clicking through the link. I'll only ever recommend things that I love and believe will help you, and the decision to purchase is entirely yours!
Planning a Party
"Happy birthday to you…
Happy birthday to you…"
We all know the song, but better yet, we know exactly what that song comes with. Cake! Or cupcakes depending on your preference. While cakes have always been all the range (the bigger the better it seems these days), people are getting extremely creative and clever with their cupcake making abilities.
Cupcakes have so many advantages over cake when it comes to serving at a party:
They are already cut up individually and ready to serve.
You can lump the icing on (everyone's favourite part, right?).
They come wrapped: wahoo less mess!
You don't even need plates, which means one less thing to worry about when planning.
Plus, there are so many creative designs you can choose from.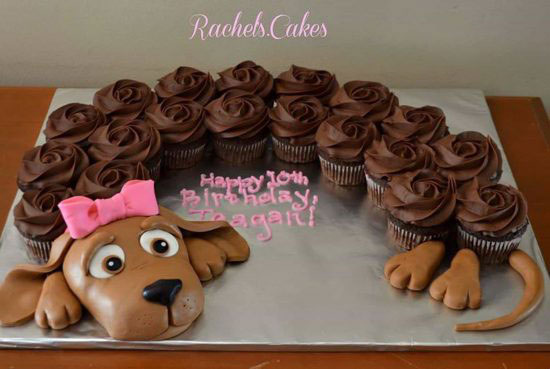 Some clever people create an artwork out of cupcakes, so you can barely even tell there are cupcakes under it!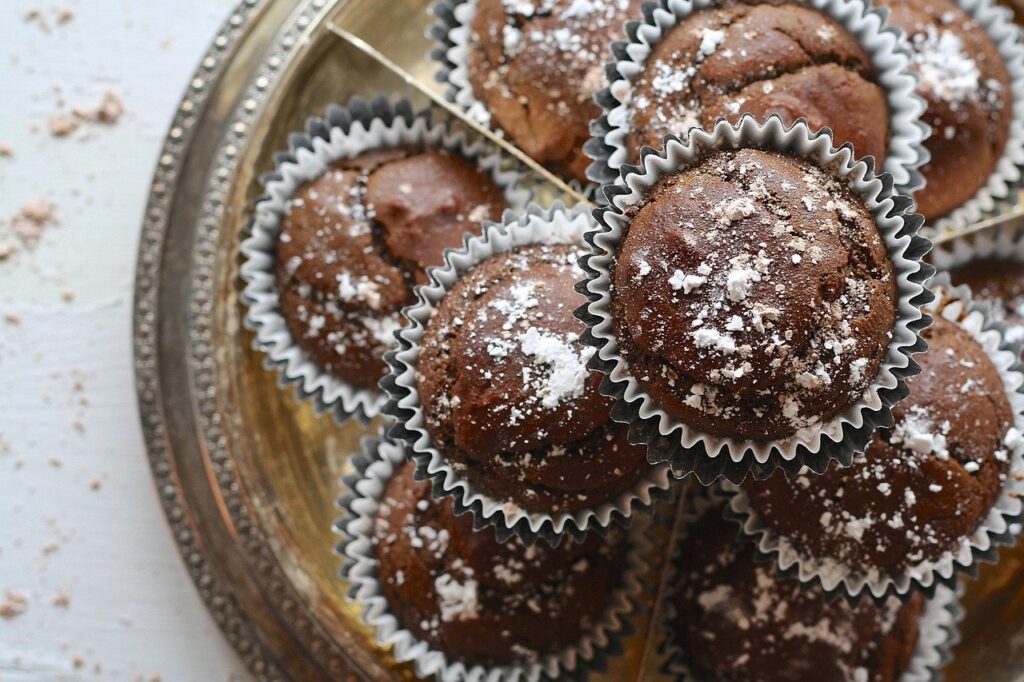 You can also set up a cupcake tower.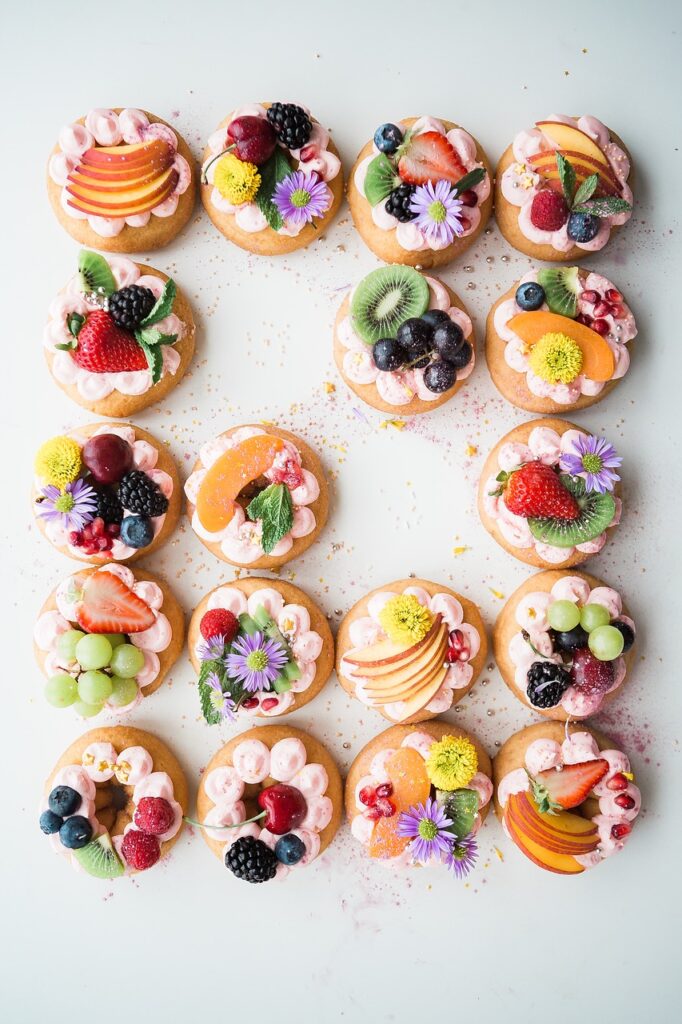 You can go crazy with the different toppings on each one.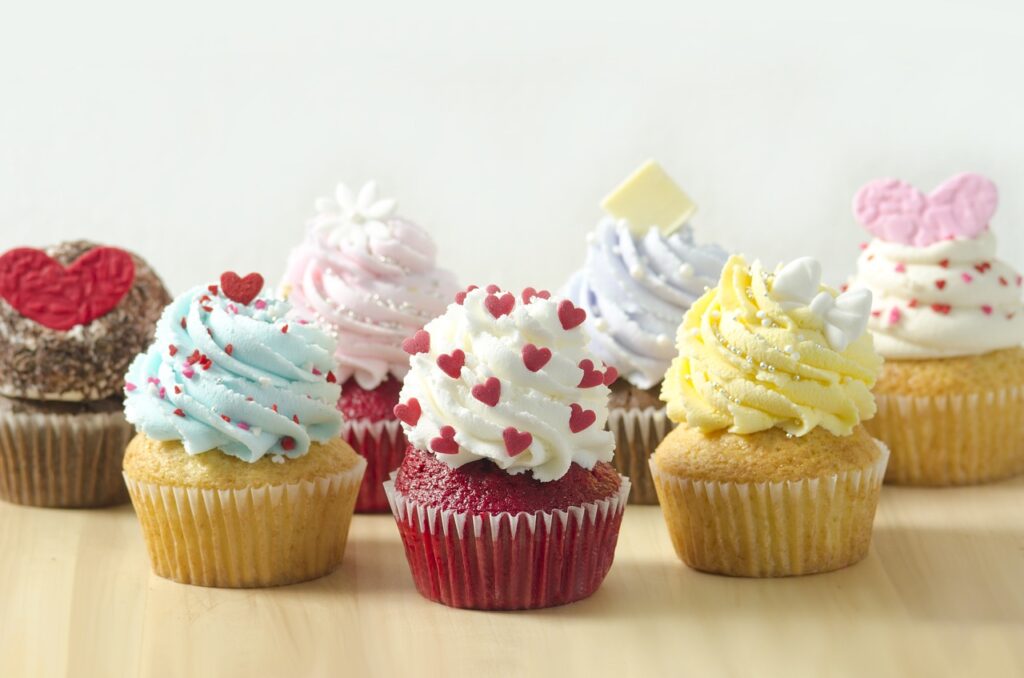 Cover them with icing.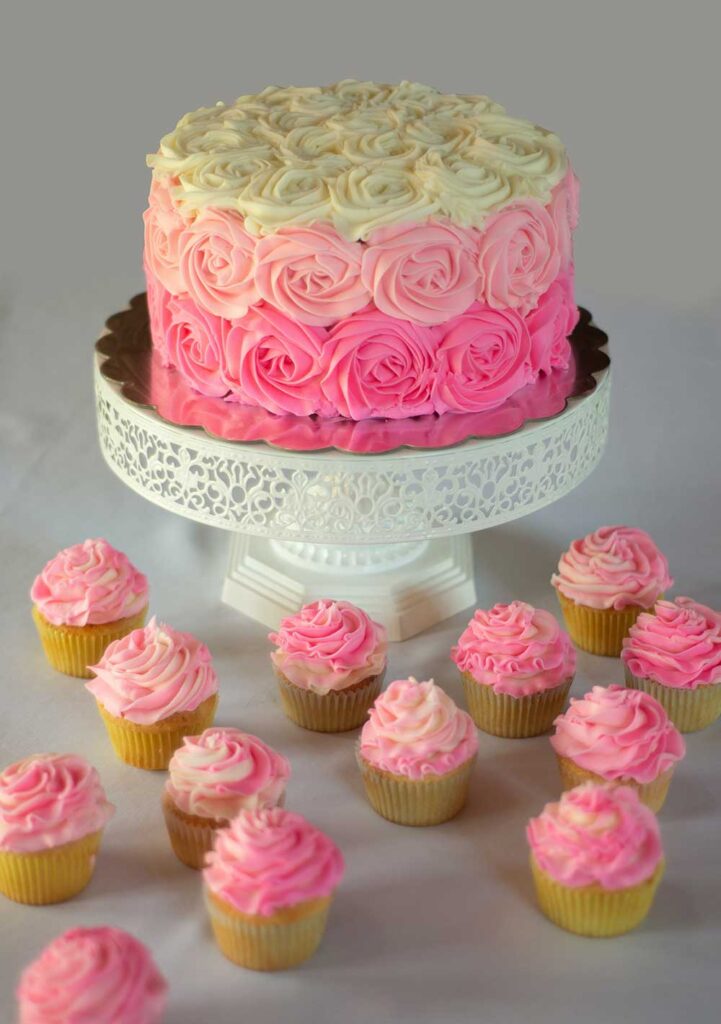 Or even have them along with a cake.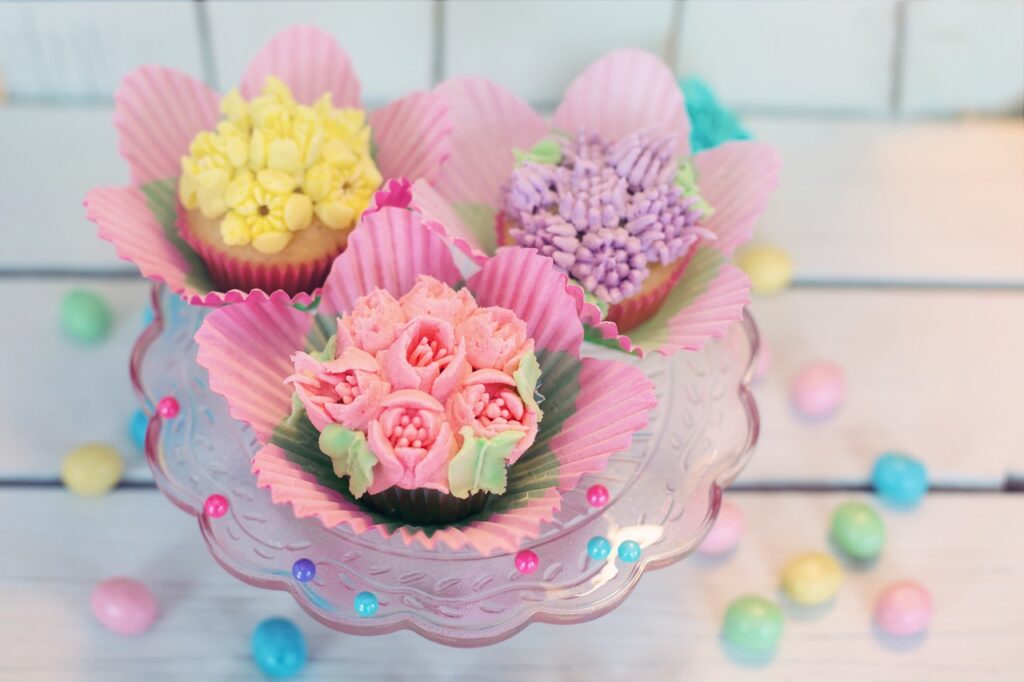 Just take a look at these gorgeous floral designs, they would add to any party table!
It's easy to see why cupcakes are so popular at parties these days. If you're planning your next party, you might be looking into this craze – as you should! But it leaves one big question: how do I transport the cupcakes?
And it all comes down to cupcake boxes.
Delivering Cupcakes
Making the cupcakes is only half the job. Unless you're having the party or celebrations at home, you still need to get those cupcakes where they need to be.
Here are some of the reasons you might need to think about investing in some cupcake boxes to help you out.
Party Venue
Having your party at a venue? Great choice! It saves you all the clean up and hassle that comes with hosting a party in your home. Whether you have chosen the park, or a hall, or another specific venue, you'll need to get the cupcakes there safely. With all the other party things you're likely to be transporting at the same time, a cupcake box is usually your best option.
In-Office Birthday
Have a birthday to celebrate at work? Cupcakes are the perfect way to do this. Everyone in the office can come and take one when they have the chance, and you don't have to worry about cutting up a cake and making sure there's enough for everyone. Once again, you need to think about how you can get the cupcakes into the office in the first place.
For a Friend
A cupcake makes the perfect delivery for a friend on their birthday. You can even get single cupcake delivery boxes to mark the special occasion, which you can leave out the front of their home for them to discover at the end of the day.
For a Business
Perhaps you've started up your own cupcake-making business. In that case, you're going to want to buy the cupcake boxes in bulk. The last thing you want it to put your blood, sweat and tears into gorgeous cupcakes, only to have them destroyed during the delivery process.
Party Favour
Cupcakes also make the perfect party favour to send guests home with at the end of the event. With so many delicious food options on the special day, it's a great idea to save the cake and send it home with guests, so they can properly enjoy it on an empty stomach. Wrapped up in a single cupcake box, it's the perfect party favour for your big day that guests will just love!
Benefits Of Cupcake Boxes
Cupcake boxes come in all shapes and sizes, but they have all been made to do one thing, and one thing well: get your cupcakes wherever they need to be.
Now, we all know that we could precariously balance a tray of cupcakes on our lap and hop for the best when it comes to the drive. But after all the hard work (or money) that has gone into creating those cupcakes: is this a risk you're willing to take!
I'm not sure I would.
Cupcake boxes don't have to be expensive, which makes them the perfect option when it comes to your sanity.
There are so many choices on the market when it comes to choosing the right cupcake boxes for your next event, and a few questions you need to ask yourself before picking the right one:
How many cupcakes are travelling?
Is it for a gift for someone?
Will I do this often (in that case, you might want a reusable option)?
How big are the cupcakes?
Here are some of the benefits that come investing in a cupcake box to make transporting your sweet goodies are stress-free as possible.
Keeps Cupcakes Upright
Depending how you decorate your cupcakes, they can tend to get a little overbalanced. While putting them in a container can help, if they fall over, the icing will stick to the side and half the cupcake will be gone. It also means you can have a cake topper or cupcake topper and not have to worry about it.
With a cupcake box, it has extra support at the bottom to stop this from happening, so your cupcakes arrive at the venue in one piece.
Don't Touch Each Other
Another thing that happens when you put a pile of cupcakes in a container together is that they end up sticking to each other. As the container shifts and moves in transport, your cupcakes end up nice and cosy, with the icing rubbing off on each other.
Once again, with a cupcake box, each of your cupcakes has an individual slot to go into, so there's no shifting, and no joining their other cupcake friends on the journey.
Easy To Transport
Let's think about your peace of mind as well. When it comes to organising a party, you already have enough to think about without worrying whether or not the cupcakes are going to survive the trip.
Pop them in a box, know that they are safe, and get on with all the other things that need doing.
Types Of Cupcake Boxes
Now that you know just how essential cupcake boxes are when it comes to party supplies, let's take a look at the different types you can choose from.
Individual Cupcake Boxes
If you are taking a cupcake to just one friend or colleague, then the single cupcake boxes are your best bet. You can get some really fancy ones with gorgeous designs on the outside to make it even more special. These are perfect if you're planning on using the cupcake boxes as a party favour at any event:
Wedding
Baby shower
Birthday party
Christmas
Multi Cupcake Boxes
If you are simply looking to transport cupcakes to a party venue, then you want to look into a multi cupcake holder to make this as easy as possible. They usually hold from 4 up to 24 cupcakes at a time, but you can grab a few to cover yourself.
Cupcake Box Materials
Cardboard Cupcake Boxes
These are the most common types of boxes you will find, and they come in a variety of sizes. They are generally just for single use only, as they aren't made to last for use after use. These cupcake boxes come flat packed, so you can just make up as many as you need for your party.
Plastic Cupcake Boxes
These work the same way, and also come in single, or bigger sizes, depending on what you're after. They can be a little less fiddly than cardboard option, but really comes down to your own preferences.
Reusable Cupcake Boxes
You can get travel cupcake boxes that are designed to be reused time and time again. These are usually made from silicone, and some can even fold down when not in use to make it nice and easy for storage. These are more expensive, but if you have plenty of party planning in the future, they do make a great option.
TOP Picks: Cupcake Box Reviews
Let's take a look at some of the best cupcake boxes on the market, so you can find ones that work for you and that next event you have planned. We give you a little review of each one, to help with that decision making process.
It's time to invest in one of the best cake decorating tools: a box to get it there safely!
Multi Cupcake Holders
If you're simply looking to transport your cupcakes to the party venue, then these multi cupcake holders are your best chance. We take you through a number of practical choices to help out on the big day.
This is the perfect cupcake box for carting around a dozen or more cupcakes. Each box holds 12 cupcakes on its own, and it comes with 15 boxes in one single pack. So handy! This cupcake box has been designed with large gap between the cupcakes, so you can go crazy with the decorations on top, and not worry about them rubbing odd on each other.
The cardboard itself is nice and thick to ensure it's stable for transport. There' even a great transparent window at the top, so you can keep an ever-watchful eye over your sweet creations in transport. The cardboard will also help keep those cakes nice and moist, so they are still in perfect condition once they arrive, and ready to eat!
Material: cardboard

Colour: White
Holds: 12
Quantity: 15
Check out latest prices here>>>
If you're looking for something a little bit bigger, this 24 cupcake holder is the perfect choice. Once again it has a clear top, so you can look through and see your tasty creation inside.
This set comes in a 5-pack to help you out when it comes to those bigger events that need catering for. There's also individual holders inside, to make sure the cupcake stay apart from each other.
Material: cardboard

Colour: White
Holds: 4
Quantity: 24
Check out latest prices here>>>
Single Cupcake Holders
If you're looking to deliver a cupcake to a friend, or to send home cupcakes as a party favour from your next event, these cupcake holders are perfect. From rainbows to flowers, we have some great options for you to add to that birthday theme and wow your guests.
For those times you only need to take one cupcake at a time, these clear, plastic cupcake holders are just perfect. This pack comes with 100 individual cupcake holders, so you have plenty to work with. Whether you're taking a tasty treat for your own morning tea, or dropping off a cupcake on a friend's birthday, these single holders will come in handy.
These cupcake containers have been designed with a dome lid, to make sure your icing stays untouched on top. They are really simple to open and close as well, so you don't have to worry about the cupcake flying each and every time.
Material: Plastic
Colour: Clear
Holds: 1
Quantity: 100
Check out latest prices here>>>
These gorgeous boxes are the perfect way to display your cupcake in transport. If you're giving the cupcake as a gift to someone special, the clear window at the front shows off your marvellous creation, so they can see what's inside straight away.
This cupcake box has also been designed with a very hand carry handle on top, so you can easily carry it around with you until you reach your destination. The best part is, you can add a personal touch. Whether you want to write a special message, or share your business logo, this kraft paper cupcake box is the perfect way to do it.
The inserts inside the cupcake boxes also come with finger holes, making it nice and easy for you to lift your cupcake in and out without getting the icing everywhere. It's the perfect single cupcake box to surprise a friend or office colleague with a little birthday celebration.
Material: Kraft paper
Colour: Brown
Holds: 1
Quantity: 50
Check out latest prices here>>>
These gorgeous dome cupcake boxes are the perfect way to make a subtle statement at any event. Whether you're hosting a birthday party, holding a wedding, or simply delivering a cupcake to a friend, this cupcake box is sure to impress. It's like a mini cake board for displaying!
The unique dome shape makes sure your cupcake topping is nice and protected within.
You can choose from gold or silver on the bottom, adding a classy pop of colour to any event.
Material: Plastic
Colour: Clear & Gold
Holds: 1
Quantity: 50
Check out latest prices here>>>
These clear cupcake boxes topped with a wedding are a gorgeous way to display your delicious cupcakes. They would look perfect on the table at any wedding or fancy event, with the gold ribbon adding the final touch.
The bottom of this cupcake box features a handy cupcake holder, which will make sure your cupcake stays in place during transport. In this pack of 12, each one comes flat packed ready for you to bring to life and display your tasty creation with pride.
Material: Plastic
Colour: Gold
Holds: 1
Quantity: 12
Check out latest prices here>>>

There is no better way to say thank you than by sending your guests home with a lovingly made cupcake. These thank you boxes come in a huge range of designs (more listed below), so you can find something that fits perfectly with your party theme. This floral design is a beautiful example, with a cut-out clear window to show off the cupcake inside.
Each box also comes with a convenient carry handle, to make it easy to transport to and from the event.
Inside each box is a handy insert that has carry handles on either side. This means you can pop the cupcake into the insert, and use the carry handles to lower it into the box as smoothly as possible. Simple!
There are plenty of other fun designs to choose from. Check out:
Material: Cardboard
Colour: Floral
Holds: 1
Quantity: 50
Check out latest prices here>>>
If you're after something nice and simple, then this is the perfect choice. This set comes with five colours: white, green, pink, blu and black, so you send guests home with a tasty little treat at the end of your event.
This cupcake holder is made from food-grade sturdy cardboard, with a handy cut out window at the front so you can see the sweet treat inside. There's also a handy insert at the bottom to keep your cupcake upright for travelling.
Material: Cardboard
Colour: Floral
Holds: 1
Quantity: 50
Check out latest prices here>>>
Need more tips when it comes to planning that next important occasion? Check out our DIY party planning checklist and get started today!