A mermaid theme is the perfect way to celebrate, as there are so many fabulous under-the-water decorations that can truly transform any space. Mum Yolandi share's the gorgeous SHELL-OBRATE 6th birthday she threw for her daughter Ellie. It all comes down to the details! Read on to replicate the look.
Disclosure: This post on best Mermaid birthday supplies contains an affiliate link, and at no additional cost to you, I'll earn a small commission if you decide to purchase after clicking through the link. I'll only ever recommend things that I love and believe will help you, and the decision to purchase is entirely yours!
Mermaid Birthday Food
The mermaid birthday table can make the party, especially if it's kept completely and utterly on theme. Yolandi has done an amazing job with the little details – especially the food. You will notice the adorable food label cards giving each food item a creative Mermaid name. These were made with label stickers, card and super gluing shells on. Here's some of the fabulous and creative food options you'll find on the table:
'Sea stars' – sandwiches cut out with a star cookie cutter.
'Sea snails' – sausage rolls. Puff pastry and mini frankfurters.
'Under the sea' – jelly cups with mermaid sprinkles on top.
'Sea pearls' – chocolate pearls from Big W
'Coral' – twisties
'Treasure' – chocolate mermaid coins from Big W
'Tritons of fruit' – fruit skewers
'Cheesecake cups' – three-ingredient, no-bake cheesecakes
'Ocean vibes' – sea-themed cupcakes. These were gluten-free to accommodate some of their little guests.
'Mystical Munchies' – The mermaid tail boxes with a colourful mix of coco pops chex inside. These are made with melted nestle white choc melt, coloured with colour mill as its oil based. Mix chex through melted chocolate and then pop in ziplock bag with icing sugar to coat it.
Mermaid Decorations
Let's not forget the amazing decorations that instantly transform the place (plus, look fabulous in those party photos). There are plenty of decorations throughout this party. Here's how to recreate it:
DIY letterboard – bought from Kmart. Message read: Splish Splash it's a mermaid bash, Ellie is turning 6 – Let' Shell-obrate.
Gold shell decoration – shell sandpits and gold spray paint from Bunnings. Although the spray paint states it works on plastic – Yolandi had big issues with it instantly peeling and would not recommend it.
Real life mermaid – if you're in Perth, Yolandi highly recommends booking Mermaid Melody – she was absolutely amazing with the kids. They booked her to arrive 15 minutes before the party guests and her daughter loved the surprise and the one-on-one time.
Balloon garland –  Yolandi and her husband assembled it the night prior.
Turquoise platters – Spotlight.
Mermaid white platters – Kmart.
Multi-tier cake stand – Kmart
Cake stand for cookies – Ikea
Mermaid Party Cake Hack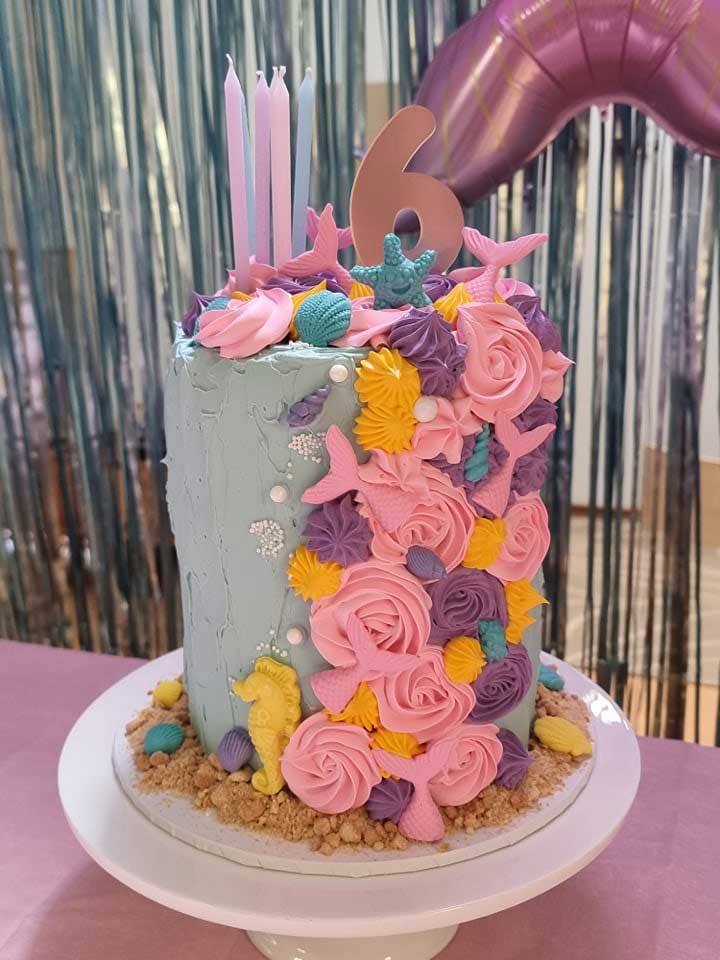 The stunning Mermaid birthday cake in the middle of the party table is a key feature. The best part, Yolandi made this herself with a cake hack! That's right, there wasn't even any baking involved.
Yolandi used 4 Woolworths mudcakes, covered in homemade swiss meringue buttercream, homemade fondant decorations and homemade chocolate mermaid tails.
You can find the mermaid moulds here.
Mermaid cupcakes
You also can't look past the gorgeous under-the-water cupcakes that look so sweet and on-theme. These were made with Betty Crocker gluten-free chocolate cake mix with Betty Crocker icing. Now, for the decorating! Yolandi used gluten-free Arnotts Nice Biscuits as sand, with fondant decorations and vegan sprinkles.
Shop the shell fondant moulds here
.
Mermaid Cookies
Another homemade number! 'Cookie cuteness'  homemade sugar cookies. Yolandi used the sugar cookie recipe from Adelaide bakes, which costs $10 (sometimes on sale). One of the best investments ever. Super easy and delicious.
Cookie cutters bought from Custom Cookie Cutters and Bake My Design.
Pink and yellow fondant was pre coloured – pettinice, the other colours Yolandi coloured using colour mill colours.
Party Favours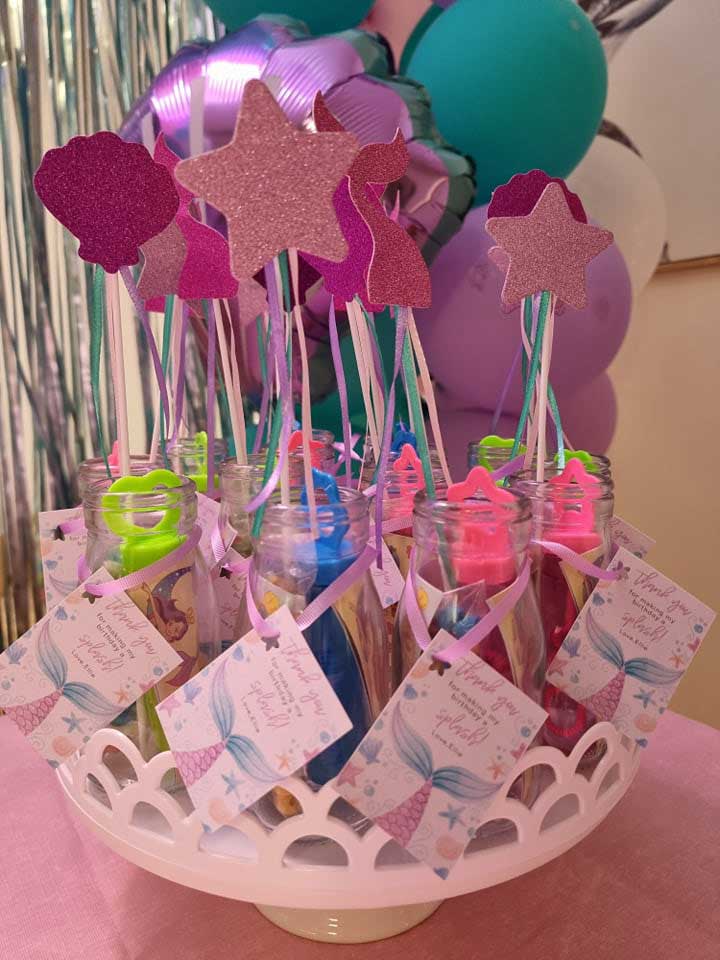 Party favours are the perfect way to send your guests home with something special.
These little glass milk bottles were originally bought from Kmart, and inside you will find:
Mermaid stickers (red dot)
Turtle stickers (red dot)
Bubbles
Candy bracelet
Wand (Big W)
It's complete with a little gift tag Yolandi designed herself. Gift tag reads: Thank you for making my birthday a splash!
MERMAID PARTY INSPIRATION
Looking for more Mermaid party inspiration? Why not a look at what some of our other DIY community members have done. From mermaid party food to complete mermaid parties, head over to get some inspiration and find out where they shopped their look.
You can also check out our guide to the Best Mermaid Party Supplies here.
Need help planning your next birthday party? Make sure your download our DIY party planning checklist and have a go!