If you're after a theme that's a little different, but completely 'wow' worthy, this panda party is just what you need. All you need is some black-and-white decorations, and some DIY help, to pull together this incredible look. Angela shares exactly what she did…
Disclosure: This post on panda birthday party contains an affiliate link, and at no additional cost to you, I'll earn a small commission if you decide to purchase after clicking through the link. I'll only ever recommend things that I love and believe will help you, and the decision to purchase is entirely yours!
Panda Birthday Party Set Up
Wow! This gorgeous Panda party couldn't be more on-theme if it tried. The backdrop and the balloon garland really make this scene, creating a gorgeous, over-the-top look that is just perfect for photos. Of course, everything on the party table just adds to this stunning set up – every piece of food is panda-related, pulling the whole thing together. There's no denying just how incredible it all looks!
Balloon garland: Angela order the balloons and made the garland herself. You can get a DIY kit and have a go! Shop the kit here.
The backdrop is from Digitally Prints.
Panda Food
Let's dive in and take a closer look at the Panda Food on the table! Angela has sourced gorgeous panda popcorn boxes that are filled up with Cheetos (yum!).
The Panda cookies are just adorable. These are butter cookies, topped with black and white fondant – something you could definitely have a go yourself with.
The Panda cupcakes are another favourite. Angela has used black and white cupcake boxes, with black buttercream icing on top and little panda cake toppers.
If you need to transport them, simply store in a handy cupcake box.
It doesn't get much cuter than this! These panda donuts are just perfect. Topped with icing and sprinkles, with fondant eyes and ears.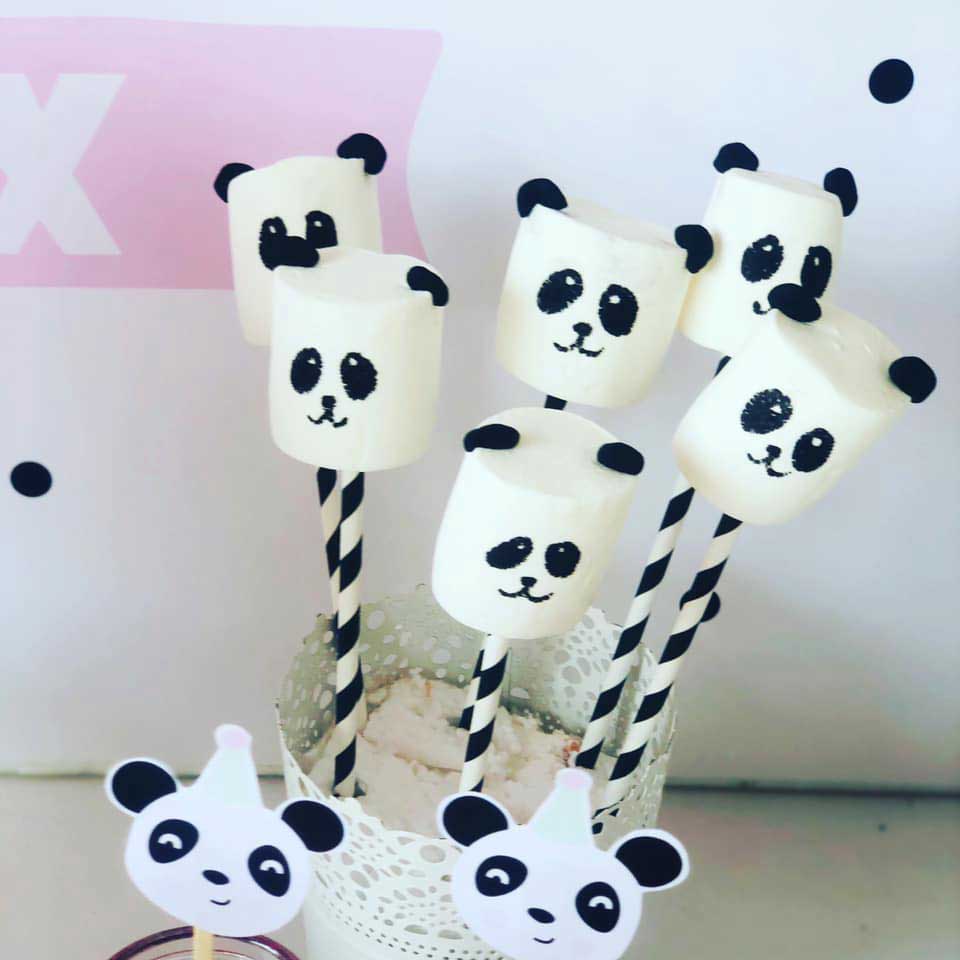 How adorable are these panda marshmallows! They are popped onto a straw, using an edible texta to pop on the panda's face, with black fondant for the ears.
Panda Cakes
What's better than a birthday cake? Three birthday cakes of course! What a lucky birthday girl…
Panda Party Bags
These party bags are just too sweet.
Such a great idea, Angela bought plain party bags (shop here) and added the tags on herself.
Panda Birthday Party Table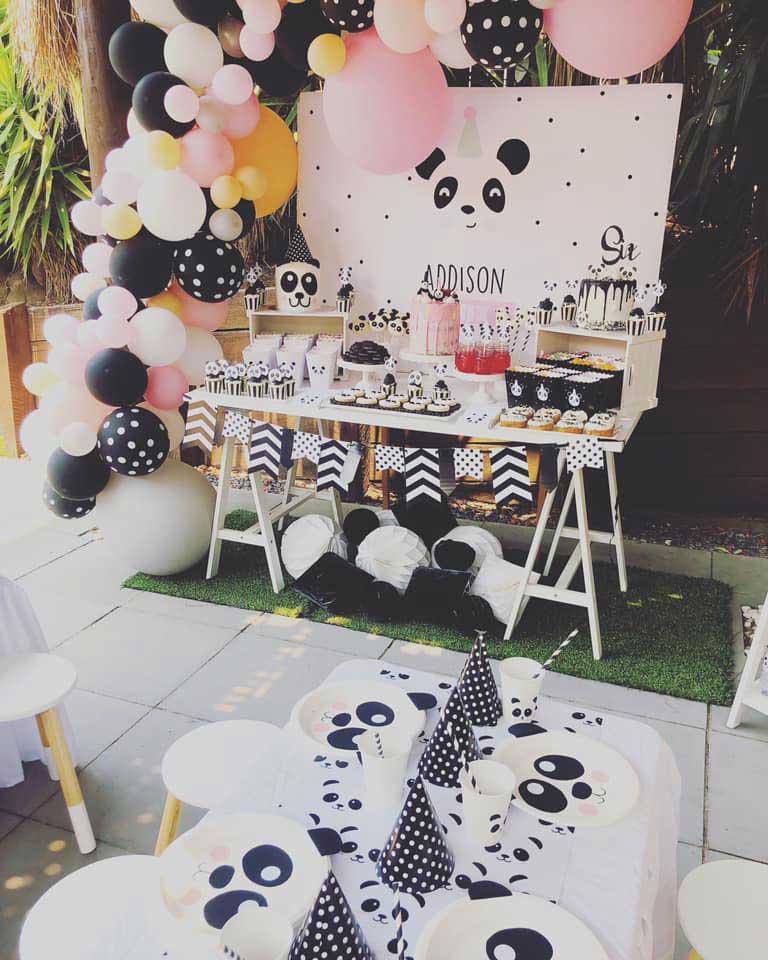 There's nothing better than a gorgeous party table for the kids to sit around and enjoy the food!
Angela made almost everything, simply adding a panda design to it herself – genius.
The plates were made using coloured paper.
All party supplies (black and white) straws, from the local cheap shop in the party section.