Is there anything more magical than a Wizard of Oz party! Such a fun and fabulous theme, and definitely an oldie but a goodie. You can have so much fun bringing together the different aspects of this party. Here's how Karlie created a stunning Wizard of Oz Party for Harper's 5th birthday.
Decorations
Decorations can also double as party entertainment fun! Karlie chose to hang bunting with an incredible balloon bunting, while also kept the kids busy with an all-time favourite: the pinata.
The bunting I made myself I found the glitter red paper to cut out the letters from choice and printed the gingham myself and put it all together.
Pinata is from Kmart.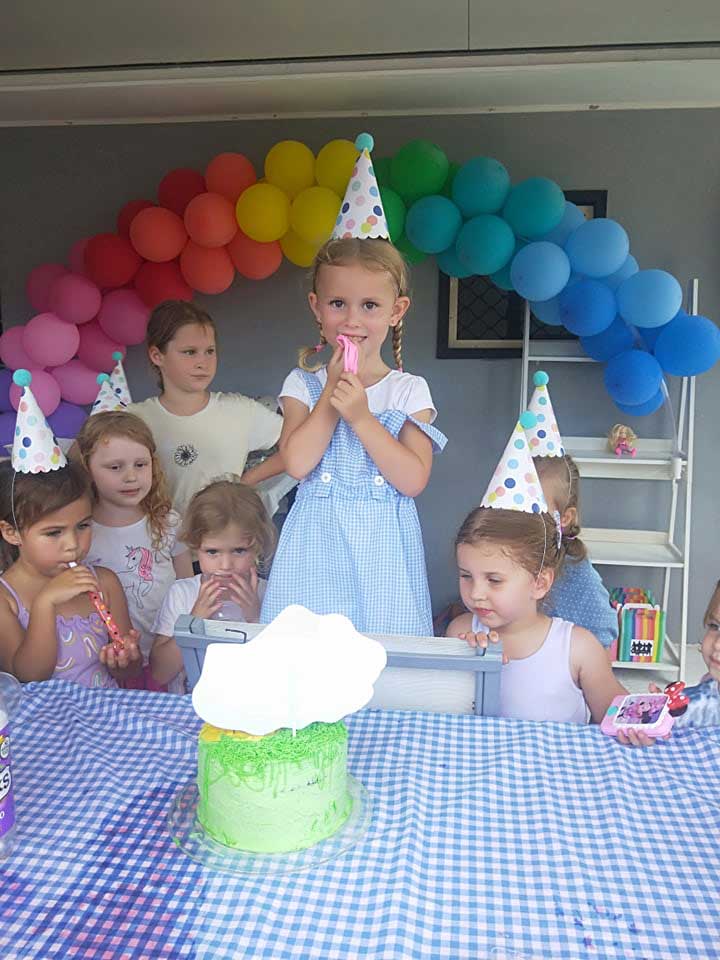 Balloon arch is from Kmart. It's a table arch for $12 and it came with the balloons, poles, balloon attachments and clamps for the table. My husband saved me here, as I blew up all the balloons and attached them to the circles they go on, but then I put all the poles together and tried pulling the balloons all the way from one end to the next to fill it, resulting in the balloons falling off their attachment.
My husband then asked why I don't put one pole on and the first balloons on then put the next pole and next lot on, so I didn't have to drag them down the entire length. Made it so much faster and less stressful…The balloons were great quality and looked the exact same the next day.
Party Food
Food is another perfect way to pull together an incredible party theme. You can pick foods that blend with the party theme. Here's what Karlie created.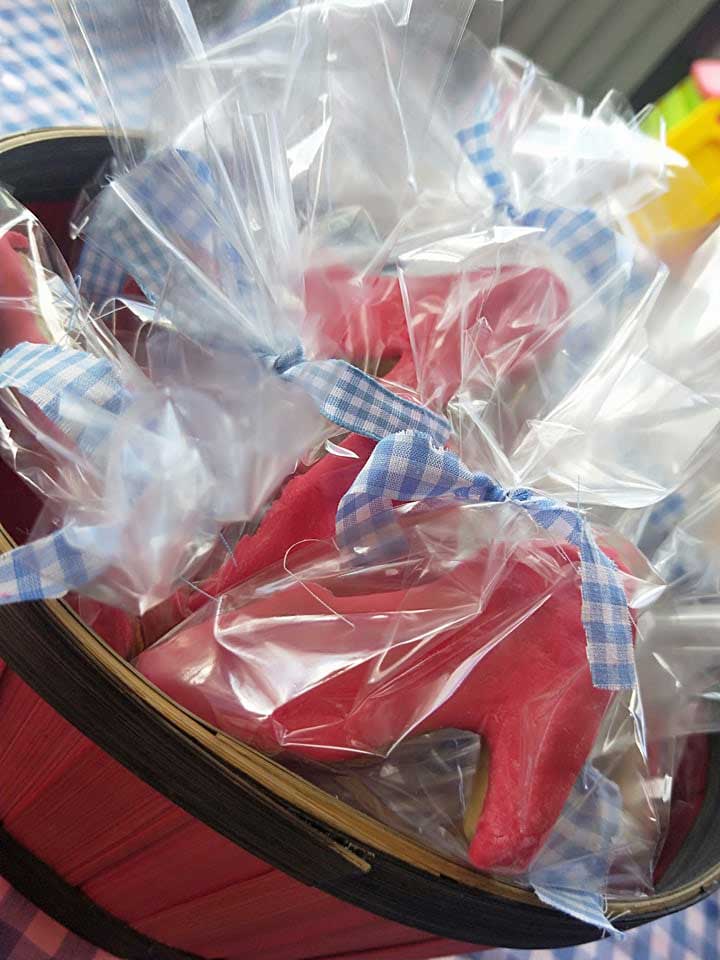 I had the cookie cutter for ages. I looked up a basic cookie recipe and used fondant and attached it to the cookie with water then in little plastic bags and gingham ribbon/fabric to tie.
Green jelly with witches hats that I taped onto toothpicks.
Wizard of Oz Cake
There's nothing better than a fun cake hack! Here's how Karlie pulled this one together.
The cake is an Aldi chocolate mud and caramel mud stacked on top of each other with butter cream in the middle (top cake is put on upside down so both toppings are in the middle). The green is just green butter cream.
I then coloured some Coles fondant and used a small rectangle cutter to put the brick look on the fondant, before putting it on. I had flower cutters from Aldi from a while ago. I did the save and edit again and glued it onto some red glitter paper and sticky taped it onto a cake pop stick to put it in.
Party Favours
When it comes to party favours, Karlie went above and beyond! Here's everything she pulled together:
The party boxes were from Kmart and then I found the silhouette of the characters saved it then I went into my Pic Collage and added the words, printed them and glued them on the front.
The bubbles are from Big W. I did similar to the boxes, where I found the image and then edit it on Pic Collage to put my own writing, I then glued it onto pink cardboard and used a few bits of ribbon that matched to tie it on. As you can see, I love bubbles as a party gift and always find the ribbon give it that extra touch.
The chocolates are good old Aldi ones. I did the same thing as with the others, cutting out the printed paper first and sealing it at the back with double-sided tape, then cut out and glued my created from image.
The scrunchies and bookmarks I made myself. I bought the fabrics from Spotlight and the backing on the bookmarks in felt.
Party Outfit
Finally, we can't forget the party girls' outfit!
The outfit and hair ties I made using spotlight fabric. The shoes I got from Kmart and covered with spotlight fabric.
Good luck pulling together your Wizard of Oz Party. We can't wait to see the results! If you're keen to share with us, please email [email protected]
Need more tips when it comes to planning that next important occasion? Check out our DIY party planning checklist and get started today!