Trying to make a kid's (or any!) birthday special in lockdown is no easy feat. Being away from friends and family makes it that much harder… but not impossible. Just check out this Hey Dugee Virtual Party!
Jenna threw together these amazing party packs for her son's second birthday and delivered them friends and family nearby. It's the perfect way for everyone to join in the celebrations, even though they can't see each other in person!
Disclosure: This post contains an affiliate link, and at no additional cost to you, I'll earn a small commission if you decide to purchase after clicking through the link. I'll only ever recommend things that I love and believe will help you, and the decision to purchase is entirely yours!
Hey Duggee Virtual Party Bags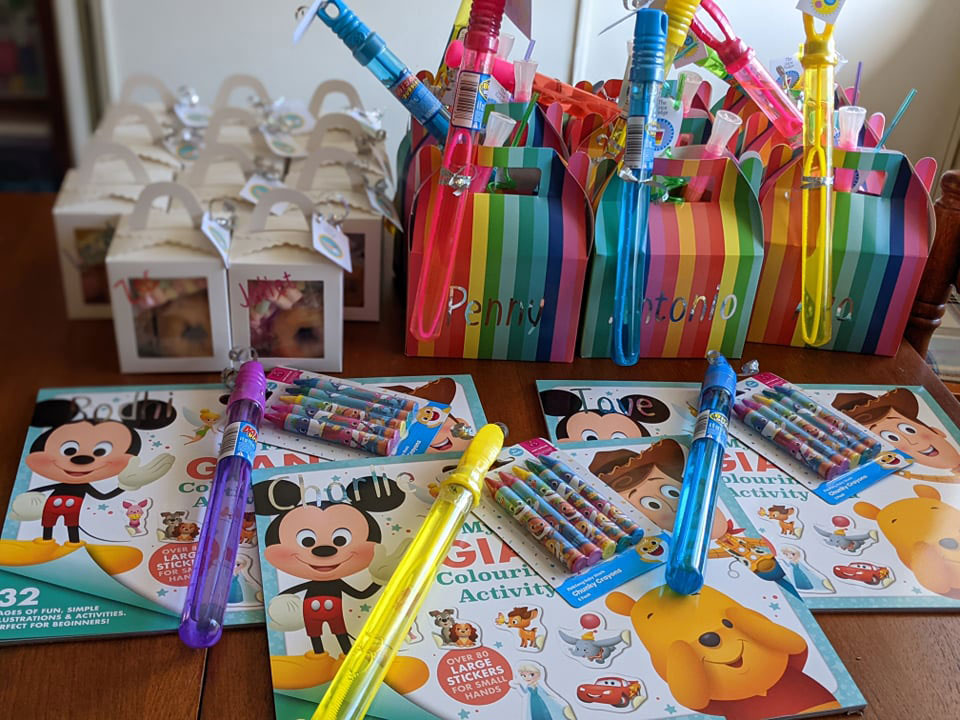 Almost everything you see pictured is from Kmart (which is conveniently offering postage and click & collect). 
Jenna did the badge stickers myself, as well as the printouts.
The donut box ingredients are from Woolworths. Jenna put together the boxes herself.
The cookies are from Simply Sweet Bites.
Hey Duggee Virtual Party Instructions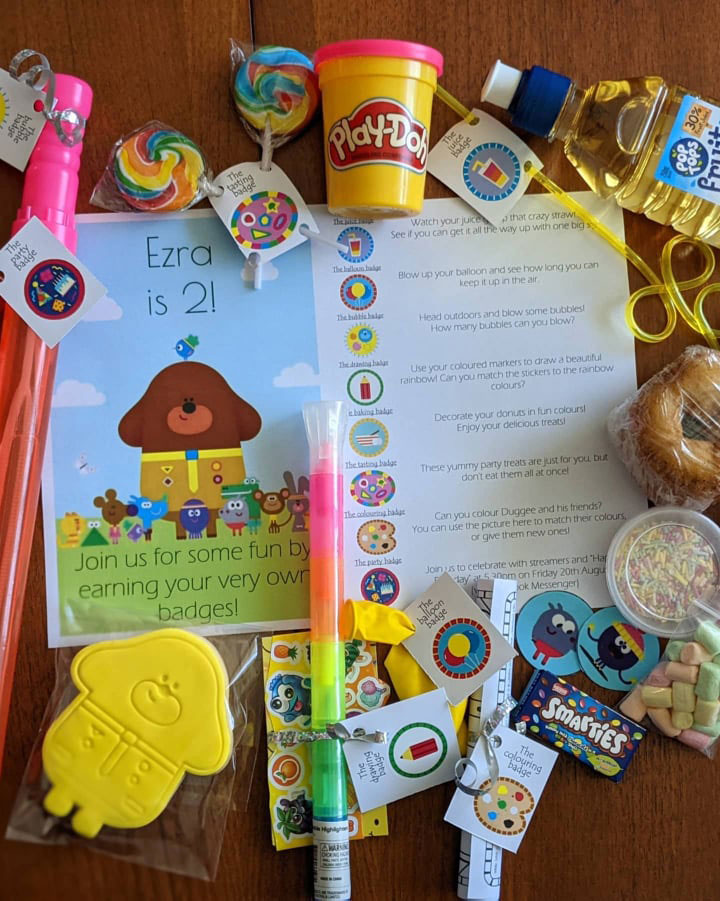 The best thing I love about this Hey Duggee virtual party is the set of instructions Jenna has included with it, so kids can have fun with everything that comes inside!
Here's what the instructions say:
Watch your juice go up that crazy straw! See if you can get it all the way up with one big suck.
Blow up your balloon and see how long you can keep it up in the air.
Head outdoors and blow some bubbles! How many bubbles did you blow?
Use your coloured markers to draw a beautiful rainbow! Can you match the stickers to the rainbow colours?
Decorate you donuts in fun colours! Enjoy your delicious treats!
These yummy party treats are just for you, but don't eat them all at once!
Can you colour Duggee and his friends? You can use the picture here to match their colours, or give them new ones!
Jenna then organised a Zoom to sing Happy Birthday to the birthdayboy that afternoon and share all the fun they had that day. Such a lovely way to celebrate!
Need more tips when it comes to planning that next important occasion? Check out our DIY party planning checklist and get started today!