We decided this was the year for no parties – after all, they get expensive quickly! But we couldn't let the occasion pass without a small gathering with friends in the park (yes, we got sucked in!). Elliot decided straight away he wanted a soccer theme party, which turned out a little harder than expected to source decorations. Here's how we pulled together his 4th soccer party – with some tips and tricks learnt along the way.
Park Party Set-up
I wanted to keep things nice and simple for the soccer party set up. 
We brought along our own table from home and added a white table cloth from Kmart. I then filled it with party favourites, including cheese and bacon rolls, croissants, fairy bread, fruit, cheezels and lollies.
I hung up a simple soccer birthday banner from Discount Party Supplies to complete the look and add a touch of soccer fun. With some black and white balloons (soccer colours!) hangning from either side.
We also used soccer plates, which you can shop here. Simple and effective.
Soccer Ball Cake
I had so many people (strangers) coming up to me in the park and asking me how I pulled together this cake. It was actually quite easy!
The first thing you need is a dome cake tin, which you can get here. I simply baked two cakes! The hardest part is popping it in the oven without the dome slanting over. I just used other tins to prop it up and created the perfect circle, without the need for any cake cutting.
I used buttercream from Coles to stick the two halves together on a cake board. I then covered the whole cake with buttercream and placed in the fride to set.
I used my Cricut to cut out a hexagon and pentagon shape for the soccer ball. You can also buy cake moulds that do the hard work for you. Check out these.
The rest of the decorating is simply cuttong out moulds and stick them in a pattern on your cake. One black pentagon, surrounded by five white hexagons. Once you get to the bottom of the cake, you simply cut off the extra fondant and stick it underneath.
There you have it! A fairly easy soccer ball cake.
Soccer Party Favours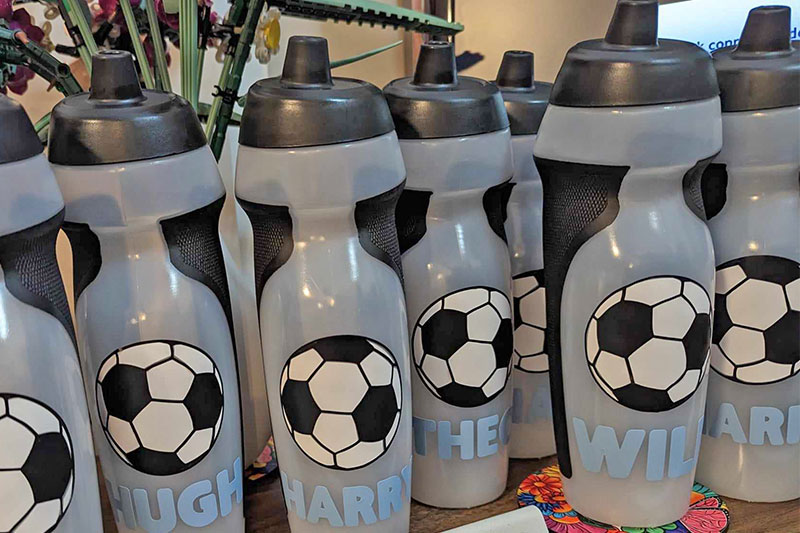 I always struggle when it comes to party bags and choosing the right party favours that go into them. I don't want kids going home with piles of junk that simply find their way into the bin. I was lucky enough to come across these white drink bottles from Kmart, that were just $3.50 each – bargain! It was time to put the Cricut machine to use.
I simply printed soccer balls and each child's name onto permanent vinyl and stuck onto each bottle for a cute, personalised party 'bag'. I then added a few treats into each one and voila! Hopefully a party gift that will be used for a while.
You can also find plenty of soccer party favours online:
Need help planning your next birthday party? Make sure your download our DIY party planning checklist and have a go!