Are you after a really cute party food idea that kids will love? These teddies in beds are not only cute, but they are so easy to make as well! If you're planning a kids' party any time soon, you will want to put this recipe on your party food list. Here's how you can go about creating it yourself.
Disclosure: This post contains an affiliate link, and at no additional cost to you, I'll earn a small commission if you decide to purchase after clicking through the link. I'll only ever recommend things that I love and believe will help you, and the decision to purchase is entirely yours!
Teddies In BED Ingredients
You don't even need many ingredients for these fun biscuits. And, of course, you can substitute some of the ingredients as well. Try using jam instead of Nutella to mix things up. You can also add in sprinkles or some chopped up banana as well! 
For this recipe, all you need is:
Puff pastry (one sheet makes six)
Preparation
Teddies in bed is a great recipe to get your kids involved with. Here's how:
Preheat oven to 170 degree Celcius.
Cut puff pastry sheet in half, then cut each half into three equal pieces as pictured.
Spread Nutella on each of these pieces.
Place a tiny teddy at the top of each piece.
Grab the bottom and fold it up to tuck the teddy into bed.
Place on baking tray.
Pop in oven for 10 minutes.
Enjoy!
Pop the teddies in bed on a tray ready for the oven. One sheet of puff pastry makes 6 teddies. If you want more, simply get out more puff pastry!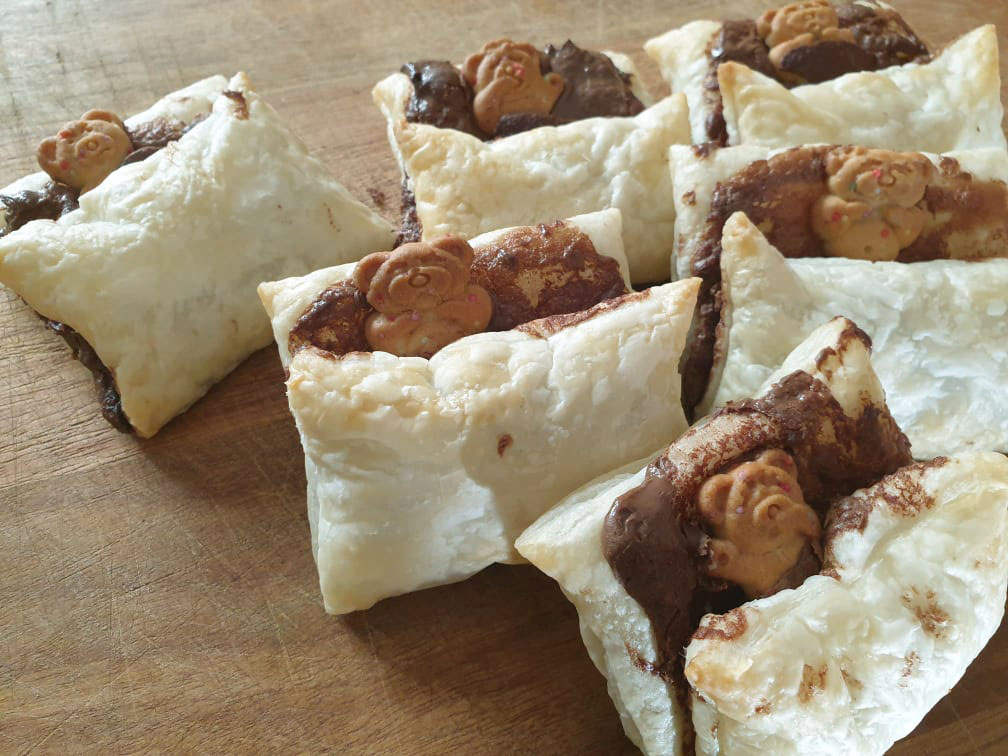 And there you have it! Some fun teddies in bed ready for eating.
These delicious treats really do taste best warm, so bring them out of the oven and pop them straight onto a plate ready for the party table. Kids will love it and adults too. Perfect for any party!
Need more tips when it comes to planning that next important occasion? Check out our DIY party planning checklist and get started today!