Michelle from Little Wish Parties Blog shares her son's Teenage Mutant Ninja Turtles Party.
I had so much fun planning this Teenage Mutant Ninja Turtle Graffiti Party for my little man James who was celebrating his eight birthday. I wanted something a little bit different, so we went for a graffiti theme as well.
Disclosure: This post contains an affiliate link, and at no additional cost to you, I'll earn a small commission if you decide to purchase after clicking through the link. I'll only ever recommend things that I love and believe will help you, and the decision to purchase is entirely yours!
TMNT Cake


James was determined that I make and decorate his cake, so I saved time by preordering a premade plain cake, which I then decorated myself using airbrushing the cake toppers I had made earlier. I also made the cookies and cupcakes, which I also airbrushed. I had some help from my older son designing and painting the backdrop. We used trash cans for the base of the table and created NYC sewer lids with the tops.
You can also buy a ready-made TMNT cake here.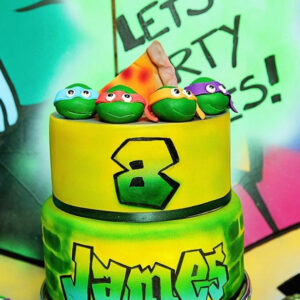 TMNT Games
James had around eight guests on the day. The activities were all hosted by the venue, with games such as Pass the Parcel and a jumping castle. The boys also had some TMNT colouring in books.
The dessert table was not only a hit with the boys, but also the parents. There were lots of fun-themed desserts on the table such as
Krangs brain jelly
Ninja candy sushi
Gummi Pizza's
Graffiti cupcakes with a spray can
Silver sewer lid oreos
Ninja fortune cookies
Ninja Turtle Alfajores
They also loved their take home pizza box favours, which included some gummy pizzas and TMNT favours such as pencils and toxic ooze, which you can buy in a pack.
TMNT Decorations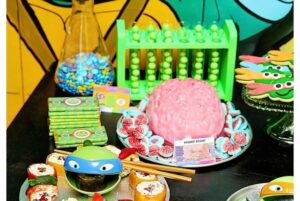 ---
Personal styling, cake decoration, cupcakes, cookies and backdrop by Little Wish Parties
Images by Captured By Kirri
TMNT Alfajores by Heavenly Biscuits By Adriana
TMNT chocolate bar wrappers, water bottle labels, pizza box printables by Halegrafx
Undecorated top cake by The Wright Partners
Venue – The Ranch
If you are interested in reading more about the awesome parties that Michelle has helped style over at Little Wish Parties, check out her blog.
Need more tips when it comes to planning that next important occasion? Check out our DIY party planning checklist and get started today!