Linda shares the most amazing Circus Party she put together for her one-year-old boy Lucas. 
I started planning my son's first birthday party several months before the big day! I love planning themed parties, so it became my fun escape. It's not like you're going out much when your first baby is under one…
As an aspiring cake decorator at the time, my inspiration came from looking at amazing birthday cakes and creative party ideas. A circus theme seemed fun and festive for a big get together with all of our friends and family.
Circus Decorations
Most of the decorations we used were bought from eBay, Etsy, several overseas online party shops and a few local ones like Spotlight, Officeworks, Kmart, Target, etc.
Circus Cake
I made the cake myself – it definitely caused a few grey hairs. I was happy with the end result, but still have a dozen 'almost finished' gumpaste animals/clowns sitting in a box somewhere haha! I was hand painting the popcorn at 2am the night before the party. My very talented friend Charmae made some fabulous and yummy cupcakes – and also some special liqueur shots for the adults. She's one in a million!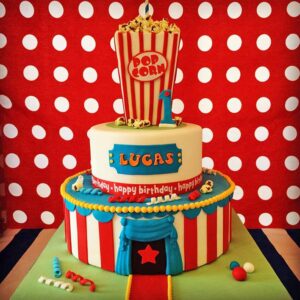 The Set-Up
I didn't realise it would be so difficult to get circus-themed goods, it ended up being one of the hardest parts, costing us extra to get some from overseas. I also should have realised how hard it would be to get the house ready for this party: moving furniture, hanging/making decorations, getting supplies, all with a baby in tow. It was a mission. Couldn't have done it without my very helpful friends (especially Robert, Charmae, Nikol).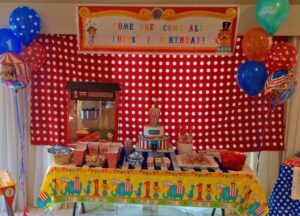 The Big Day
The best part was seeing everything come together – and the party was so much fun (although very last minute).
If you're planning on hiring professional help (face painters, caterers, entertainers, photographers, etc.) then I think it's a great idea to get recommendations! You don't get a second chance. But most of all…have fun, enjoy your friends/family and most of all, your beautiful child. Nobody cares if the cake napkins are themed and you had to fly them in from overseas (who knew?).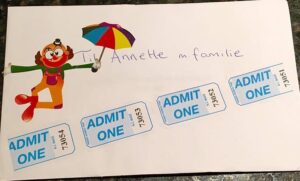 Circus Invitations
These were the envelopes for our invites. Not important to have circus themed stickers and decorations that will take you ages to make all 'perfect'. Lesson learned. It's all about celebrating a special event with those you love. And eating lots of cake, of course.
All the hard work paid off. Adults and kids alike had a blast. The birthday boy loved it and got very spoiled with attention and presents. My mother in law (and so many others!), did an amazing job helping out in the kitchen and elsewhere. Wow, so lucky to have great people in our lives!
Need more tips when it comes to planning that next important occasion? Check out our DIY party planning checklist and get started today!