If you love playing netball, it's only fitting that you celebrate your birthday with a netball theme!
From amazing DIY cap party boxes, to a netball cake, this is how netball-loving Cassie celebrated her eighth birthday and we have the details you need to recreate this fun and sporty theme.
Disclosure: This post contains an affiliate link, and at no additional cost to you, I'll earn a small commission if you decide to purchase after clicking through the link. I'll only ever recommend things that I love and believe will help you, and the decision to purchase is entirely yours!
We love Cassie's unique birthday cake! She chose a pink number cake and filled it up with sweet treats! It was so nice and easy to make. All you need is two Coles cakes, and then to cut out a circle in the middle. We used icing all around the cake and then Cassie popped musk sticks the entire way around. It took a lot of musk sticks, but she loved being able to help!
Cassie wanted a pink theme, so we simply shopped lollies in this colour. Sour hearts, clouds, jelly beans, and marshmallows!
We then topped it with her personalised netball topper with her name. I used the Cricut machine to create this and it was nice and easy. Next, I found four netball images and popped them on top her name and welded the image together. I then cut each image in a different colour to created the layered effect.
Here's some you can use to recreate the look:
If you prefer to order a birthday cake, you can find a similar cake here.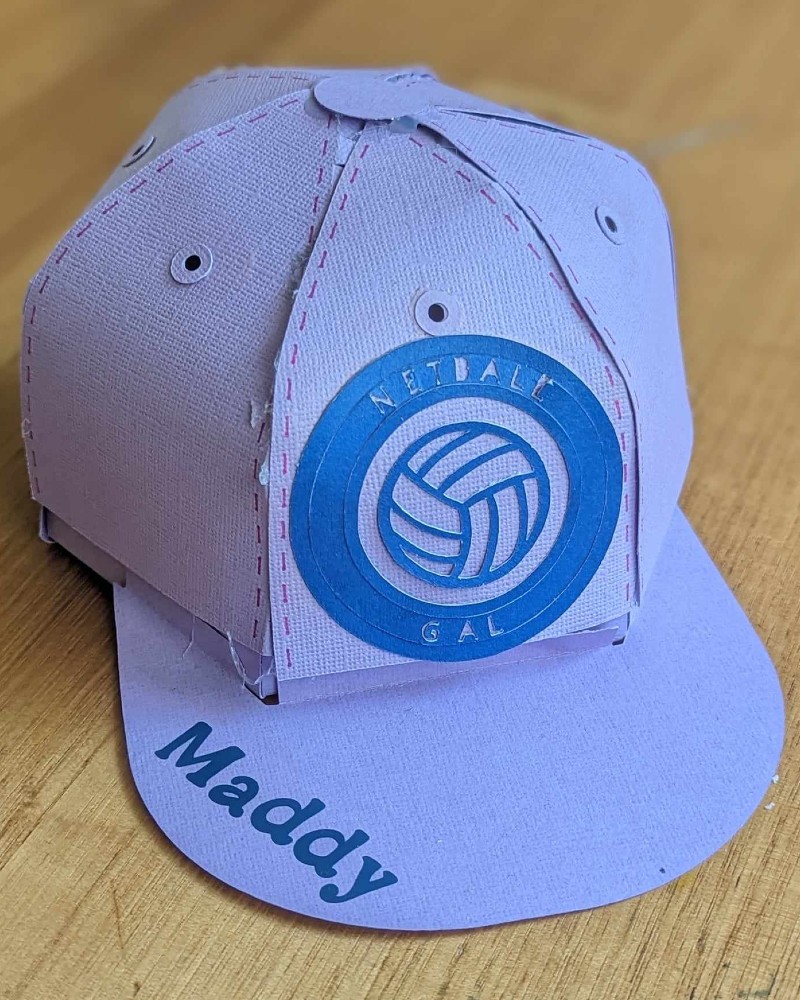 We think one of the most memorable details of Cassie's netball party are her cap party favours! They are such a unique idea and were personalised for each of her friends.
She chose a different coloured cap for each of her guests, but all in theme. Each cap was a light colour, like pink and yellow, that coordinated with each other. 
At first glance, the caps look almost like real caps you can wear. However, they are actually boxes that can be opened!  They were filled goodies that her guests can enjoy after the party. 
Cassie put different fun favours inside, including stickers and a mini pop fidget. You can find other small party favours for your own party on Amazon.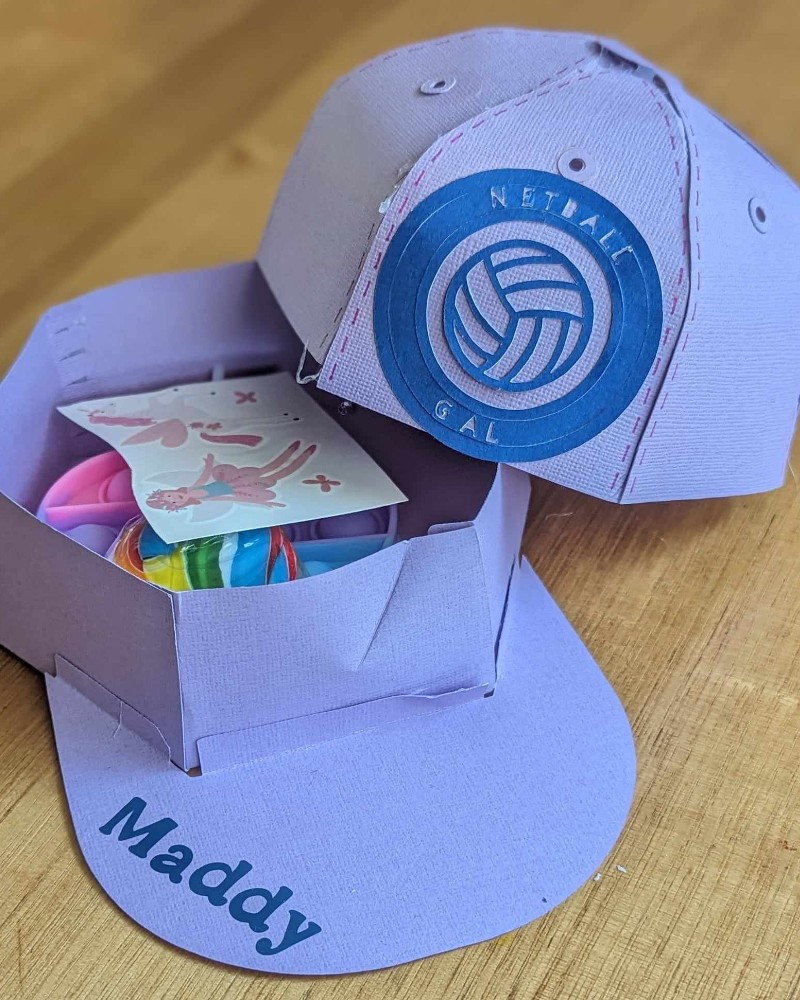 Cricut Cap Boxes

These cute cap favour boxes were made using a Cricut machine, a must-have tool for anyone who loves crafting.  If you want to make your own, you can follow a baseball cap box template here.
The cap boxes were cut, pen drawn, and scored by the Cricut. Then they were assembled and glued together using a hot glue gun.
Then each cap was personalised with a Netball Girl sticker from Design Space. She also put the name of each guest on a cap using sticker cardstock. Personalising party favours is a wonderful way to make each party goer feel special.
We love how they turned out!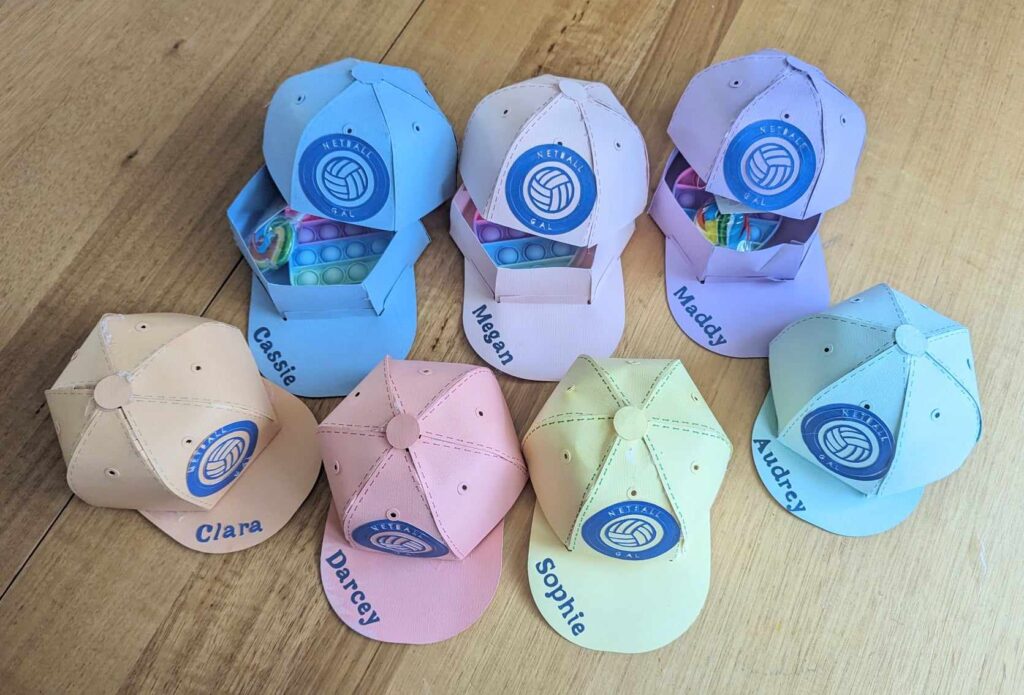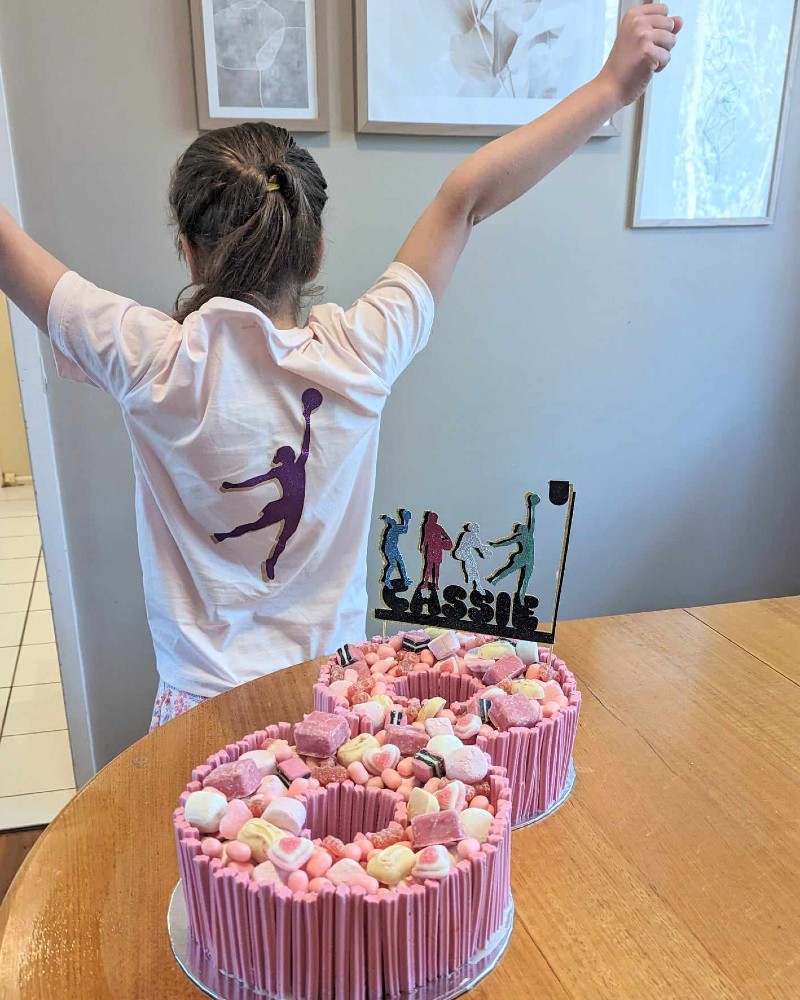 Cassie also wore a customised netball shirt to her party. This is another special way to incorporate her love of netball into the celebration. 
Her shirt was made using Iron on HTV (Heat Transfer Vinyl), with a netball player silhouette on the back of the shirt. In front, the shirt said "Netball Mode All Day Everyday." Add her shirt to the rest of the party details and there's no doubt about how much Cassie loves the sport. We think the customised shirt is an amazing idea!
Here's a helpful video that explains how to do this process in more detail. You can create endless designs, the only limit is your creativity.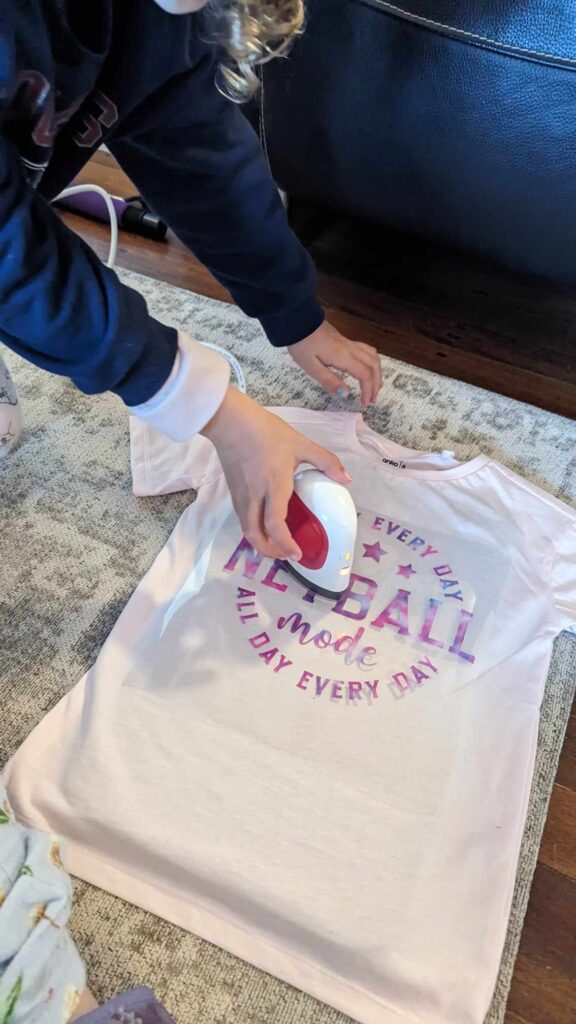 Netball Party
Cassie's netball party is certainly one of the most unique and fun themes we've seen! We love the special details like her cap party favours and her customised shirt.
Her intimate celebration incorporated her love of netball and her mum's Cricut skills perfectly. We're sure her guests had a blast too!
Need more tips when it comes to planning that next important occasion? Check out our DIY party planning checklist and get started today!