Are you on the hunt for a gift with a difference? Vtech Jotbot The Drawing Robot is just what you've been looking for.  Aimed at 3-5 years, here's exactly what you can enjoy with this friendly drawing robot.
Heres our VTech JotBot review to help you out.
Testing out Jotbot
While the box might say 3-5 years, I would go all the way up to 8+ years. The first one to dive in and have some fun with Jotbot was my 7-year-old daughter Cassie: she couldn't get enough.
Cass read through the instructions and got him all set up on her own. She started with Discover & Learn mod (more on this below), and simply popped in a chip and got Jotbot drawing.
All three kids (Vivienne ,5, and Elliot, 3) couldn't take their eyes off Jotbot as he sang and drew his way around a piece of paper – and produced exactly what they asked for!
Cue all the requests flying in from the kids as they took it in turns choosing what Jotbot would draw before then spending their time colouring it in carefully and having some fun. The pefect entertainment.
Jotbot Features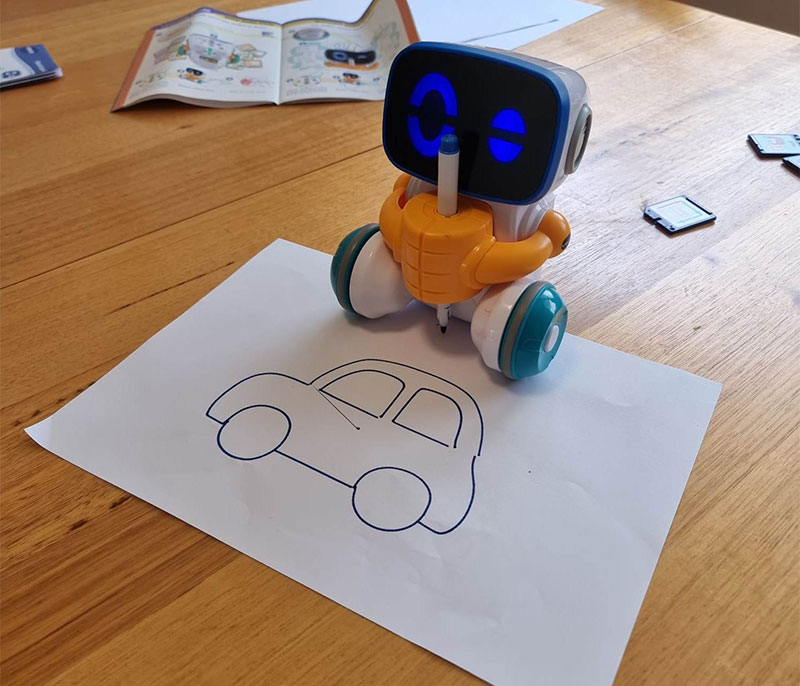 There are three interactive ways to play with Jotboy:
Discover & learn mode: simply pop in one of the 15 double-sided drawing data chops and let Jotbot get drawing.
Code-to-draw mode: you can command Jotbot with arrows on top telling him which way to draw.
Fun draw mode: input any fun draw code you like and watch Jotbot draw shapes, animals, mazes and more.
Gifting Jotbot
It's no secret that Jotbot is a gift that any kid would absolutely adore. If you're feeling extra nice, add in some colour pencils so kids can get colouring straight away after putting Jotbot to work.
Where to shop
Now you've checked out our VTech JotBot review, are you ready to get shopping?
It's time to find a Jotbot for one lucky kid in your life.