Whether you have a birthday coming up, or simply want to celebrate Australia Day in style, this gorgeous Australian-themed party is all the inspiration you need. Bianca shares the incredible party she threw together for her two-year-old son so you can have a go at replicating the look. Good luck!
Party Table
Let's start off with the amazing Australian-themed party table. The gorgeous animals placed around the food are the perfect way to really bring the theme together and add the special touch to this party. The Kookaburra, Echidna and Cockatoo can all be spotted at various spots across the party table. These are all from Kmart.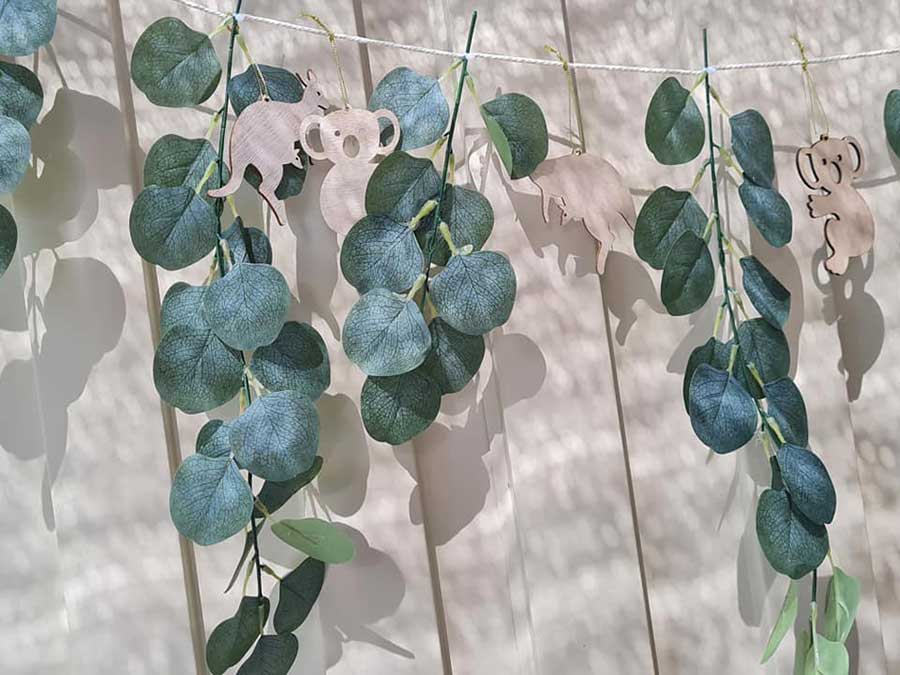 Moving on to the delicious food! Here's what you see on the table:
The Koala Sugar cookies were from The Sugar Cookie Lady.
Costco wrap, sandwich and slider platter.
DIY pav board: Woolworths meringue nests, choc topping, caramel topping, lemon curd, passionfruit pulp, whipped cream with lots of different summer fruit options.
There are also lots of Australian goodies on the grazing table – cheesymite scrolls, fairy bread, Caramello koalas, Anzac biscuits, Vegemite shapes, cherry ripe, Lamingtons, Iced Vovos, Tim Tams, sunbeam sultanas and Kooka's country cookies.
And let's not forget the cake pops! Yum!
The Koala and Cockatoo cake pops are from Cake Pop House.
Koala Cake and Cupcakes
The gorgeous Koala cake was a Woolworths mudcake hack. Bianca stack three chocolate mudcakes with Vanilla Betty Crocker icing in between the layers. She then added a splash of black food colouring to the icing and covered the cake.
Maltesers were used for the eyes, with half a Kinder Surprise for the nose and frosting-covered rice cakes for the ears.
Bianca's mum had been to a wedding on the weekend and they had lots of beautiful native flowers, so she was able to use their cocktail table flowers in the cake stand.
The Koala cupcakes are just as sweet! These are Coles cupcakes covered in Betty Crocker frosting, eyeball candy, sultana nose and marshmallow ears with shredded coconut.
Gift Bags
An essential of any kids' party, these Australian-themed gift bags are just perfect. They add to the table decoration and bring the theme together. Once again, these are from Kmart, however Bianca changed the handles from pink to yellow to match the theme.