Are you looking for a party idea that's just a little bit different? This is it! It's a Coco/Day of the Dead/Mexican themed party and it has a little bit of everything in it. Whether you want just a Coco Party, just a Day of the Dead Party or a Mexican Themed Party, there's a little bit of everything in here.
Disclosure: This post contains an affiliate link, and at no additional cost to you, I'll earn a small commission if you decide to purchase after clicking through the link. I'll only ever recommend things that I love and believe will help you, and the decision to purchase is entirely yours!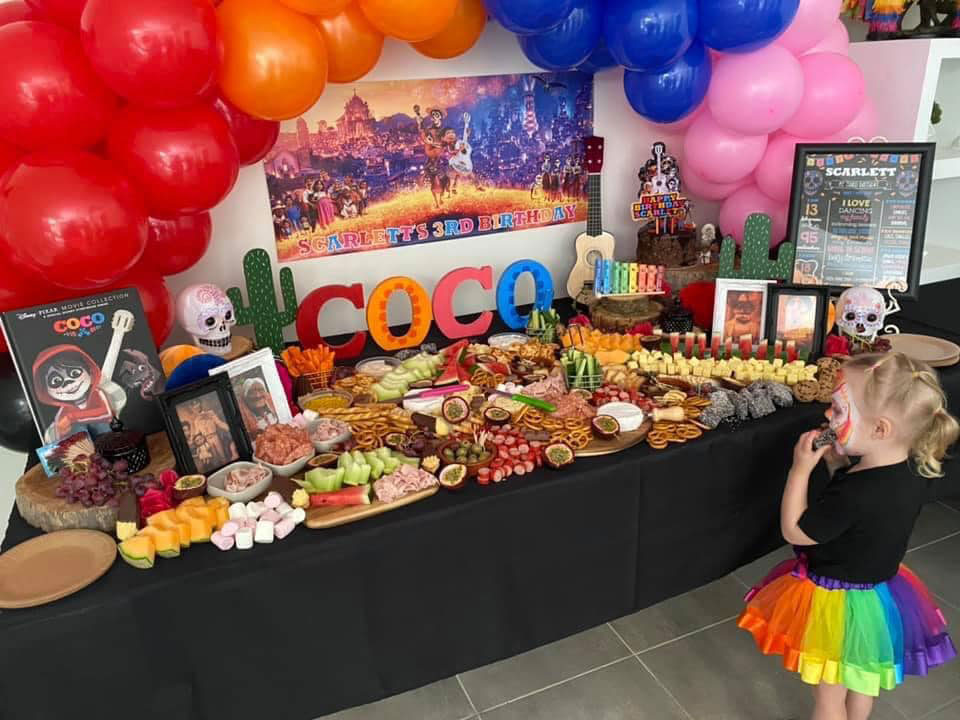 Firstly, how amazing is this set up and this table! The
balloon garland
was made by the very clever mum herself using the
Spotlight balloon arch kit
. The Coco letters were also painted by the mum as well.  She then used recycled cardboard boxes for the cactuses that she cut and painted herself. You can find cardboard letters
here
. The gorgeous milestone board is from
Three Little Birds Design
. The vinyl poster is from
Ks Designz & Party Favours
. And you can't look past the delicious grazing table that has been set up! What a spread…rockmelon, marshmallows, deli meats, pretzels, watermelon, carrot, passionfruit, cucumber, olives and more.
Face Painting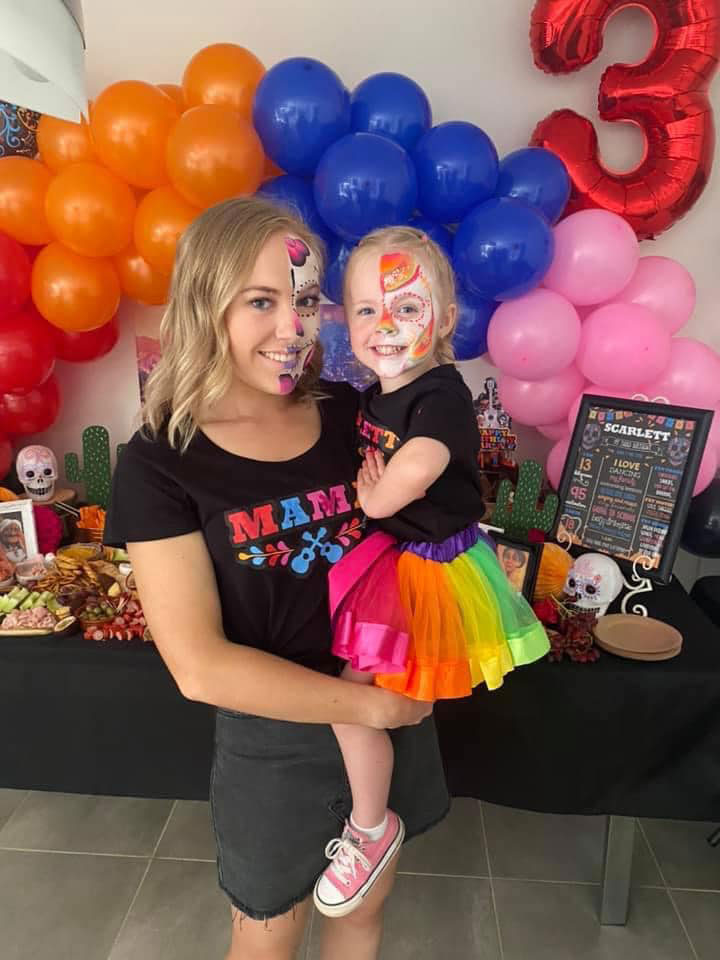 There's no denying that the face painting makes these outfits, how amazing does the birthday girl look with the Day of the Dead inspired face paint. Face painter –
White Waratah Face Painting
.
Mexican Taco Bar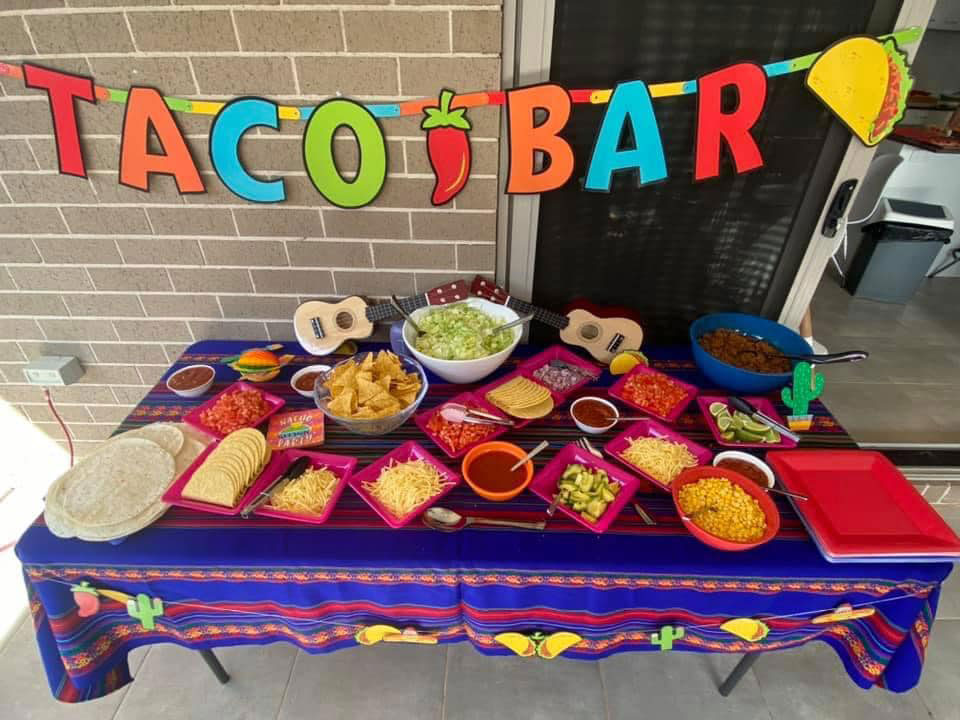 Let's face it, you can't have a Mexican party without Tacos! This Taco Bar is the best idea ever. Everyone can serve themselves, it's so easy to set up and it's a delicious. The perfect win for any party. Yum!
Coco Cake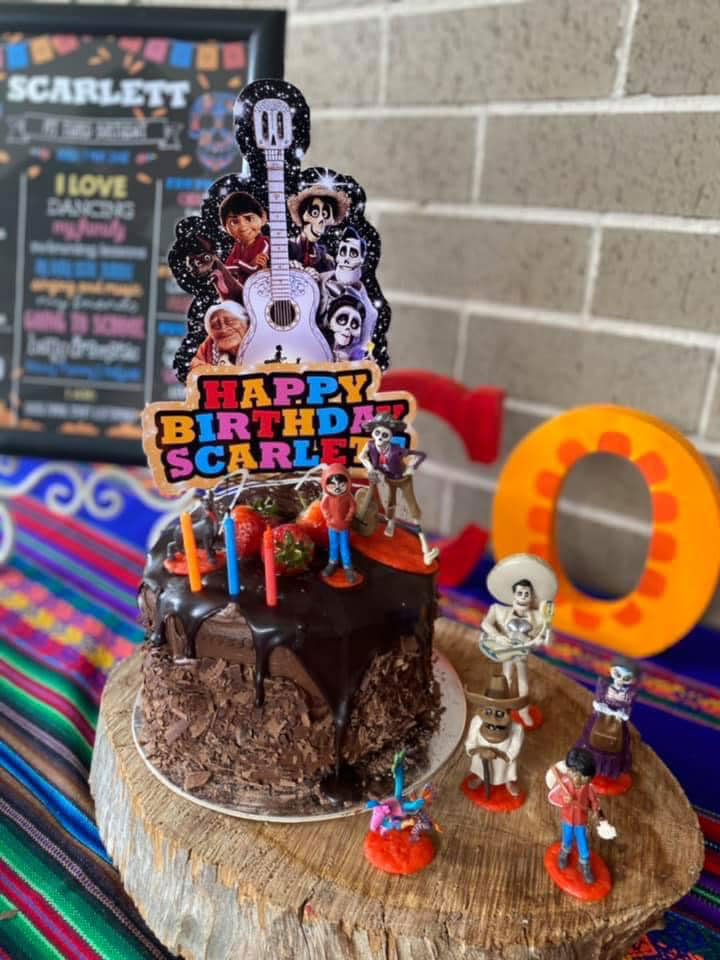 How delicious does this cake look! Just a simple chocolate cake, covered in chocolate icing, with flakes around the side. Then there's chocolate drip all over the top. Then strawberries on top. Simple, easy and tasty. The
cake topper
is from
Cut n Co. Shirts.
The little figurines around the side can be sourced from
eBay
. The perfect finishing touch. Looking for something quick and easy? You can also purchase a
Coco Party Set
that includes almost everything you need!
Mexican Party Fun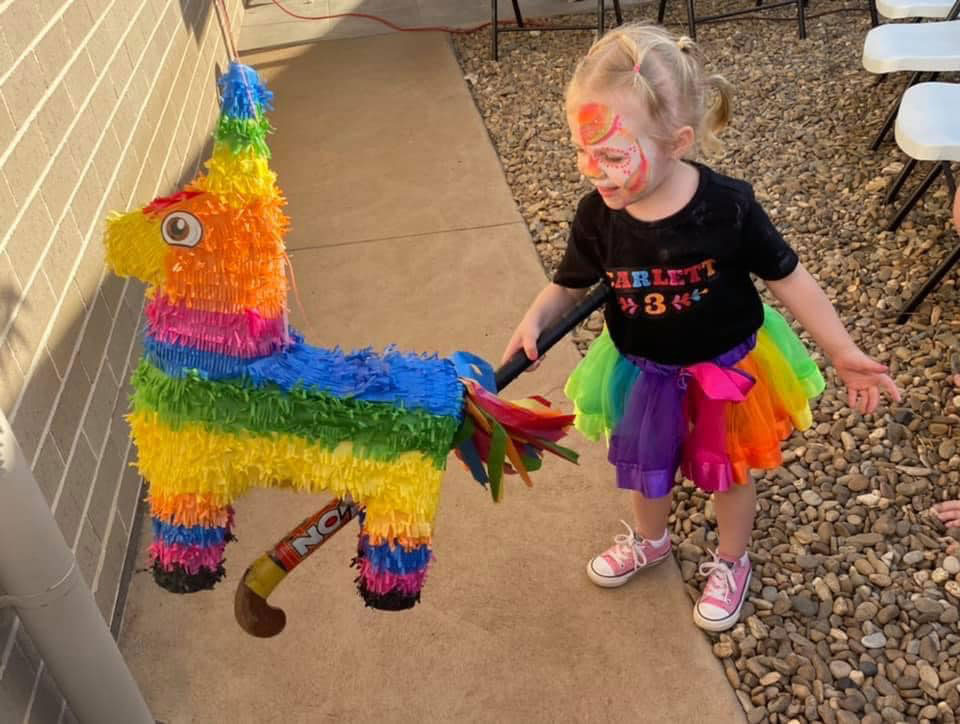 Now for the party games! No better way to celebrate a Mexican party than with a Pinata. We love this
Pinata.
Kids can't get enough. After all, who doesn't love lollies!
Need more tips when it comes to planning that next important occasion? Check out our DIY party planning checklist and get started today!