When your little one has an obsession: whether that's cars, dolls, monsters or…koalas… it's the perfect excuse to create an entire birthday theme around it! After all, they're guaranteed to love it. That's what one mum, Michelle, has done for her 9-year-old daughter. She has even gone ahead and created a tree from scratch! Find out how she pulled together this adorable koala party.
Disclosure: This Koala Party post contains an affiliate link, and at no additional cost to you, I'll earn a small commission if you decide to purchase after clicking through the link. I'll only ever recommend things that I love and believe will help you, and the decision to purchase is entirely yours!
Koala Party Tree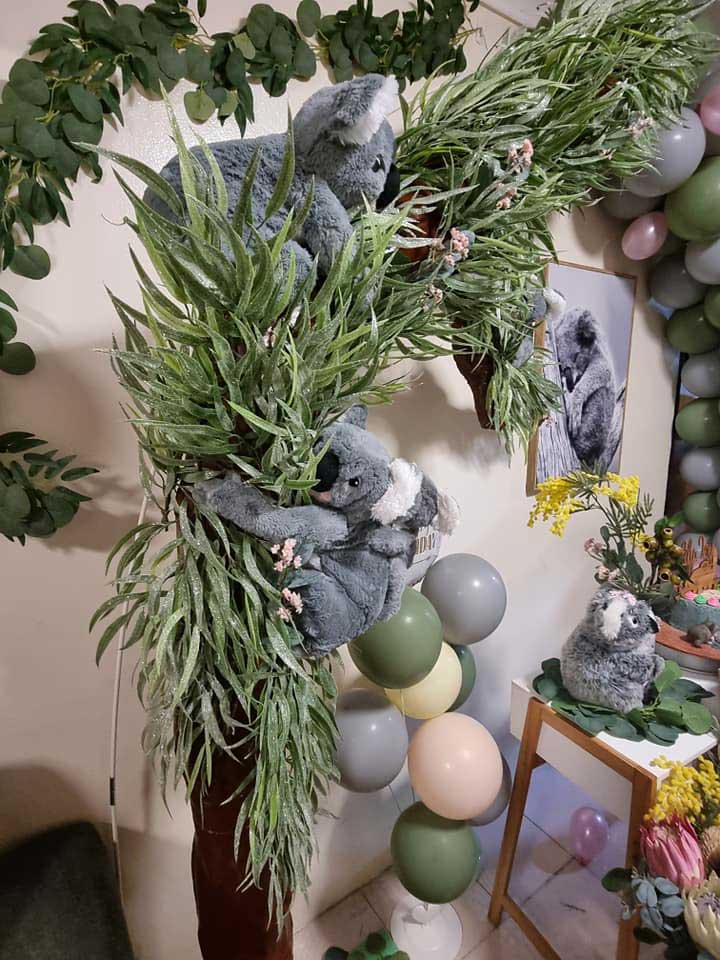 Step 1
Build frame from PVC pipes and attach to a wooden back with brackets.
Step 2
Use old packing paper to add volume to the tree and add a branch with wire and paper.Step 3
Add 4-5 layers of paper mache, making sure you let each layer dry for a few days before adding the next.
Step 4
Paint tree brown
Step 5
Add koalas, using cotton to stitch them around the tree. Attach leaves with gardening wire. The koalas in the tree are from Ikea.
Party Decorations
Vases: one is a 'Paint Your Own' planter and the other is a Drink Bottle from Ikea.
A gorgeous cake topper is the perfect statement to turn any cake into a masterpiece! Add some flowers around the outside, along with some
koala figures
and you're ready to go. Such a simple, yet effective cake!
More Koala Inspiration
After some more koala party inspiration? Check out: