Coming up with a fun and flirty adult party theme can be a struggle. You want to be able to go all out with the theme and have fun choosing all the props, but you also want to make sure you can add some grown-up vibes in the right places. This flamingo party is just perfect.
When it comes to pulling together a fun and fabulous DIY flamingo party, Leanne knows exactly what she's doing!
All her props are from Gumtree and op shops! Leanne usually picks a theme for her next event 10 weeks ahead, and starts collecting straight away. She does the same with the food shopping, picking up more bits and pieces week by week. 
While we can't share exactly where she bought all these amazing party decorations, you can gain plenty of inspiration from the photos below. Go through the set-up, signs (some great 'funny' adult versions in there), cake and food, to give you all the inspiration you need to throw your very own flamingo party.
Better yet, keep an eye out now for probs at your local op shop!
Disclosure: This post on flamingo party contains an affiliate link, and at no additional cost to you, I'll earn a small commission if you decide to purchase after clicking through the link. I'll only ever recommend things that I love and believe will help you, and the decision to purchase is entirely yours!
Food Table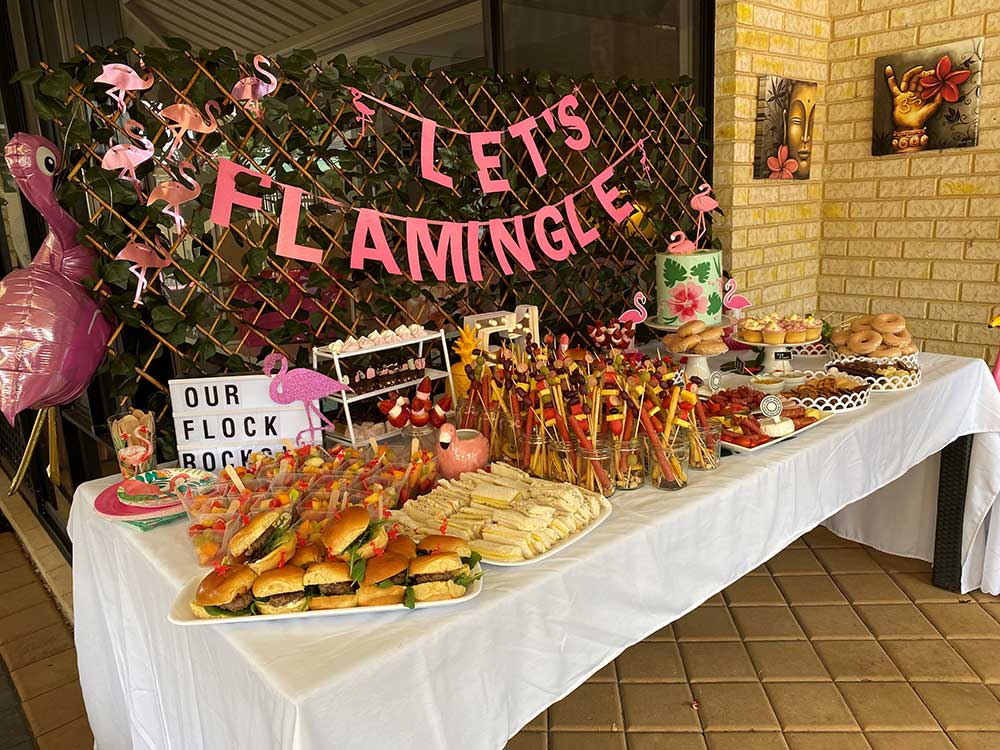 The best part about this gorgeous food table is just how eclectic it is. You can spot gorgeous paper flowers, tea cups, teapots as vases and so much more. It adds to the fun of the party!
Plus, check out all that delicious food! So many amazing options, from borders, through to sandwiches, fruit cups and more.
The backdrop is super simple, just the words "Let's Flamingle" hanging from bunting, with some flamingoes around it (and the balloon). It really draws attention in and adds to the theme.
You can shop sets here:
Drinks
Bringing a little of the theme to the drink station, the words in the middle "Flock it, let's drink!". You can even get the
matching cups here>>>
Let's not forget the drinks! What better place to feature a giant flamingo than in the ice bucket for the drinks.
Just because it's an adult's party, doesn't mean there shouldn't be games! This clipboard 20 Questions is just perfect. See how much the guests really know about the birthday girl and have fun reading out some of the answers.
Cake
If you're going to throw a flamingo party, then you need a standout cake with some great cake toppers. This one is just incredible. The stunning attention to detail makes it pop on the party table, complete with two adorable pink flamingos on top! A work of art.
Party Bags
Again, adults shouldn't miss out on all the fun. Who doesn't want party bags at their next event! These flamingo party boxes are right on theme.
You can buy them here>>>