Friends is a popular TV show loved by people around the world. Even though the sitcom ended its run almost 20 years ago, it continues to live on streaming platforms, giving a new generation access to its feel-good laugh-out-loud humour.
It's no wonder Lily chose a Friends theme for her 10th birthday. Here's how Lily pulled together this amazing Friends party!
Disclosure: This post contains an affiliate link, and at no additional cost to you, I'll earn a small commission if you decide to purchase after clicking through the link. I'll only ever recommend things that I love and believe will help you, and the decision to purchase is entirely yours!

We love setting the party theme right from the get-go. In this case, by sending out Friends-themed invitations! Get your guests excited for your Friends party from the minute they get your invite. We love these invitations because they put together the iconic cast, couch, and Central Perk logo in one eye-catching design.
What better place to have a Friends-themed party than in Central Perk? You don't need to rent out a cafe for your party, simply install a red brick backdrop behind a couch and you're set! Lily added her own touch with Monica's iconic purple door right beside the brick wall and cheerful balloons that added color to the festive theme. She also had a guitar, a Central Perk welcome mat, and of course, a personalised birthday banner.
Get your own easy-to-install Central Perk backdrop here. For more ideas what kind of confetti balloons you can add to your party, check this out.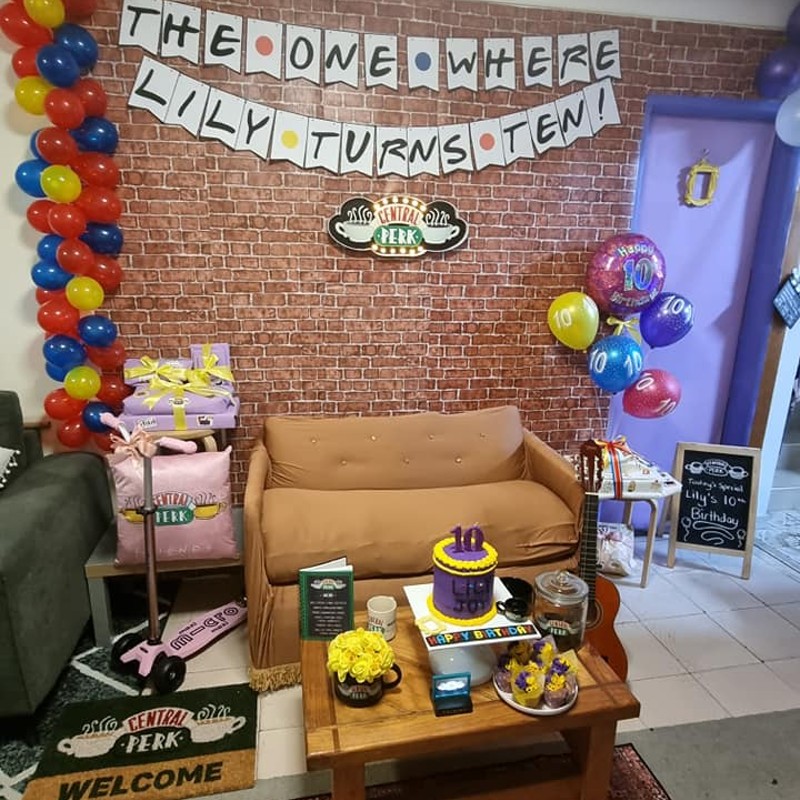 A party without cake is just a meeting they say, so don't forget about this important sweet treat! Many Friends-themed cake are purple and yellow to give homage to Monica's famous apartment door and peephole. Lily chose the same colour scheme for her fun birthday cake. You can do the same or add more Friends elements such as a couch or the Central Perk logo like this amazing cake.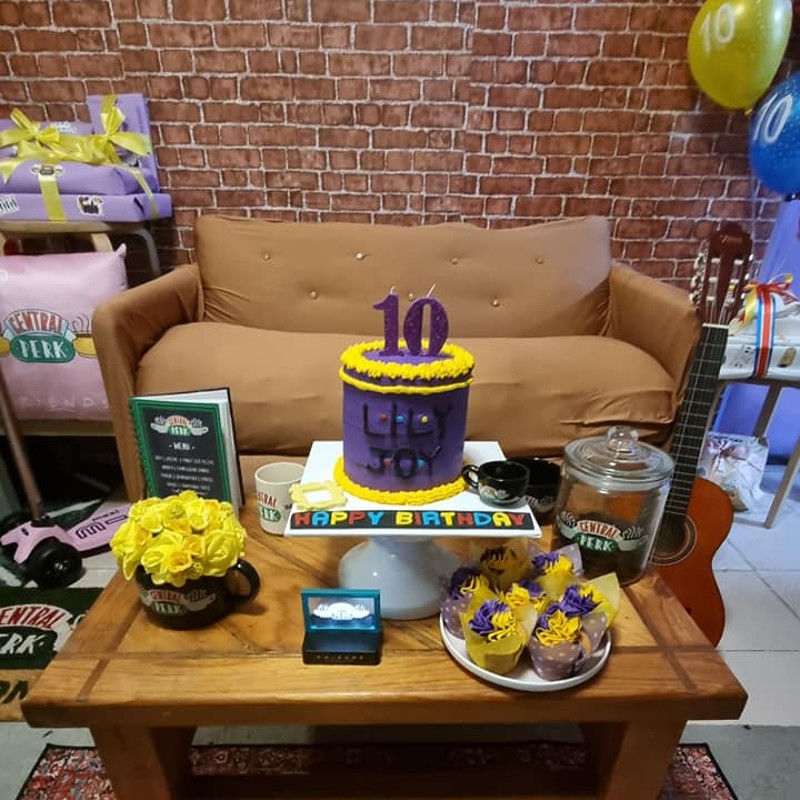 Lily served colourful purple and yellow cupcakes to her guests, still following Monica's famous apartment door colours. You can also serve iconic Friends food like pizza (Joey's favourite, of course), chocolate chip cookies (remember Nestle Tollhouse?),  and Rachel's trifle cake (without the meat).  Go all out with your theme and serve your yummy snacks on fun Friends tableware.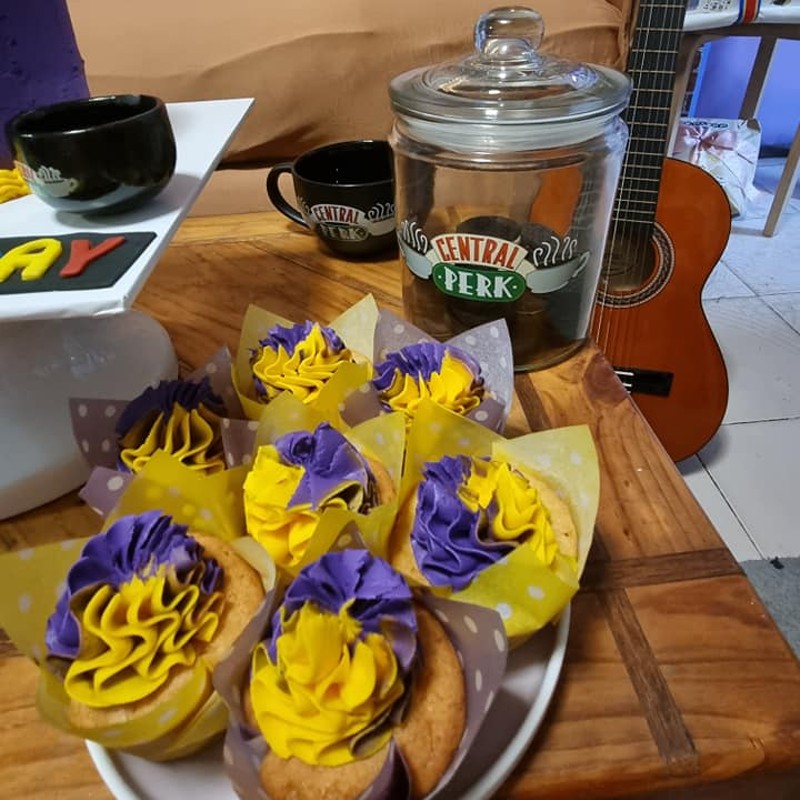 Send your guests home with Friends-themed party bags. You can easily DIY your own party bags using store-bought purple paper bags then use this digital downloadable file to print out peephole-inspired yellow DIY favour tags thanking your guests for coming to your party. Fill with your favourite lollies and your guests go home happy!
We guarantee that a Friends party is one that your own friends and loved ones will never forget! This fun and unique party theme offers endless opportunities for decor, food, and games. The only limit is your creativity. Have fun!
Need help planning your next birthday party? Make sure your download our DIY party planning checklist and have a go!