Are you looking for a gorgeous party theme that's just a little bit different? Planning a first birthday is so much fun. It's as much about the birthday child as it is about mum and dad for surviving that first year.
As your little one is still developing their likes and interests, you can have a little fun with theme and choose something you really love! While keeping the birthday child in mind of course.
This  gorgeous boho rainbow theme is the perfect option. It's simple, it's stylish and it looks stunning! Mum Stacey shares just how she pulled this look together.
Disclosure: This post contains an affiliate link, and at no additional cost to you, I'll earn a small commission if you decide to purchase after clicking through the link. I'll only ever recommend things that I love and believe will help you, and the decision to purchase is entirely yours!
Boho Rainbow Party Set Up
The stunning balloons and streamers really pull this entire set together. Here's how Stacey put it together:
The balloons were purchased wholesale and then double stuffed to create the colours you see pictured.
Stacey runs the page Decorate My Party and she made the fringe backdrop herself with streamers and looms that she made herself. The large dried floral arrangement was purchased from Happy Blooms. You can get a similar backdrop kit on Amazon here. Or if you want a different look, check out this DIY balloon garland kit also on Amazon.
The rugs and cushions are from Kmart.
The teepee is from Mocka.
The high chair was purchased from Facebook marketplace, then sanded back and re-painted white.
The gorgeous tassel garland running across it is from Bear and Cub designs.
Boho Rainbow Food Table
The food is one of the most important aspects of any party and Stacey has done a fabulous job. The gorgeous grazing platter caters to everyone with a little bit of everything on there. Plus, there's plenty of treats mixed in as well! 
The delicious grazing platter was put together by Snack Nibble and Dip.
Boho Rainbow Cake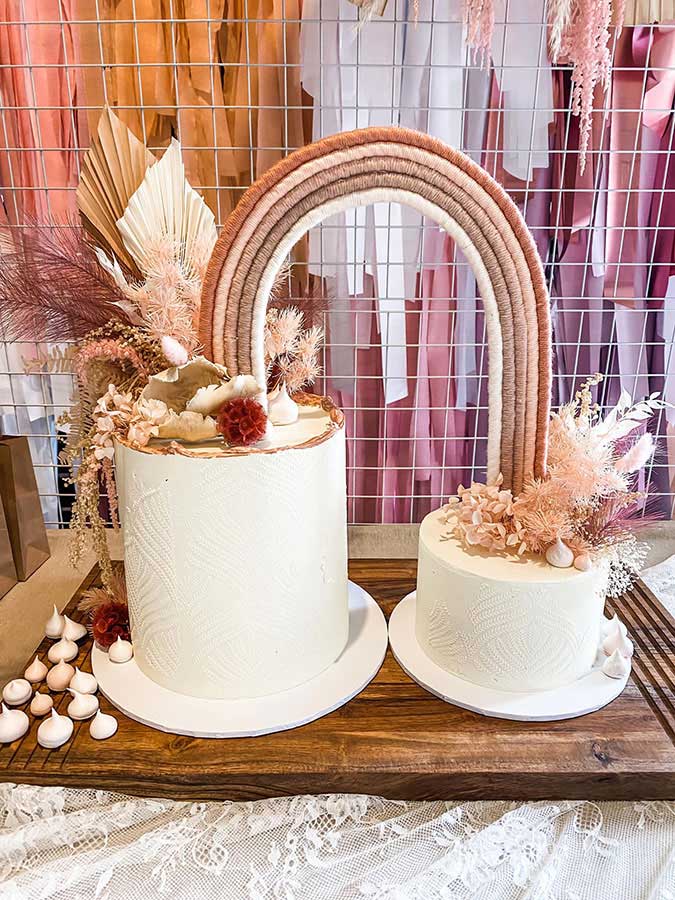 Last but not least is the stunning Boho Rainbow theme cake – and this one is amazing!
The cake itself was made by Lulu & Co Bakes with the cake topper coming from Coco Pop Creations.
Such a gorgeous party for one very lucky little girl!
Need more tips when it comes to planning that next important occasion? Check out our DIY party planning checklist and get started today!