What could be cooler than throwing an amazing Jurassic Party! I'm not going to lie, after seeing how this one came together, I think we might be adding this to our list of potential party themes.
These amazing photos were sent in by Kristie, who through this incredible party for her 3-year-old son Aiden. 
Disclosure: This post contains an affiliate link, and at no additional cost to you, I'll earn a small commission if you decide to purchase after clicking through the link. I'll only ever recommend things that I love and believe will help you, and the decision to purchase is entirely yours!
Party Food
We all know that a crucial aspect to any party comes down to the party food. The more on theme you can keep it, the better! All Kristie's creations were just that.
Simple, easy and oh so effective, simply cut up some watermelon and you're good to go!
How good do these look! And perfect for a Jurassic Party theme. Each one is a mini choc cakes with choc ganache. Kristie found a perfect shaped mold at the cake shop to shape each one, but you could also use a knife and have a go yourself!
Roar! How good do these dinosaur brownies look. Once again, so easy to make and perfect for a Jurassic Party. You can get the moulds from Amazon, then all you need to do is pop in some fondant to get the same, pop them out again and leave it to set. Then top each brownie.
You have to be a whiz in the kitchen to whip up a batch of these cookies (which Kristie was). But, there are so many amazing cookie makers out there these days, this is definitely a job you can outsource! You can order dinosaur cookies here.
Turns out, marshmallows and pretzels covered in white chocolate work really well as dinosaur bones! The bonus is, they taste great as well.
Another simple and easy one! You can grab any chocolate-based bliss ball recipe and have some fun creating dinosaur poos. The kids will get a good laugh when eating these.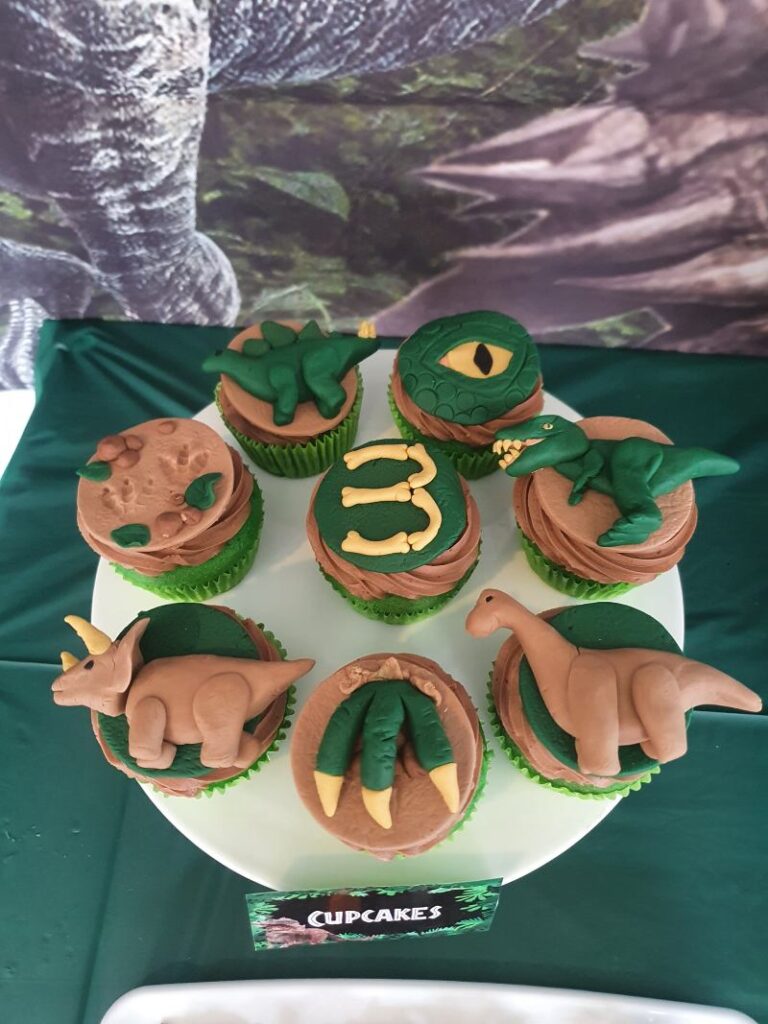 Such an incredible assortment of cupcakes all made by Kristie for the Jurassic Party!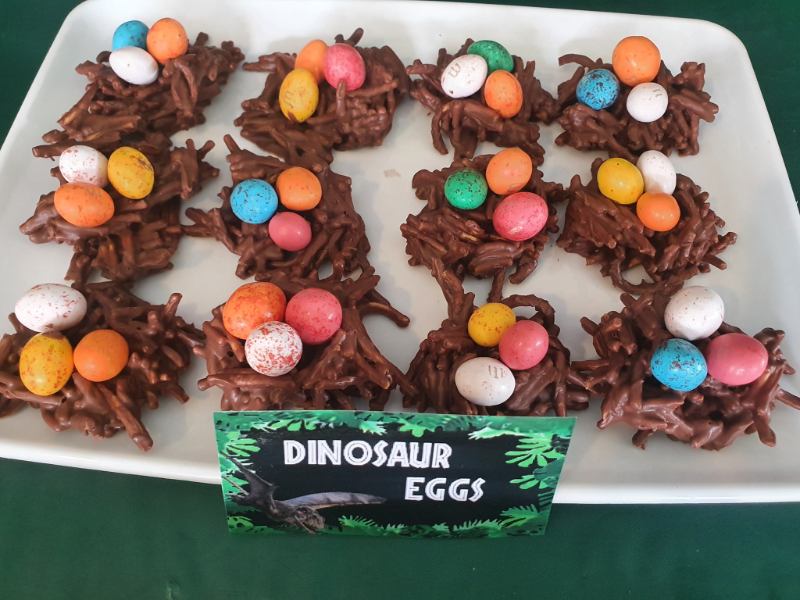 This has to be one of my favourites. The nests are so easy to make (check out one recipe here) and then you just pop some chocolate eggs on top!
The Set Up
Welcome to Jurassic World! There's no denying Kristie did an incredible DIY job with this set up. All made with cardboard, paint, cellophane and tissue paper. Learn more about perfect party backdrops here.
Do you dare to enter?
Check out the set up for this Jurassic Party at a glance! All the signs you see, including the 'Happy Birthday' banner, food labels, backdrop poster, etc were all made by Kristie on her computer and then printed out. If you would rather purchase them, you can get dinosaur themed party decor here.
The backdrop was printed from My Fiesta.
The two dinosaur costumes below were from Costume Box.
Jurassic Party Cake
Another creation by Kristie this Jurassic Party cake definitely makes the perfect centerpiece for the table. What an amazing job! You can read more about it here.
If you don't have the same fantastic baking skills as Kristy, you can order a dinosaur cake here.
Chocolates: wrapped with a printout from Kristie.
Chocolate coins
Fun size lollies and chocolates
Bubbles