She's the girl with the bow in her hair! Everyone loves the Wiggles. And it seems most kids seem to have a particular preference for Emma Wiggle. Who can blame them! She's fun, she's great at ballet, and her bow is everything. An Emma Wiggle party makes the perfect theme for any little one, and kids can have so much fun dressing up! Mum Rebecca shares how she pulled together this gorgeous party for her daughter.
Learn how you can recreate the look!
Disclosure: This post contains an affiliate link, and at no additional cost to you, I'll earn a small commission if you decide to purchase after clicking through the link. I'll only ever recommend things that I love and believe will help you, and the decision to purchase is entirely yours!
Emma Wiggle Party Set Up
Two years ago me: "No themes are my thing. Frankie's not going to be into that stuff". Also me, throws an Emma wiggle party #emmawiggleparty Rebecca shares how she pulled together this amazing party room for Frankie. The
balloons
and tassels
backdrop
is the main feature of the party, and it was all done by Rebecca herself. She got the supplies she needed from
Officeworks
and created this masterpiece! You can also find your own
DIY balloon garland
set
online here
. The tables and chairs are just perfect for little people to sit down and enjoy some party food together. Rebecca hired these from
Blue Sky Party Hire
. Here's Rebecca's tips and tricks:
Start planning early. Have a clear plan, decide what you are going to do yourself and what you're going to outsource. Starting early gives time to shop around. I'm a terrible drawer, but I find I have so many ideas going on in my head I have to draw it out to visualise it.
I watched a few YouTube videos. Did a small practice balloon garland. I also did a practice tassel bac'kdrop. I made the backdrop a couple weeks earlier so that was one less thing to do. We also DIY the frame that everything sits on using PVC. Which we have dismantled to use for future events.
I used Little Wren Prints for invite, drink labels, favour labels and chocolate wrappers. It really tied all little elements together.
Table setting I sourced from different variety stores. I feel setting a lovely table really sets the theme and is an inexpensive way to continue a theme. You have to buy them anyway. Often buying the license can be more expensive. I like to stick to plain colours.
Emma Wiggle Party Food
How good does all this amazing food look!
Donuts were made at the local bakery.  Rebecca supplied them with the sprinkles and an inspo photo.
Yellow jelly cups and simple honey joys in pink and yellow patty pans.
Rebecca's tip is to get family in on the act. Her mum hobbies with cookies and really did a fab job of these. The cookie cutter comes from Custom Cookie Cutters.
Rebecca's sister is owner of Lets Get Grazey, so they always have a grazing platter at their parties. This one looks amazing!
You can DIY your own grazing platter too. Find wooden platters here and add your favorite cheese, crackers, fruit, and charcuterie.
Emma Wiggle Cake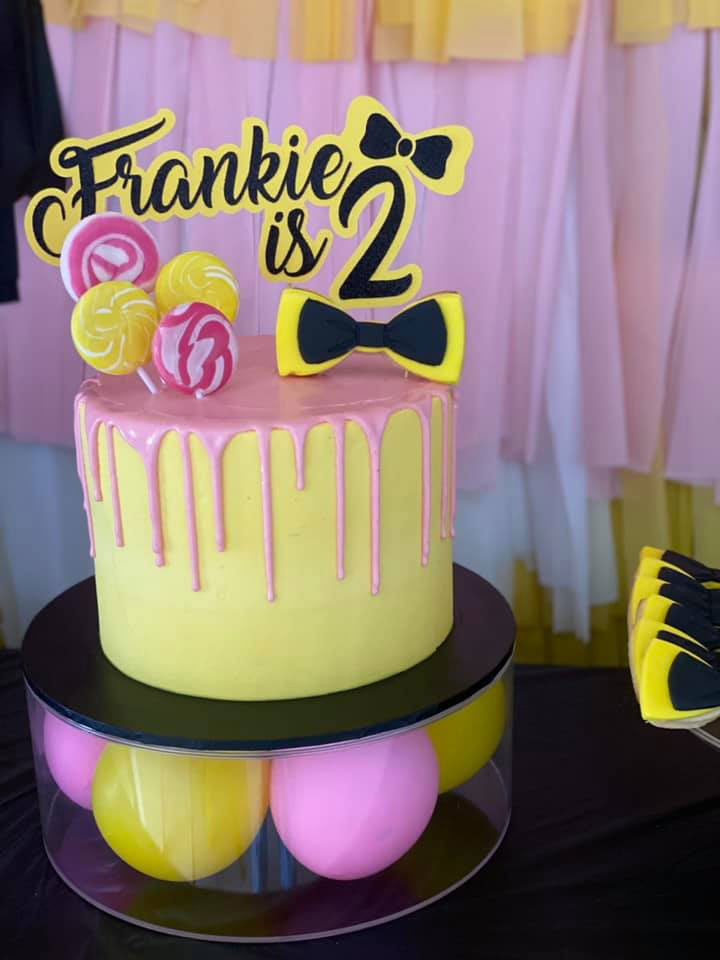 Rebecca ordered a really simple drip cake from Heavenly Hub and added the extras on herself. Using a black cake board for the cake, again sticks with the theme and was inexpensive. Again, saving a few dollars. 
For the party favours, Rebecca made yellow play dough and ordered bulk cutters from a wholesale website and a little bag of lollies.
Need more tips when it comes to planning that next important occasion? Check out our DIY party planning checklist and get started today!