"No job too big, no pup too small, Paw Patrol, let's roll!" It's hard not to get this catchy tune stuck in your head. It's no wonder kids love the show. If you have a big Paw Patrol on your hands, then a Paw Patrol birthday party really is the perfect theme for them! You can have plenty of fun pulling together lots a puptastic decorations to bring the party together.
One mum, Sara, shares how she put together these amazing Paw Patrol party for her five-year-old daughter. Scroll down and have fun recreating your own fun Paw Patrol party!
Disclosure: This post contains an affiliate link, and at no additional cost to you, I'll earn a small commission if you decide to purchase after clicking through the link. I'll only ever recommend things that I love and believe will help you, and the decision to purchase is entirely yours!
Paw Patrol Party Set Up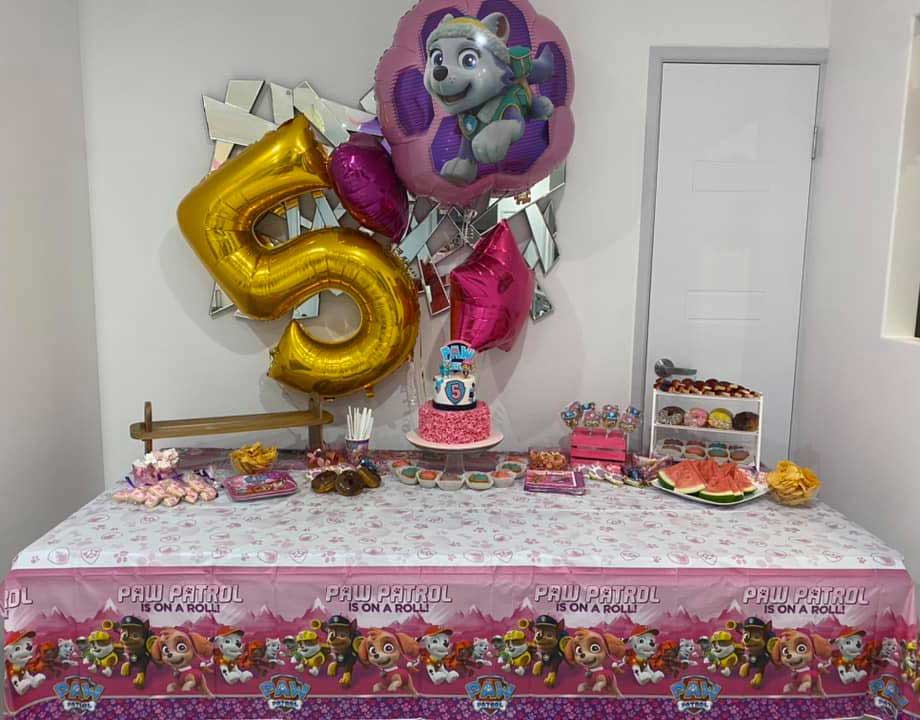 The gorgeous Paw Patrol table set up is so simple and effective.
Here's how you can replicate the look:
Balloons are from CQ Party and Spotlight.
Tablecloth: Spotlight
The cake makes the perfect centerpiece to the table with the gorgeous Paw Patrol balloons behind it. It's such a great alternative to a party backdrop, that kids will love as well!
You can also find more Paw Patrol party decor here.
Paw Patrol Party Food
These gorgeous biscuits were made by a friend of the family, but it's something you can have a go at yourself as well!
You can purchase your own cookie cutters and get baking.
Here is a gorgeous set of puppy pawprints, bone and doggy here.
You can also get a 5 cookie cutter here.
With a little royal icing on top you can recreate this look in any colour you like.
Paw Patrol Cake
This lovely cake was also made by a family friend. You can pull together something nice and simply yourself with just a little buttercream and some great Paw Patrol cake toppers.
The cake topper is the easiest way to finish off a cake with very little effort for you! It adds that wow factor, and is perfect when you are pulling together your own DIY party.
You can find other Paw Patrol cake toppers here.
Party Favours
Let's not forget the amazing party favours! Sara has shared a photo of exactly what went into each party favour. It included:
A jelly Paw Patrol lollipop from Kmart.
Balloon
Party blower
Lollies
There are also balloon wands from Kmart, which have been decorated with personalised labels from Personalise Me by Jeni.
The party favour cups are from Spotlight.
PAW PATROL PARTY INSPIRATION
Looking for a little more inspiration when it comes to pulling together the perfect paw Patrol Party? We have a great post on where to shop the best Paw Patrol party supplies!
Need help planning your next birthday party? Make sure your download our DIY party planning checklist and have a go!