Barbie is definitely one of those toys that will never go out of fashion. From the Barbie Dreamhouse to the convertible, and campervan, kids can create their own mini world with all the fabulous products on the market today. It also works as a fabulous birthday theme as well! Ed shares the Barbie birthday that was thrown together for her daughter.
Check out the gorgeous party table! Ed has gone with a colour theme to bring everything together, using pink to really help the Barbie birthday theme to pop. Pink cookies, a range of macarons, donuts, cupcakes and marshmallows. It's treat heaven for any child's party!
The Barbie cut outs throughout the party were made using a Cricut machine.
Lovely Jubbly Party Hire for the Barbie Props
Crystal cake/fine sugar pty ltd for the yummy personalised cookies
A close friend of Ed's made the delicious cakes, cupcakes and catering equipment.
Balloon garlands are made by Ed's husband using $5 Kmart balloon garlands and mixed with Big W balloons
Barbie Cake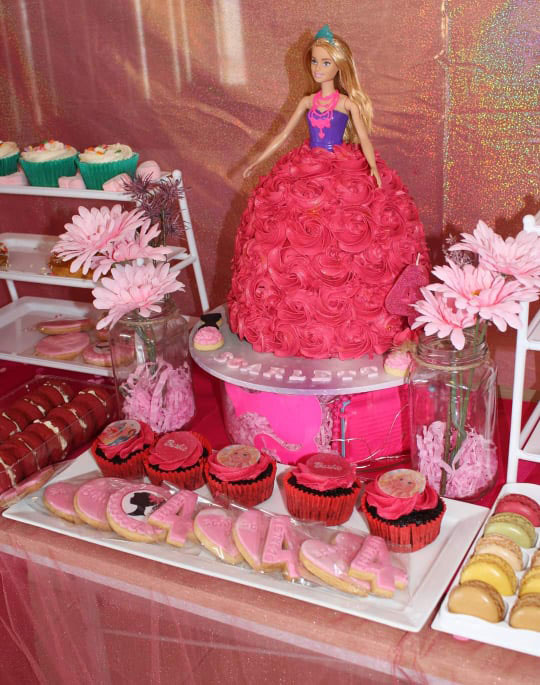 The doll cake is a hot favourite for little kids, as is a nice and easy one for parents to attempt (if you're brave enough).
Start off with a dome shaped cake tin. If you don't have one handy, stack a few cakes on top of each other and get carving.
Next, you need the doll! While some parents stick an actual Barbie inside the cake, it's often easier to go with an upper body on a stick. Like this one here.
If you don't have time to make your own cake, here's a Barbie cake you can purchase.
Barbie Birthday Entertainment
Of course, you can't have a party without some entertainment! Ed had a few fun things scattered throughout the party for the kids to enjoy.
This amazing Barbie photo booth is from Lovely Jubbly Party Hire, along with the other Barbie props that you can purchase in a bundle. The perfect chance to pose like Barbie still inside her box!
If you're wondering if you forgot anything else for your Barbie party, check out this list of party supplies.
There was even a real-life Barbie at the birthday, entertaining the kids with face painting! She was from The Mascoteers.
If you have a knack for art and want to DIY the face painting, you can get your own kid-friendly face paint here.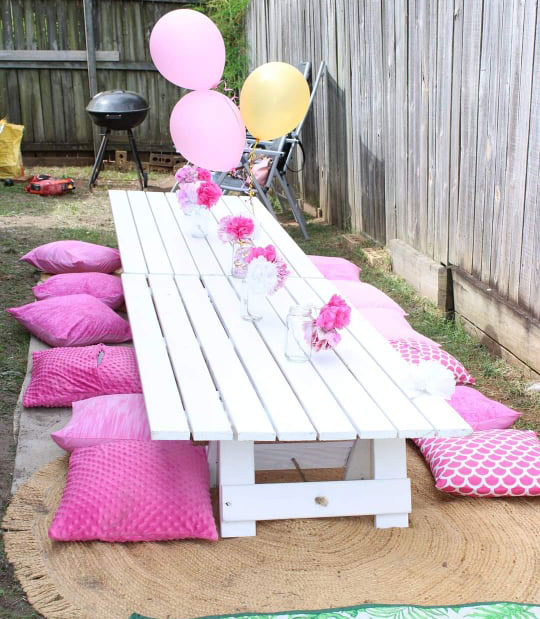 Finally, check out the adorable outdoor set up for all the guests. The perfect spot to stop and enjoy a bite to eat. Ed put on an amazing buffet (all cooked by her) for all the guests to enjoy.
Such a gorgeous Barbie birthday for one lucky little girl!
Barbie Party Decorations
On the hunt for some more Barbie-themed decorations for your big day. Here's a few picks to help you out.

This backdrop is a vibrant and eye-catching backdrop that can instantly transform your party space. Measuring 5x3ft, this backdrop is perfect for cake table decorations or as a photo background for capturing memorable moments. Made from polyester, it is soft, light, and features realistic colours. The backdrop is also washable and can be reused, making it a cost-effective choice for future parties. It's simple to set up – you can use clips to hang it on a background stand or tape it to a wall. This Barbie-themed backdrop is perfect for a birthday party or a Barbie-themed baby shower, adding a touch of glamour and fun to your celebration.

This set is a comprehensive party pack that includes everything you need for a Barbie-themed party. The set includes a banner, cake toppers, cupcake toppers, and balloons, all featuring vibrant Barbie-themed designs. These items are made from high-quality paper and rubber, ensuring they are safe and durable for use at children's parties. The set is designed to provide everything you need for a Barbie-themed party in one package, making party planning easier and more convenient. Whether it's a birthday party or any other celebration, this Barbie-themed party set is sure to add a touch of glamour and fun to your event.
This Barbie balloon set is a fun and vibrant addition to any Barbie-themed party. This set includes three 28-inch hot pink balloons shaped like the head of a Barbie doll. These balloons are perfect for creating a festive atmosphere and can be used as a centrepiece for your party decorations. Made from durable materials, these balloons are designed to last throughout your party and beyond. They can be filled with either helium or air, depending on your preference. Whether it's a birthday party or a Barbie-themed event, these balloons are sure to add a pop of colour and fun to your celebration.

The Barbie Dream Together Party Supplies Pack is a comprehensive party kit that serves 16 guests. This pack includes 7″ dessert plates, beverage napkins, cups, and a table cover, all adorned with vibrant Barbie-themed designs. The pack also comes with LLILYKAI birthday candles, adding a special touch to your Barbie-themed birthday cake. The materials used are plastic and paper, ensuring the items are both sturdy and disposable for easy clean-up. This party pack is perfect for a Barbie-themed birthday party or any other celebration involving Barbie fans. The vibrant colours and fun designs are sure to make your party a hit with your guests.
More Barbie Party Inspiration:
Need more tips when it comes to planning that next important occasion? Check out our DIY party planning checklist and get started today!