Are you dreaming of a party that's filled with pink, glitter, and all things fabulous? A party that captures the imagination, ignites the spirit of fun, and leaves your guests with memories to cherish? If so, a Barbie-themed party might be just what you're looking for.
Barbie, the iconic doll that has been a beloved part of children's toy boxes for over six decades, is more than just a toy. She's a symbol of endless possibilities, a canvas for imagination, and a source of inspiration for millions around the world. With her diverse careers, stylish outfits, and unapologetic love for pink, Barbie has become a timeless theme for parties that can delight guests of all ages.
In this comprehensive guide, we're going to take you on a journey through the magical world of Barbie-themed parties. We'll explore everything from the enchanting decorations that can transform your venue into Barbie's Dreamhouse, to the delightful food and drinks that would surely get Barbie's seal of approval. We'll also delve into fun-filled games and activities that will keep your guests entertained, and the charming party favours that will leave them with a piece of the Barbie magic to take home.
So, whether you're planning a birthday party, a hen do, or just a fun gathering with friends, our ultimate guide to planning a Barbie-themed party is here to help you create an event that's truly unforgettable. Let's step into Barbie's high heels and start this fabulous journey together!
Stay tuned as we delve deeper into the world of Barbie party planning, and remember, in Barbie's world, 'You can be anything!'
Disclosure: This post on Barbie party theme contains an affiliate link, and at no additional cost to you, I'll earn a small commission if you decide to purchase after clicking through the link. I'll only ever recommend things that I love and believe will help you, and the decision to purchase is entirely yours!
Why Choose a Barbie Themed Party?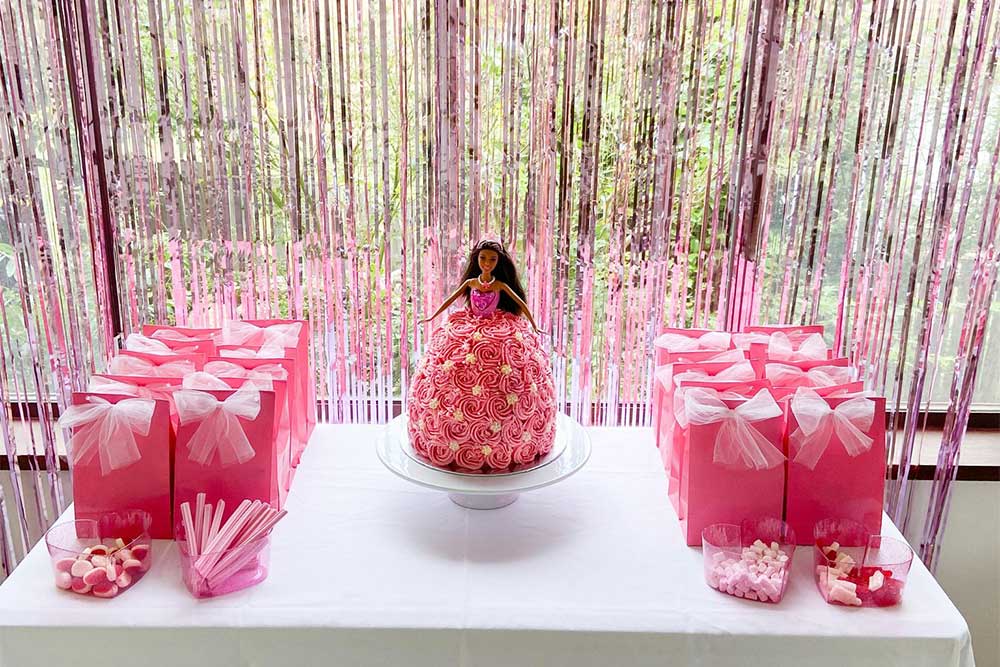 Choosing a party theme can be a daunting task with a myriad of options available. However, a Barbie-themed party stands out for its timeless appeal, versatility, and the sheer joy it brings to the attendees. But why exactly should you opt for a Barbie-themed party?
Firstly, Barbie is an iconic figure that transcends generations. Since her debut in 1959, Barbie has been a beloved companion for children around the globe. She's not just a doll; she's a symbol of aspiration, diversity, and empowerment. A Barbie-themed party, therefore, resonates with both young and older guests, making it a perfect choice for a wide range of events, from children's birthdays to adult gatherings.
Secondly, the Barbie theme offers a wealth of creative possibilities. With Barbie's extensive range of careers, outfits, and adventures, you have a plethora of options to personalise your party. Whether you opt for a classic pink Barbie Dreamhouse party, a Barbie Career party, or even a Barbie beach party, the possibilities are endless.
Lastly, a Barbie-themed party is all about fun and glamour. It's a chance to embrace the joy of dressing up, the excitement of imaginative play, and the delight of being in a world where 'You can be anything!'
Setting the Scene: Barbie Party Decorations
Creating the perfect atmosphere for your Barbie themed party begins with the right decorations. The decor sets the tone, sparks the imagination, and immerses your guests in Barbie's world. Whether you're transforming your living room into Barbie's Dreamhouse or turning your garden into a Barbie beach party, the right decorations can make all the difference.
When it comes to a Barbie themed party, think pink! Barbie is synonymous with this vibrant colour, so incorporate it into your decor wherever possible. From pink balloons and streamers to pink tablecloths and napkins, a splash of pink can instantly bring the Barbie vibe to your party.
But don't stop at pink. Barbie is all about glamour and sparkle, so don't shy away from glitter, sequins, and shiny metallics. Consider adding a touch of sparkle to your table settings with glittery table runners or sequined placemats. You could also hang metallic foil curtains or glittery banners to add a touch of glamour to your party space.

This wall decorating kit is a fantastic way to transform your party space. The kit includes a large poster featuring Barbie herself, along with smaller pieces that you can arrange to create your own scene. It's a great backdrop for photos and can really help to immerse your guests in the Barbie theme.
This party supplies pack includes everything you need to create a colourful Barbie Dreamtopia setting. With dessert plates, napkins, cups a table cloth and more, it's an easy way to add a touch of Barbie glamour to your party.
Barbie Party Invitations

The first step in setting the stage for your Barbie themed party is sending out the invitations. The invitation is more than just a way to let your guests know the date, time, and location of the party. It's also your first opportunity to introduce the Barbie theme and get your guests excited about the event.
When it comes to Barbie party invitations, think about how you can incorporate the Barbie brand's signature elements. This could include the iconic Barbie logo, images of Barbie herself, and of course, plenty of pink. You might also want to consider including some fun Barbie-themed wording. For example, instead of simply inviting guests to your party, why not invite them to "join us for a day of fashion, fun, and friendship at our Barbie themed party"?
Remember, the invitation sets the tone for your party, so make it as fun, glamorous, and Barbie-tastic as possible. 
For a more personal touch, these invitations can be customised with your child's name and party details. The design features Barbie in a stylish outfit, ready to party. The pack includes 10 high-quality invitations and envelopes.



These adorable invites have Barbie's face up close with the words, "It's Party Time!". Flip them over and you can read "Get Your Glam On" and fill out the party details. This pack comes with 8 cards.
Barbie Party Table Settings
One of the most impactful ways to bring your Barbie themed party to life is through your table settings. The dining table is often the heart of a party, where guests gather to eat, drink, and celebrate. Therefore, it's essential to ensure your table settings reflect the Barbie theme in all its glamour and charm.
When planning your Barbie party table settings, consider elements such as tablecloths, plates, cups, napkins, and centrepieces. Opt for items that feature Barbie imagery or the iconic Barbie pink. Don't be afraid to add a touch of sparkle or glamour with sequins, glitter, or metallic accents.
A well-thought-out table setting can not only enhance the overall aesthetic of your party but also serve as a conversation starter among your guests.

This kit has everything you need with fun Barbie silouhettes splashed across the decorations. It includes one banner, a cupcake topper and balloons. Everything you need to set up a fun-filled Barbie party.

This decorating kit is perfect for adding a touch of Barbie glamour to your table. The kit includes a centrepiece featuring Barbie Mermaid imagery, along with smaller pieces that you can arrange on your table. It's a great way to add a touch of fun and fantasy to your Barbie party.
Delicious Ideas for a Barbie Party Menu
No party is complete without a spread of delicious food and drinks, and a Barbie-themed party is no exception. The menu offers another fantastic opportunity to incorporate the Barbie theme and add a touch of fun and creativity to your party.
When planning your Barbie party menu, think pink! Pink lemonade, strawberry milkshakes, or pink frosted cupcakes can all add a touch of Barbie charm to your food table. You could also consider foods that Barbie herself might enjoy. As a fashion-forward icon, Barbie would likely appreciate a menu that's as stylish as it is tasty. Think finger sandwiches cut into fun shapes, fruit skewers arranged in a rainbow of colours, or cookies decorated to look like Barbie's iconic accessories.
Remember, the key is to have fun with it and let your creativity shine.

This cake topper is perfect for adding a touch of Barbie glamour to your party cake or cupcakes. The topper features a stylish image of Barbie, making it a great addition to your Barbie party menu. All you need is to pop your cake on a cake board and then top with this and you're set! It also comes with 22 cupcake toppers to continue the decorating fun.

This cookie-cutter set includes shapes like Barbie's head, her iconic logo, and her silhouette. You can use these cutters to create Barbie-themed cookies, sandwiches, or even fruit pieces, adding a fun and creative touch to your Barbie party menu.
The cake is often the centrepiece of any party, and a Barbie-themed party offers a wealth of exciting and creative cake ideas. Whether you're an experienced baker looking to create a show-stopping Barbie cake or a busy parent seeking a simple yet effective solution, there are plenty of options to choose from.
A classic choice is a Barbie doll cake, where the cake forms the voluminous gown of a Barbie doll. This type of cake is sure to wow your guests and create a memorable focal point for your party. Alternatively, you could opt for a simpler cake decorated with Barbie-themed icing, sprinkles, or cake toppers.
Remember, the key is to create a cake that not only tastes delicious but also captures the glamour and fun of the Barbie theme.

These adorable cupcake toppers are a simple and effective way to add a touch of Barbie glamour to your cake. The toppers features an array of stylish image of Barbie and can be easily applied to any type of cupcakes.

This Barbie doll is designed specifically for cake decorating. The doll comes with a pick at the bottom, allowing it to be easily inserted into your cake to create a stunning Barbie doll cake.
Fun and Games at Your Barbie Themed Party

A party isn't complete without some fun and games, and a Barbie-themed party offers a wealth of opportunities for entertainment that will delight your guests. Whether you're hosting a party for children or adults, there are plenty of Barbie-themed games and activities that can add a touch of fun and excitement to your event.
For a children's party, consider classic party games with a Barbie twist. For example, 'Pin the Bow on Barbie', 'Barbie Dress-Up Relay', or a 'Barbie Scavenger Hunt'. For an adult party, you could consider a 'Barbie Fashion Show', where guests dress up in Barbie-inspired outfits, or a 'Barbie Trivia Quiz', testing your guests' knowledge of Barbie's many careers and adventures.

This party game is a Princess-themed version of the classic 'Pin the Tail on the Donkey'. The game includes a poster featuring Princess, a blindfold, and stickers for 'pinning'. It's a fun and engaging game that can be enjoyed by guests of all ages.


Who doesn't love Uno! Get some teams together and let them battle it out at that next party to crown a Barbie Uno winner. It  makes a fun and educational addition to your Barbie-themed party.
Barbie Party Favours to Delight Your Guests

Party bags are a wonderful way to thank your guests for attending your Barbie themed party and give them a memento to remember the fun they had. When it comes to Barbie party favours, the possibilities are as diverse and exciting as Barbie herself.
Consider favours that reflect the Barbie theme and are likely to delight your guests. For younger guests, Barbie mini dolls, stickers, or Barbie-themed stationery could be a hit. For older guests, Barbie keychains, compact mirrors, or even Barbie-themed beauty products could be a unique and appreciated favour.
Remember, the key is to choose favours that not only tie in with the Barbie theme but also serve as a token of appreciation for your guests. 

Let's face it, all kids LOVE stickers, which make these the perfect party favours for a children's Barbie themed party. This pack comes with 100 stickers, meaning you have plenty to dish out into the party bags at the end of the party.

These Barbie Play packs are a practical and glamorous favour for a Barbie-themed party. They come with one mini colouring book,  crayons and 25 stickers for kids to have fun with. Pop it inside a party bag and you're all sorted. It doesn't get much easier than this.