Unicorns are a popular theme for a 1st party – or any party for that matter! We also have a gorgeous Unicorn 3rd birthday. The best part is, it's so easy to do! There's so many places where you can find gorgeous unicorn 1st party decorations that you're spoilt for choice.
Here's the gorgeous party one mum, Anna, put together for her little girl. Enjoy!
Want to plan an epic unicorn party, check our our guide to unicorn decorations here.
Unicorn 1st Party Food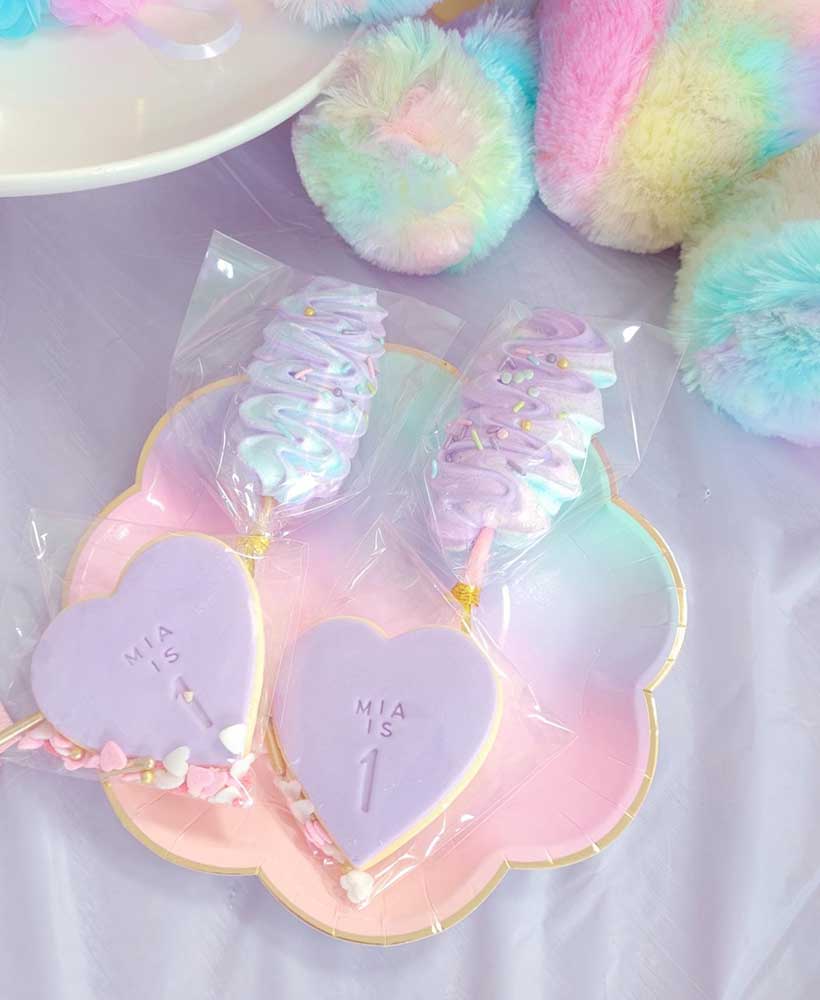 When it comes to food for a unicorn party, you have so much choice! The best idea is to stick to a colour theme like this mum did, as it brings everything together and creates the perfect look. 
The pops pictured are from Jody's Party Treats. Anna, who pulled together this party shares that she originally found her on marketplace and she has delivered with her pops! The colours are truly like a rainbow/unicorn would be and when you eat them they are light and crunchy…yum!
The cookies are from Cookie Bouquets on Instagram. Anna shares that she accommodated all her needs and also the colour was the best just perfect for her colour scheme of unicorns…they were yum and perfect, all posted safely in a box without any damage.
Unicorn Cupcakes
No party would be complete without cake! These stunning cupcakes are the perfect addition to the party table and really pop with all their colours.
These cupcakes are from by Bake Art Cakes by Melissa, who Anna shares did an amazing job considering so many cancellations and requests by Anna to make her daughter's day at home.
Unicorn Party Table 
This gorgeous set up is proof you don't need to go overboard when it comes to the party table. By keeping everything in theme with a great colour scheme, this whole party table has pulled together and looks incredibly amazing!
The beautiful photo frame at the back is the perfect personal touch for a very lucky birthday girl and is such a cute an easy way to add some character and personality to your party table.
Unicorn PARTY INSPIRATION
Looking for more Unicorn party inspiration? We have it! Check out:
Vivian's 4th Unicorn Party
Plus, we have a great post on where to shop the best Unicorn party supplies!
Need help planning your next birthday party? Make sure your download our DIY party planning checklist and have a go!