Do you remember Care Bears from your own childhood? They were such a big hit and now they're back and just as fun. Whether you're throwing a party for your little one, or bringing on a sense of nostalgia wih your own party, here are some tips to help you along the way. Mum Jessica shares the gorgeous Care Bears party she threw together for her little one.
Disclosure: This post on Care Bears party contains an affiliate link, and at no additional cost to you, I'll earn a small commission if you decide to purchase after clicking through the link. I'll only ever recommend things that I love and believe will help you, and the decision to purchase is entirely yours!

Care Bears Party Decorations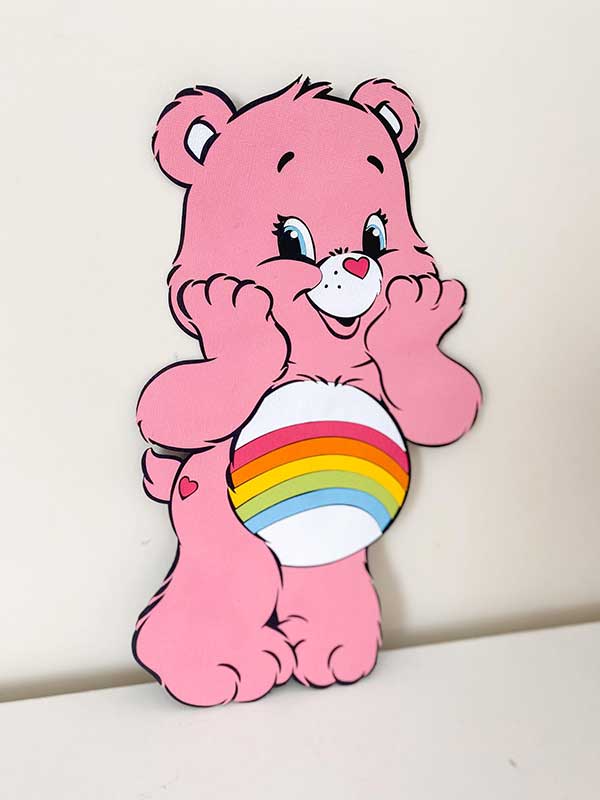 It all comes down to the decorations, and when it comes to Care Bears, you can have plenty fo fun. Jessica made her Care Bears feature backdrop with her Cricut machine – and did a fantastic job with it! She also made lots of mini Care Bears that you can see popping up all over the party table with her Cricut machine as well. So clever!
Of course, if you don't have your own Cricut machine, there are plenty of other options. Big W stocks a great Care Bears range which you can shop. You can even pop little mini Care Bears toys all over the party table (so cute!).
Here's some more inspiration for you:
Care Bears Party Food
Now onto the delicious party food! Jessica had plenty of goodies on the party table:
Gummy bears (cute and completely on-theme!)

Care Bears cookies. These were made using a

cookie cutter from Etsy

.

Fairy bread (always a winner for birthday parties)

Fruit

Popcorn

Tea party biscuits (see how-to here)
Throughout all the party food, Jessica has stuck little cardboard Care Bears to add to the lovely theme. This is such a nice and easy touch. You can print off from your computer and back with cardboard, or use a Cricut machine!
Care Bears Party Bags
The party bags are always a highlight for party guests, and Jessica has done a fabulous job with these.
She bought the bags from Big W, and managed to get them when they were on sale – bargain!
The keyrings with names attached to each bag were from Dreamers Lane.
Finally, the centre of the table is the big, fun Care Bears cake. This was made using a Woolies mud cake hack. Simply grab three mudcakes, ice them together, top with sprinkles and get decorating!
Jessica used an acrylic cake topper from Dreamers Lane, and another Care Bears creation from her Cricut.
Tips
Research research and research. See what you can actually get here in Australia. Reach out to companies that do things you have in mind and see if they will do custom pieces for you. Get quotes from different people if they have the same items for hire or sale. 
Writes a list of ideas and a list of where to get what.
Need help planning your next birthday party? Make sure your download our DIY party planning checklist and have a go!