My Little Pony is one of those adorable party
themes
that is rising in popularity again. And let's face it, what's not to love. A My Little Pony party is bright, fun and creative, which makes it easy to pull together. Lynette from
The Creative Mum Me
share's her daughters party with us along with tips for planning your own.
My Little Pony Party Set-Up
The backdrop uses pale pink curtain foil, which you can
get similar here
. On top of this hangs the balloon garland, which was from Kmart. You can also shop the same
garland here
. Simply follow our guide on
DIY balloon garlands
and create your very own!
The
rainbow balloon is from Kmart
and makes a gorgeous centrepiece for the table.
You can make your own My Little Pony party cutouts. Simply print out each character and them laminate and stick up! Great way to add to the theme.
There are lots of great pastel rainbow tablecloths to add some colour to the party table:
Then complete the look with some
pastel honeycomb balls
scattered throughout.
Kids' Table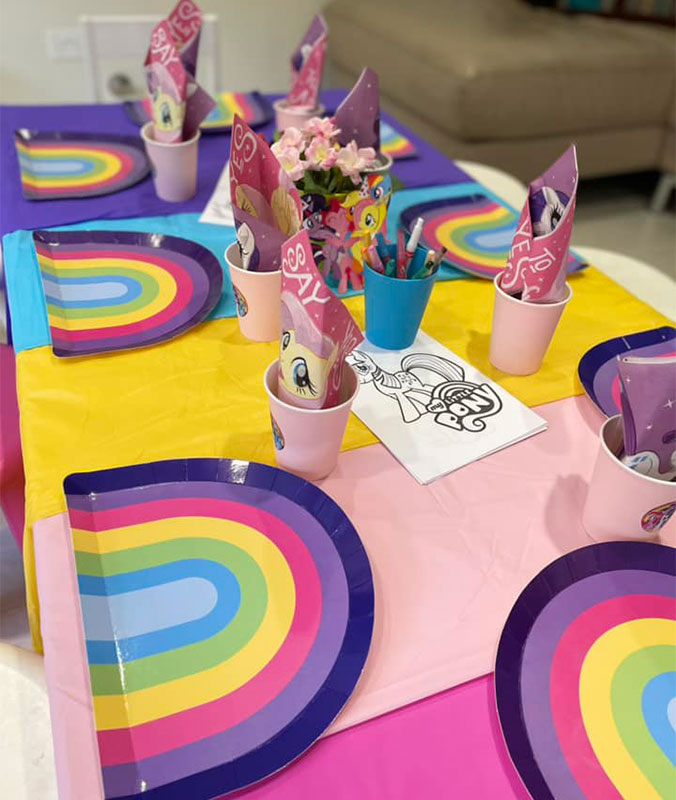 For the tablecloth on the kids' table, Lynnette used several different coloured plastic table cloths and layered them to give the rainbow colours. 
The adorable rainbow plates are the perfect touch. You can shop a similar look here. Pop in some bright My Little Pony party napkins and voila!
My Little Pony Party Food
This rainbow fruit platter has to be the cutest party food addition – and so easy to make! Just pick different fruits in an array of colours, chops and arrange on a platter in a rainbow. Add some marshmallows to the end and you have instant clouds.
There's also some delicious platters, including a grazing platter, lolly platter and even fairy floss. Simple ideas that all add plenty of colour to the table and look great.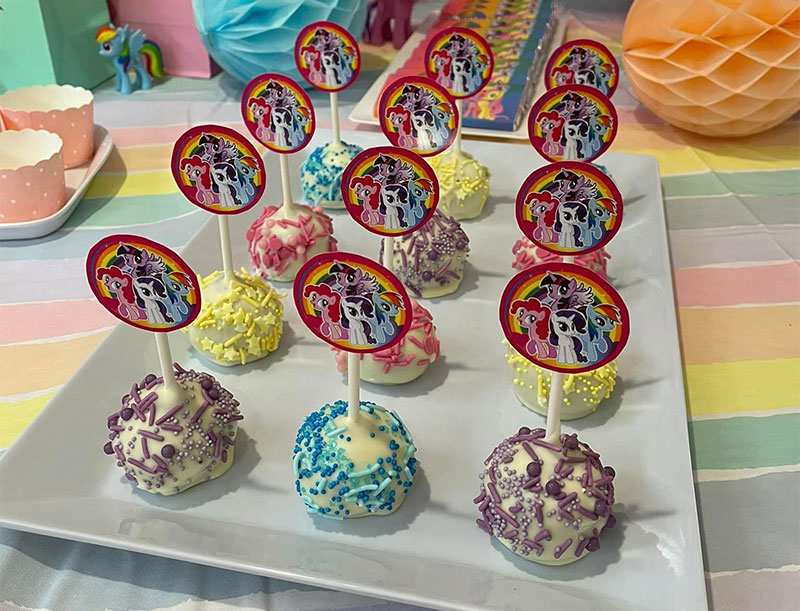 The cake pops are too cute. Lyenette has placed them upside with different coloured sprinkles on top. Then topped them with a cupcake topper! You can shop similar here.
MY LITTLE PONY PARTY PINATA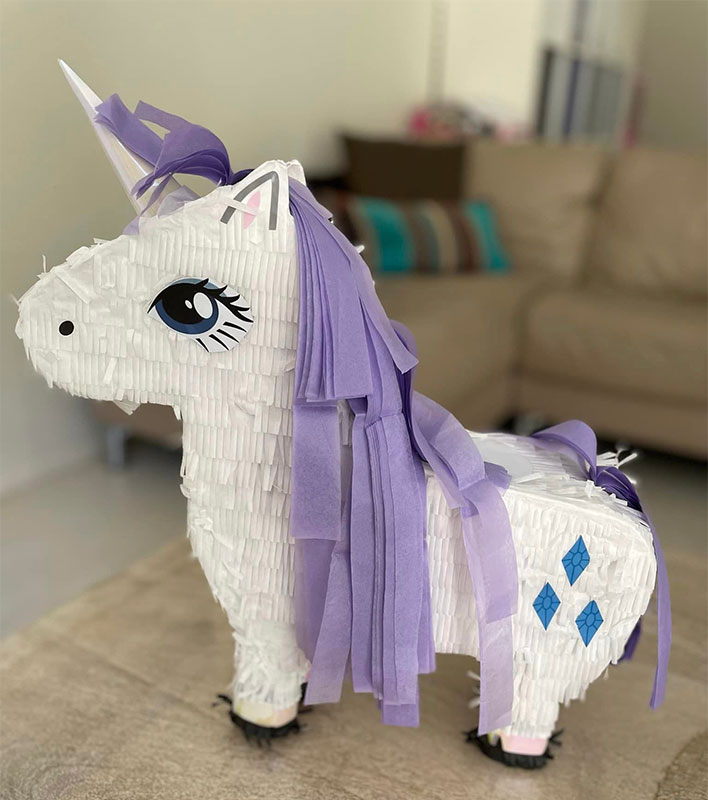 The piñata was from Kmart, but Lynette changed the mane and tail colours from pink to purple and printed stickers for the eyes and Rarity's cutie mark. 
My Little Pony Party Bags
The cake was just a Coles caramel drip cake popped on a cake baord with the chocolate drip removed and four different coloured buttercream icing colours piped around. Lynette got the My Little Pony cake toppers from Big W.
Need help planning your next birthday party? Make sure your download our DIY party planning checklist and have a go!